You mean between these lines?
So, I had to learn to drive a car after I moved to America. Most of you did that when you were still in high school. Here I was, an adult living in another country, not very comfortable reading English yet and sitting in the driver's seat of a car for the first time. My husband thought he'd be the perfect teacher for me since he had grown up with cars and had a lot of miles of experience. There's a saying that experience is a great teacher. We found out though that this doesn't automatically mean that if you have experience YOU will be a great teacher! My husband works in the automotive industry as an engineer. That's why we live in the Detroit area. It certainly isn't for the great weather! So anyway, he knows cars. He's driven for many years and even more miles. He's taught other people to drive. But what he had never done is teach an adult from half way around the world with poor English skills and absolutely no experience with cars. But we had survived our first 2 days of driving practice and were more or less ready for day 3.
Our previous lesson had been in an empty parking lot. I had gone around the edge and up and down the rows to get the feel of shifting, turning, stopping and starting. It was pretty flat and open and safe so, other than a few somewhat heated conversations it was so far so good. We went back to that same lot to continue working on some of the basics. In Michigan once a person is over the age of 18 or so it's no longer a requirement that they be taught driving at an official school. I guess the laws were set up to cover people like me who had moved here from some other country. Pretty much any adult with a driver's license could teach another adult to drive. Well, legally anyway. Like I mentioned, just because you were OK to teach someone didn't mean you could teach OK! So the way it worked is when you thought you were ready you had to take a road test with a state certified instructor. One of the things you would have to show is that you could park your car. Since I had to learn it anyway and we were already in a parking lot, this was what my husband thought we should practice for this lesson.
How hard could it be? Very hard as it turned out! I had a basic understanding that turning that wheel in my hand made the car change direction but I had never done it before where I was trying to be so accurate! Of course I knew why. When I went to the mall to shop in the future the parking lot wouldn't be so empty. Especially if they had the sale I was dreaming of! So I practiced going down one of the aisles and then turning into a parking spot. First I would be on this line, then the other. Then I would be at such a crazy angle that I would be on both! I had better luck parking if I was turning right. I guess since I was on the left side of that row it gave me more room to make the turn. Turning left into a spot meant that first I had to go right a bit to get more room and that always messed me up! I also couldn't judge the distance correctly and either stopped with the back end of my car hanging out into the aisle or pulled too far forward until I was over the line. Again, not a huge problem in an empty lot but not so good with other cars already parked. How could this get any worse I wondered? Then I found out. My husband/teacher now decided that he wanted me to back up into a parking space! Oh my. I hope you are enjoying the ride so far. Please come back for more!
Hat @Rue 21
Black Sweater Jacket @Forever 21
leopard top @ CK @Lord & Taylor
Bracelets @My Arm Charms
Green Leather Belt @J Crew
Jean Cutoff Shorts @Free People @Lord & Taylor
Blue Leather Bag @Valentina @TJ Maxx
Suede Fringed Booties @DSW
Cheers!
Grace
Today's Link ups:
Stylish Saturday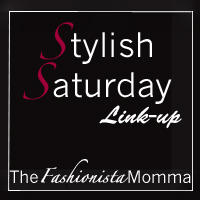 (Visited 73 times, 1 visits today)