How to style a Spring leather jacket
Leather jackets are the perfect outerwear when the weather is warming up. I have several different color leather jackets and I wear them all the time during Spring. Here are the looks for a brown studded jacket paired with some white skinny jeans.

Read my driving story below: 😉

I'm on a roll now!
So, there I was: At a stop sign: At the top of a small hill. For most Americans this is never a problem. Their car has an automatic transmission and they don't have to think twice about stopping and starting. Just take your foot off the brake and give it some gas. Easy peasy! But if you've been reading my posts you already know I'm not most Americans. I moved here from China almost 8 years ago after getting engaged to an American man I had met in Shanghai. One of the things I had never done in my entire life there was learn to drive a car. So my fiancé had decided it was time to change that. The only car we had was his little commuter car he had bought to drive back and forth to his office. We lived in a small town pretty far from Detroit where he worked. He wanted to get the best gas mileage he could for his 100 mile daily round trip so that meant our car came with a manual transmission. He got an extra 2 or 3 miles from every gallon of gas. I got a headache! Here I was, a non-English speaker, learning to drive in a country with all the signs in English AND learning in a car where I also had to change the gears!
So if you're not familiar with this kind of car what happens when you push the clutch to the floor is you pretty much disconnect the motor from the wheels. When you're sitting on a nice flat road or parking lot, nothing happens. But if you're on a hill when you do this, the car wants to roll down the hill. This is not a problem if you're facing down the hill. In fact it helps you get moving when you're starting out. BUT if you're looking uphill, you still start rolling down the hill, this time going BACKWARDS! Oh my! So that's what was happening now. As soon as I took my foot off the brake to move it to the gas pedal the car immediately started to roll backwards. Quick! Let the clutch out! You can guess what came next, stall! Start the engine, car in gear, move foot from brake, rolling backwards! Clutch out AND…stall. Well the good thing was that by now I had rolled backwards enough that I was pretty much off the small hill now. OK, go forward, and; Yes, I made it! I had gotten up the hill and onto the road that went back into the park. OK, I didn't exactly stop at the stop sign, but 2 out of 3 isn't too bad I thought!
I drove around the park and back to this little hill several times. Eventually I was able to take off without stalling, and only rolling back a little. There weren't any other cars near me so it was no problem to roll just a little bit! But enough of this driving in circles my fiancé/driving instructor thought, and we headed out to the exit gate of the park. Back on the small side streets we were going in the direction of the main road that went through our small city's downtown. I wasn't quite ready for that street yet. That one had traffic and traffic lights! So I took a left to start heading back towards our house and immediately went downhill. The bad thing about going down is that on the other side there's always an up. And sure enough, at the top of the up was another stop sign! And this hill was no little bump, it was serious! Suddenly, I was homesick. Oh, Shanghai: subways, busses, taxis, no hills. Who was this Henry Ford guy anyway and what the HECK was he thinking? I was stuck in a little car at a stop sign at the top of a steep hill. The only thing I was sure I could do was go backwards very fast as soon as I let off the brake pedal. Oh, well, only one thing to do, let's go for it! But not today! You'll have to come back to my next post to see how we did.
SHOP MY LOOK:
Brown Studded leather jacket @Wilson's Leather
Sparkly pullover Top @Ann Taylor
Scarf @Rue21
White skinny jeans @Nordstrom Rack @Joe's
Shoes @DSW
Leather Bag @Calvin Klein
Bracelet @My Arm Charms
Find a sponsor for your web site. Get paid for your great content. shareasale.com.
GIVEAWAY:
You regular readers may remember I co-hosted a giveaway in February with one of the prizes being the Rock Star Bracelet from My Arm Charms. I got so many comments about this great piece of bling that I was thrilled to see it's the grand prize in this month's giveaway! This is a giveaway for US residents only. A winner will be selected at random on the Rafflecopter link and entries verified then. This giveaway is from 3/16 to 3/30. As an added bonus you can get $10 off a minimum $30 subtotal purchase by joining the My Arm Charms e-mail list.
See it here: http://myarmcharms.com/products/rock-star
This glamorous Rock Star Bracelet is edgy, model chic in a bold teal and features:
-Leather
-Cast metal design
-1 3/4″H
-Adjustable (7 1/2″L or 8 1/2″L) button-snap closure
-Lead and nickel compliant
Giveaway Terms and Conditions:
US Residents Only. Winner is contacted via email, you must enter a valid email and must confirm receipt within 24 hours from the time and date emailed. This event is in no way administered, sponsored or endorsed by, or associated with Twitter, Facebook, Google, Pinterest or any other Social Media platform. No purchase is necessary to enter. Odds of winning are contingent on the number of entries received. You will have 24 hours to respond or prize is forfeited and a new winner will be selected. Void where prohibited by law. The SPONSER is responsible for shipping and delivery of the prize unless otherwise stated and the owners of Colorandgrace.com are not liable for prize delivery or receipt. You will hold colorandgrace.com harmless of all claims. All entries will be verified before winner is notified and any bad entries will be disqualified. Sponsor has the option to replace prize with something of equal or lessor value if the prize is no longer obtainable.
TODAY'S LINK UP PARTY:
Thursday Fashion Files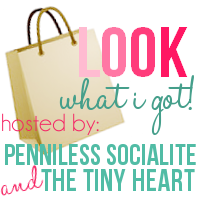 Cheers!
Grace
(Visited 88 times, 1 visits today)