How to style a palm tree print trend for spring!

Dear friends!
I will be on my vacation from 3/20 to 3/28. You will still see my new post everyday but I will not be able to reply to your comments during those times. I will get back to you ASAP after I am back from my vacation.
Enjoy my daily fashion updates and my driving story.
See you and have a great day!
Grace
3/20/2015
PALM TREES AND TROPICAL PRINTS ARE IN STYLE FOR 2015!
I am so excited to see the palm tree print trend coming back for Spring and Summer 2015. Today, I want to show you an outfit I built on a pair of white palm tree print skinny jeans for inspiration. The tropical theme is great for warm summer days, Although you still see the snow on my background, we need to think forward! 😉
My driving story continues:

Hey! Slow down!
So far in my driving lessons my husband/instructor and I haven't been on a road with traffic. We started my training in an unusual place, a cemetery. Then we moved to our city park and next to some of the side streets in our small town. I had yet to go out onto a main road. My driving teacher decided that this would be corrected in our next lesson. In most small cities and towns the downtown area is an intersection between two main roads. In America, the road builders like order and that means that usually one road runs north and south and the cross street runs east and west. My town was built with this pattern in mind. I had backed out of our driveway and headed towards the main road that goes through our town from east to west. I had to cross a railroad track and two stop signs to get there but it was pretty much downhill so I had no problems like I did when I was stuck at the top of a hill at a stop sign. Going downhill was easy in comparison. As soon as I took my foot off the brake we started rolling in the direction I wanted to go anyway. Then all I had to do was let the clutch up and give it some gas. Easy peasy and no stalling. At the second stop sign I was ready to pull onto the main road. Turn signal on. Check. Look for traffic. Check. Lift up on clutch pedal and…stall. Uncheck.
You begin to wonder about some strange things sometimes. Like for instance on every car is a little machine called a starter. When you turn your key this spins around and turns your motor until it starts. I'm guessing that's how it got its name. I'm pretty mechanically minded like that. Anyway, like any machine, it only has so many times it can work before it breaks. In my short driving career so far, I guess I had to use the starter a couple thousand times already. Maybe that was a slight exaggeration but it certainly seemed that I would wear it out before I got my driver's license. But I turned the key and once again, my car was ready and waiting. OK, turn signal still on. Check. Look for traffic. Where did all those cars come from? There was an unbroken line of cars and trucks coming and it looked to me like they were moving fast! The speed limit on the small side streets I'd been practicing on was 25 miles per hour. In fact I probably hadn't gone much over 15 or 20. That was plenty fast enough for me. These cars seemed like they were flying! My husband/teacher explained that on the main road the speed limit was 35mph and only slowed to 25 where it crossed our little side street. But a lot of people didn't actually slow down fully for another block. There was no way I was going to pull out in front of one of these racecar drivers.
So I waited: And waited. My "teacher" tried to point out that I had plenty of room to pull out a couple times but what did he know? I was feeling enough stress without his "suggestions". Eventually the road cleared. Somewhere off to my left a traffic light had changed to red and stopped the flow of traffic coming towards me. It was now or never. I let the clutch up and pulled into the road. Now so far all the roads I had been on were only wide enough for one car going each direction, but as soon as I turned I found myself on a 7 lane road! There were 2 lanes for cars to go in either direction. In the middle was a special lane for people who wanted to turn left onto a side street. And on both sides was a lane for people to park their cars so they could get out and walk around the downtown. These cars were parked differently than in the parking lot where I had practiced. They were single file and front to back. I asked my husband how the heck they got their cars in those spots. He just smiled and told me that was another skill I would have to learn. They even had a special name for it. Two words that have come to mean terror to many new drivers: Parallel Parking. Oh my. Please come back for more!
Find a sponsor for your web site. Get paid for your great content. shareasale.com.
SHOP MY LOOK:
White fedora hat @Meijer
Grey sweater jacket @Nordstrom Rack
Dark green top @Lord&Taylor
White palm tree skinny jeans @Nordstrom Rack @Joe's
Shoes @DSW @Nine West
GIVEAWAY:
You regular readers may remember I co-hosted a giveaway in February with one of the prizes being the Rock Star Bracelet from My Arm Charms. I got so many comments about this great piece of bling that I was thrilled to see it's the grand prize in this month's giveaway! This is a giveaway for US residents only. A winner will be selected at random on the Rafflecopter link and entries verified then. This giveaway is from 3/16 to 3/30. As an added bonus you can get $10 off a minimum $30 subtotal purchase by joining the My Arm Charms e-mail list.
See it here: http://myarmcharms.com/products/rock-star
This glamorous Rock Star Bracelet is edgy, model chic in a bold teal and features:
-Leather
-Cast metal design
-1 3/4″H
-Adjustable (7 1/2″L or 8 1/2″L) button-snap closure
-Lead and nickel compliant
Giveaway Terms and Conditions:
US Residents Only. Winner is contacted via email, you must enter a valid email and must confirm receipt within 24 hours from the time and date emailed. This event is in no way administered, sponsored or endorsed by, or associated with Twitter, Facebook, Google, Pinterest or any other Social Media platform. No purchase is necessary to enter. Odds of winning are contingent on the number of entries received. You will have 24 hours to respond or prize is forfeited and a new winner will be selected. Void where prohibited by law. The SPONSER is responsible for shipping and delivery of the prize unless otherwise stated and the owners of Colorandgrace.com are not liable for prize delivery or receipt. You will hold colorandgrace.com harmless of all claims. All entries will be verified before winner is notified and any bad entries will be disqualified. Sponsor has the option to replace prize with something of equal or lessor value if the prize is no longer obtainable.
TODAY'S LINK UP PARTY:
Stylish Saturday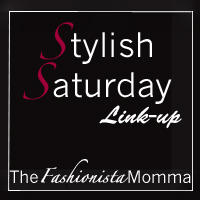 Cheers!
Grace

(Visited 80 times, 1 visits today)