Spring break travel in style!
Dear friends!
I will be on my vacation from 3/20 to 3/28. You will still see my new post everyday but I will not be able to reply to your comments during those times. I will get back to you ASAP after I am back from my vacation.
Enjoy my daily fashion updates and my driving story.
See you and have a great day!
Grace
3/20/2015

Are you going anywhere during this Spring break? Well I am. Actually I am in Cancun now while you are reading this post. I love traveling in style. But it doesn't mean I have to sacrifice being comfy. Remember this white hat? It is my travel hat and it has already accompanied me around the whole world. What do you wear when you are on the road?
I am certainly enjoying reading your comments about my driving story! It was a great memory for me. More to come below, enjoy!
Oh dear. OH! DEER!
Well I had finally gotten to use all 5 gears on our little car. With the manual shifter I had to choose them by myself. But then, I've been choosing my own clothes for years so what was one more thing? I'm in the middle of several posts about when I learned to drive after I moved to America. I hope you've been reading and riding along and more important, I hope you've been enjoying it! So I had done about as much driving as I could in my little town. My husband was my driving teacher and he agreed that for the next lessons it was time that I got out of the city. You could only learn so much at 25 miles per hour. So off we went. There was good and bad about living in our small town. There wasn't much shopping nearby. My husband had to drive about 100 miles a day for his roundtrip commute. That's why we had this little car with the manual shifter to begin with. Our nearest Chinese grocery store was about a 45 minute drive away. But on the plus side there wasn't much traffic. And once you got just a short drive away from our house there was even less because you were in the countryside. If you turned onto one of the few side roads that went off of the main highway that went from our town towards Detroit you would soon find yourself in farmland. The roads here were long, straight and flat. This was exactly what I was looking for to practice!
Our part of Michigan was full of farms. You don't really know this if all you did was drive on the freeways or the main highways from big city to big city. But going off these roads you saw a different part. I drove past houses and barns and fields and saw all kinds of animals. Cows, horses, chickens, pigs and the occasional sheep were in fenced off areas as we drove. Sometimes the road turned to dirt and gravel if we got out too far but they were still mostly smooth so it was no problem. There were very few stop signs and even fewer traffic lights and after the troubles I had with those particular items in town, I was fine with not seeing them. I was starting to relax and even enjoy driving a bit. When you're on a long straight road without starting and stopping, having a manual shifter didn't really mean much. Once you were moving along, you just had to keep the car pointed in the right direction. I could even begin to enjoy the view and look arou…what's that? Something just moved in front of me. Something big! DEER!!!! BRAKE, BRAKE, BRAKE!
I remember the first time I saw some deer after I moved to America. I had never seen one in China. I guess there are some in the areas that still had forests. But where I lived was either factories or office buildings and there were no deer to be found. I thought it was so cool to see them, off in the distance as we drove. My husband had a bit less romantic opinion of them. And as it turns out so did many people here. Farmers hated them. They ate corn and other crops like they were starving. And with so much food available they bred like mice. In fact my husband referred to them as hoofed rats. And they aren't tiny. They can weigh up to 200 pounds or more and cause a lot of damage for drivers and their cars. Every year people were actually killed in accidents when they ran into a deer or even worse, if they tried to avoid the deer and ran into something even more solid like a tree. In Michigan they really were everywhere; so many that every year a half a million people went out to hunt them! I could never understand why my husband would get so nervous when he saw a deer. But now I did. The trouble usually wasn't with the deer you saw, but with the ones you didn't. Deer often like to hang out together. I do too with my girlfriends. But none of my BFFs ever ran in front of a moving car! This was NOT true for these beautiful and very, very stupid animals! Sure enough, here came several more. It was amazing seeing how fast they could run and how high they could jump. By this time, I had managed to slow down enough that we were not in any danger, other than the near heart attack I was given that is. I mean, how did I ever think they were pretty to begin with? They were a danger to all us drivers! On the plus side, I didn't stall the car! Things were looking up! Or were they? Come back to my blog to find out!
Find a sponsor for your web site. Get paid for your great content. shareasale.com.
SHOP MY LOOK:
White fedora Hat @Meijer
Black sweater jacket @Tommy Hilfiger
Striped dress @Tommy Hilfiger
White flats @DSW
Two tone bag @Michael Kors
Sunglasses @Marc Jacobs
Bracelets @My Arm Charms
GIVEAWAY:
You regular readers may remember I co-hosted a giveaway in February with one of the prizes being the Rock Star Bracelet from My Arm Charms. I got so many comments about this great piece of bling that I was thrilled to see it's the grand prize in this month's giveaway! This is a giveaway for US residents only. A winner will be selected at random on the Rafflecopter link and entries verified then. This giveaway is from 3/16 to 3/30. As an added bonus you can get $10 off a minimum $30 subtotal purchase by joining the My Arm Charms e-mail list.
See it here: http://myarmcharms.com/products/rock-star
This glamorous Rock Star Bracelet is edgy, model chic in a bold teal and features:
-Leather
-Cast metal design
-1 3/4″H
-Adjustable (7 1/2″L or 8 1/2″L) button-snap closure
-Lead and nickel compliant
Giveaway Terms and Conditions:
US Residents Only. Winner is contacted via email, you must enter a valid email and must confirm receipt within 24 hours from the time and date emailed. This event is in no way administered, sponsored or endorsed by, or associated with Twitter, Facebook, Google, Pinterest or any other Social Media platform. No purchase is necessary to enter. Odds of winning are contingent on the number of entries received. You will have 24 hours to respond or prize is forfeited and a new winner will be selected. Void where prohibited by law. The SPONSER is responsible for shipping and delivery of the prize unless otherwise stated and the owners of Colorandgrace.com are not liable for prize delivery or receipt. You will hold colorandgrace.com harmless of all claims. All entries will be verified before winner is notified and any bad entries will be disqualified. Sponsor has the option to replace prize with something of equal or lessor value if the prize is no longer obtainable.
TODAY'S LINK UP PARTY:
Thursday Fashion Files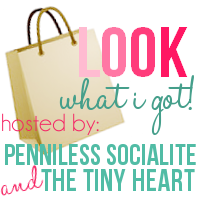 Cheers!
Grace
(Visited 72 times, 1 visits today)