How to dress down a pencil skirt!
Dear friends!
I will be on my vacation from 3/20 to 3/28. You will still see my new post everyday but I will not be able to reply to your comments during those times. I will get back to you ASAP after I am back from my vacation.
Enjoy my daily fashion updates and my driving story.
See you and have a great day!
Grace
3/20/2015
Pencil skirts are a must have in everybody's closet. They're so flattering, super sexy, and easy to dress up or down. You all probably know how to dress them up, especially for work. So today let's talk about how you can pair it with a graphic Tee to dress it down. I love a good graphic tee, and any top with text on it feels very young and casual. Remember, I love to walk a fine line between cool and classy so I avoid sneakers and instead, keep the high heels.
Yes my driving story is still here! Find out what happened in this lesson below:
So big! And so fast!
Here we were, at a rest area on the side of an Interstate Freeway in Michigan. I had never driven on a freeway yet and had not gone over 55 miles per hour. But my fiancé/driving teacher had decided it was time for my first high speed practice. Actually it probably wasn't a bad idea. We were on our way to northern Michigan to visit my future in-laws. Once you got away from the heavy traffic of the Detroit area and started to head "Up North" the road became pretty empty. But I still wasn't very happy about my "instructor's" little plan. I thought I was going to have a nice weekend off from my driving practice. The "expert" could drive and I would just relax in the passenger seat; maybe even take a nap if I felt like it. But that had all changed when I came out of the women's bathroom at the rest area and found my future husband sitting in what should rightfully be my seat. I went to open my door and correct his error but he had already locked it. He waved the car keys behind his window and pointed to the driver's side door. I was not amused.
But I walked around to the other side of the car and opened the door. I got in, adjusted my seat and the mirrors and then asked my "sweetie" what the heck he was thinking. But he put on his best driving teacher face and told me this was a great opportunity to practice freeway driving without much pressure. And all he wanted was for me to go to the next rest area. These small parks were spaced about every 40 miles or so, on the freeways in Michigan and in fact, were pretty convenient. They weren't actually an exit with stop signs or traffic lights and streets. Often they were in the middle of nowhere but were always very easy to go into and get out of. Oh well, I guess I could give it a try. The speed limit on this road was 70 miles per hour so if the next rest area was about 40 miles ahead that meant that I only had to survive for a little over half an hour. I had spent longer than that in a department store changing room so I could do it!
Start the car, back out of the parking space, put the shifter into first gear, gas, let the clutch out, slow, slow, stall. This was NOT a good sign. Whatever. OK, start the car again, more gas this time, clutch, slow, slow, YES! I was moving. More gas, now I was picking up speed. Clutch, second gear, gas, clutch, third gear, clutch, fourth gear! I had never gone this quickly with my shifting. But the road from the rest area onto the freeway was a nice gentle curve and the whole idea was that you had the chance to get to freeway speeds before you mixed in with the cars already on it. More gas, fifth gear! That was all our little car had so I didn't have to use the clutch any more for a while. OK, gas, gas, WOW this was fast! 60…65…70! And now I had to get over to my left one lane to get fully onto the freeway. Turn signal, check. Look in mirror, check. Turn head to look in blind spot, (HA, I had fallen for that trick before!), check…O!M!G! THAT IS THE BIGGEST TRUCK I HAVE EVER SEEN! How the HECK could something so huge, be moving SO fast? AND occupying the same space I hoped to move into! Definitely not a good sign! I hope you come back to see what happens next!
Find a sponsor for your web site. Get paid for your great content. shareasale.com.
SHOP MY LOOK:
Graphic Tee @Banana Republic
Black skirt @Nordstrom Rack
Shoes @DSW @Nine West
Bracelet @My arm charms
GIVEAWAY:
You regular readers may remember I co-hosted a giveaway in February with one of the prizes being the Rock Star Bracelet from My Arm Charms. I got so many comments about this great piece of bling that I was thrilled to see it's the grand prize in this month's giveaway! This is a giveaway for US residents only. A winner will be selected at random on the Rafflecopter link and entries verified then. This giveaway is from 3/16 to 3/30. As an added bonus you can get $10 off a minimum $30 subtotal purchase by joining the My Arm Charms e-mail list.
See it here: http://myarmcharms.com/products/rock-star
This glamorous Rock Star Bracelet is edgy, model chic in a bold teal and features:
-Leather
-Cast metal design
-1 3/4″H
-Adjustable (7 1/2″L or 8 1/2″L) button-snap closure
-Lead and nickel compliant
Giveaway Terms and Conditions:
US Residents Only. Winner is contacted via email, you must enter a valid email and must confirm receipt within 24 hours from the time and date emailed. This event is in no way administered, sponsored or endorsed by, or associated with Twitter, Facebook, Google, Pinterest or any other Social Media platform. No purchase is necessary to enter. Odds of winning are contingent on the number of entries received. You will have 24 hours to respond or prize is forfeited and a new winner will be selected. Void where prohibited by law. The SPONSER is responsible for shipping and delivery of the prize unless otherwise stated and the owners of Colorandgrace.com are not liable for prize delivery or receipt. You will hold colorandgrace.com harmless of all claims. All entries will be verified before winner is notified and any bad entries will be disqualified. Sponsor has the option to replace prize with something of equal or lessor value if the prize is no longer obtainable.
TODAY'S LINK UP PARTY:
Stylish Saturday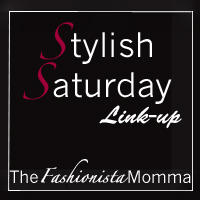 Cheers!
Grace
(Visited 109 times, 1 visits today)