What to wear on Easter Sunday?
Let me get this straight, so there's a big rabbit that lays eggs?
I get asked all the time if they celebrate this holiday or that one in China. Easter is one of those ones that is pretty foreign to me. In China a lot of people go out for Valentine's Day and you can even hear Christmas music in the department stores in December. But Easter is pretty much an unknown to most Chinese. Of course when I first moved to America, my new family members wanted to make sure that didn't last long. Even though my step-daughter was already in her 20s, she still loves all the traditional holidays. She decorates her house all year long for whatever holiday is coming next. She brought me my very first Easter basket! It was decorated and stuffed full of chocolates, jelly beans, marshmallow chickens and other candy. And she insisted that we color Easter eggs and that my husband hide them on Easter Sunday morning so she and I could find them.
In fact the Easter egg hunt is a yearly tradition. They even do it every Easter in Washington DC at the White House. One of the problems with living in a place like Michigan is that winter often doesn't know that it's supposed to stop on March 20. Since I've lived in Michigan I remember several Easter mornings where there was snow on the ground. That really gives trouble to the yearly Easter Egg Hunt they like to have in our small town. The poor kids have to try to find the Easter eggs in the snow some years! I really don't have much of a sweet tooth. Many Chinese people never really had much candy when they were younger so didn't get the taste of it. So after a couple years my step-daughter stopped making the Easter baskets for me, which is fine. They are really more for the children. It was great that went through all the work just because she wanted me to have the experience though!
I really have a great family! And speaking of that, there are other traditions with the holiday that I really like too. We always get together with my husband's family for a big Easter dinner. Ham is the traditional main course but there is always lots of other good food to eat too. And a lot of nieces and nephews and cousins and other people come over to share the big meal. I love these family holidays and getting together with people you only get a chance to see a few times a year. Another part of the holiday I like is there are usually new clothes to buy! The girls usually get a nice Easter dress and the boys maybe a new suit for the year. I didn't need much convincing to join in with this tradition and got my new pastel color pieces to go with the holiday and the season. After all, now that I'm an American it would seem rude to not join in! I hope all you have a happy and safe Easter holiday!
SHOP MY LOOK:
Teal jacket @old from China
Yellow dress @Nordstrom Rack
Red bag @Michael Kors
Shoes @DSW @Nine West
Bracelet @Express
Stylish Saturday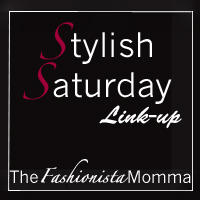 Cheers!
Grace
(Visited 118 times, 1 visits today)