SPRING BREAK CANCUN TIPS—CHICHEN ITZA PART 2
One down, six to go!
In yesterday's post I started talking about our day trip we took during our spring break vacation in Cancun. We were at the all inclusive resort of Grand Bahia Principe Coba in Cancun and even though they did a great job of offering enough activities to keep anyone busy, we decided to leave for a day to do some exploring. We booked a trip to the Mayan pyramid and ruins of Chichen Itza with a tour company called Cancun Passion. We got on a colorful and comfortable tour bus and made the 2.5 hour drive from our resort to the tour bus parking lot. Our tour director Victor took care of most of the details. The driver was José and our tour guide was Eduardo. Eduardo proved to be full of facts and interesting knowledge. And he carried a large notebook that was positively overflowing with pictures, drawings, charts and characters that he would pull out throughout the day. He was quite entertaining and we got used to him telling us some vital fact or historical tidbit which he would follow up with a page in his book to help us see and understand. Before we left the bus we were warned that the area was pretty much blanketed with venders selling, well blankets, and all kinds of supposed authentic Mayan artifacts and souvenirs. We were told that in fact many if not most of these archaeological treasures were probably from a factory somewhere in Southeast Asia.
Duly warned we went off into the bright sun and heat of the central Yucatan Peninsula. The temperature felt quite a bit higher than at our resort. It was probably similar in fact, but now that we were away from the coast we didn't have the benefit of the constant ocean breeze. Victor made sure everyone got a bottle of water as we left our bus and we went through the entrance to the monument. Well after everyone took a bathroom break that was! Hey, it was a long bus ride! This pyramid is one of the 7 Modern Wonders of the World. So it gets its share of tourists. In fact the crowds weren't as bad as we thought they might be. If we had been there a couple days earlier it would have been a different story. Every year on the few days starting with the first day of spring and the first day of autumn the shadows at a certain time of day make an interesting pattern that resembles a giant snake that looks to be slithering from the top of the pyramid to the bottom. It's incredible that these people from so long ago were able to build this huge pyramid and have it positioned so perfectly that this would happen. But that's one of the reasons this place is so famous; and so crowded on those particular days. Throw in the fact that all the national parks in Mexico have free admission on Sundays for citizens and that would have added up to huge crowds.
This park is actually quite large, and now that the shadow show was over we had a lot of space to roam without feeling too cramped. The pyramid was the main attraction of course but there were several other structures including a building that is thought to have been a sort of planetarium. It turns out that the ancient Maya were some of the most advanced peoples of their time for mathematics and astronomy. Now that this site is on the short list of World Wonders you can't do much close up looking any more. You can no longer climb the stairs or get behind the ropes unless you have special permission from the Mexican government. We did a lot of walking and sweating going from place to place in this park. Thankfully, Victor brought some more cool water to top up everyone's water bottle and we usually found some shade to stand under while Eduardo brought out his book to show us a new picture. I usually love the heat and it's rare for me to work up a sweat but on this day I was getting pretty sticky. We did ok avoiding the constant cry of the souvenir sellers and were able to keep up with our group. One poor man lost his wife while we were making our way through a wooded area to the next ruins. But they were reunited when we headed back toward our bus. By this time I was hot, tired, hungry and thirsty. One more stop at the rest room on our way out of the park and we found our colorful bus with no problem. Our bus driver José instantly became my favorite person on the tour as he handed out ice cold bottles of Corona Mexican beer as we boarded the bus! I am not really much of a beer drinker but at that time it tasted WONDERFUL! Everyone was present and accounted for so off we went. Next stop, lunch! Find out how that went in my next post!
SHOP MY LOOK:
Fedora hat @Meijer
Black T-shirt dress @DKNY
White flats @DSW
Necklace @Ann Taylor
Neon Bag @Kate Spade
Sunglasses @Fendi
TODAY'S LINK UP PARTY: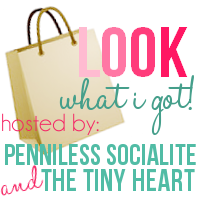 Cheers!
Grace
(Visited 198 times, 1 visits today)