How to style a yellow blazer
What color represents spring better than yellow? None! I am wearing this yellow blazer to my training conference today. Because the dress code is business casual, I paired it with a white skinny jeans and flats. If my brain has to work so hard then it is better that my body is a little bit relaxed. 😉
Here my driving story continues…
What goes up must come down!
So here I was, driving for my first time on a freeway and at freeway speeds too! We were in northern Michigan so I had that going for me. There was no rush hour traffic and big city congestion to worry about. But there was this one huge truck that I couldn't seem to get out of my life. When I had first gotten onto the Interstate Highway from one of the roadside rest areas this truck had almost made me into a speed bump as I was trying to merge into the slow lane. But he had roared off into the distance and I was able to concentrate on just keeping our car in my lane. Our little car wasn't very fancy at all but one nice feature it had was cruise control so I was able to use that to keep a constant speed. This was quite handy when you're just learning as it gives you one less thing to think about. But as we started on a very long uphill part of the road, I noticed that the truck I had thought was gone for good was in front of me and getting closer. Actually I was the one getting closer. My little car didn't have a big motor but it was big enough to keep us going at 70 miles per hour. The truck weighed probably 1,000 times more than our little car and there weren't many motors that would keep him up to speed on a long hill like this. So I signaled, checked and checked again, then moved over into the left or fast lane to pass the truck. This all seemed to be happening in slow motion. This truck was huge. It had the front part where the driver sat and then a long trailer and behind that, was another long trailer! No wonder his motor wasn't able to keep up with the speed limit!
One thing I've learned about the freeways, at least in Michigan, is that the speed limit signs are pretty much just suggestions and the fast lane is just that. It's for people who want to go FAST! Even though the truck was slowing down, the driver was still doing his best to keep up. So it was taking a long time for me go get around this long collection of wheels and metal. I had my cruise control set to 70mph exactly. That was the speed limit after all and was already the fastest I've ever driven. It seemed to me almost like I was flying! I was gradually moving towards the front of the truck, one set of wheels at a time. But then I glanced in my mirror only to find a car right behind me! And I mean right near me! There couldn't have been enough room to walk between us. That is if you could walk at 70 miles per hour! When you're a new driver, you are always nervous to begin with and every time I saw someone was behind me it put extra pressure on. At a stop sign it usually meant that I would stall even when I wasn't on a hill. So here, going 70mph, a car behind me close enough to touch and a truck as big as a house on my right, and on my left was nothing but trees. That left in front as the only direction I could do something with. My husband/driving teacher told me to just speed up a little to get around the truck quicker. But I had the cruise control on and I was already going the speed limit! How the heck was I supposed to do that? As it turned out it was actually pretty easy. I just gave it a little more gas.
My husband explained that the way the cruise control worked was you could speed up a little bit just like you would usually by putting your foot on the gas pedal. And when you were ready to go back to your set cruise speed all you had to do was take your foot off and it would take care of it. To go slower or stop completely all you had to do was touch the brake pedal and the cruise control would be automatically turned off. Easy peasy. Of course it was to him. He'd only been driving since they invented these stupid cars. Well maybe he wasn't quite that old! Anyway, I sped up, 71…72…73…74…75 WOW! This is really pretty fast! But it was working! I was getting around the huge truck much quicker now. It probably helped that we were still on the long uphill road and the truck was actually slowing down at the same time I was speeding up. Anyway within what seemed like several minutes but was really only a few seconds I was finally in front of the truck and it was clear for me to get back into the slow lane where I belonged. I checked my mirror, set my turn signal, checked my blindspot and started to move over to the right and WHERE DID THAT CAR COME FROM?!?!?!? It was that same stupid car that was behind me. He was in such a hurry that as soon as he was barely in front of that truck he cut over and then was going as fast as he could! I had been doing what my "teacher" had told me which was to wait until I saw the whole vehicle I had passed in my mirror until I pulled in front of it. The more I drove the more I thought maybe there were a LOT of drivers who needed some more training! Anyway, I got over and took my foot off the gas and we settled down to a calmer 70mph in the slow lane. Just then we were at the top of the long hill we had been climbing and I saw the view in front of me. The freeway went off into the distance and you could see for miles. It was actually quite beautiful and I started to enjoy the drive again. This part of Michigan is full of forests and even though it was late autumn and the leaves had already fallen there were still thousands of pine trees around and they stayed green all year. I was admiring the view and looking forward to spending the weekend with my in-laws when all of a sudden my thoughts were interrupted by a huge truck coming up next to me in the fast lane! Yes. THAT truck. You've GOT to be kidding me! Now that we were no longer going uphill he was making up for lost time. Hop in and ride along tomorrow to see if I ever get rid of this monster!
SHOP MY LOOK:
Yellow blazer @old from H&M
Striped Tee @French Connection
White ripped skinny jeans @Guess
Red Sunglasses @Marc Jacobs
Coral bag @Nordstrom Rack
Flats @Nordstrom Rack
Bracelets @My Arm Charms

TODAY'S LINK UP PARTY: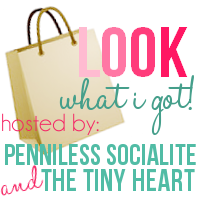 Cheers!
Grace
(Visited 54 times, 1 visits today)