Casual leather jacket outfit
Spring in Michigan is not always that nice and warm. A leather jacket can keep me comfortable and stylish. I like to wear it with jeans on the weekends. Do you have your go to weekend leather looks?
Remember that crazy giant truck? The story continues…
Good news/bad news!
So I had been passing and getting passed by this same huge truck for several miles. I was on Interstate 75 in northern Michigan. We were on our way to spend the weekend at my in-laws house and my husband/driving teacher decided it was a good opportunity for me to practice some high speed freeway driving. It was going pretty good except that I couldn't seem to get away from the giant truck that almost ran us over when I was first getting on the highway. The driver had gone roaring off into the distance but when we got into a part of Michigan with a lot of hills I was able to catch up to him. Then on the downhill parts he would catch up to me and back and forth we went. The worst part of it was that when I was on the far side of the truck for one of my turns to pass I went right past the rest area that was supposed to be the end of my lesson! So since there was no other place to pull off and get out of the driver's seat and back into the passenger side where I belonged, I just kept going. In the meantime, the back and forth game with this crazy truck still had a few more turns in it. It was now starting to get dark so I didn't have to worry too much about missing much scenery. It wasn't really that late but this time of year (late autumn/early winter) the days were getting pretty short and the nights long. Just to give me another thing to think about, my husband reminded me that this was the time of day when the million plus deer that lived in the state started to move around. Great.
There was some good news coming up though. We were only a few minutes from our freeway exit. I had been behind the wheel, driving at about 70 miles per hour for almost an hour by now and I was ready to slow down! Just to make sure I didn't relax too much it was just before our exit that another freeway coming from a different part of Michigan merged with ours. This briefly added a few more lanes of high speed traffic and got me nervous as all these cars sped up, slowed down and changed lanes as they adjusted to where they wanted to go to next. Probably 99% of all the exits and entrances on the Interstate highway system come and go from the right hand or slow lane. This part of Michigan had a couple of the 1% oddballs within just a few miles. The freeway that joined ours came in from the left. So some of those drivers had to cross 4 lanes of highway in order to get off at the next exit; which was, of course, placed on the far right side of our freeway. Luckily this far north there isn't usually much traffic. I was in the more comfortable slow lane during all this mixing and changing so all I had to do was make sure I didn't get in anyone's way until things sorted themselves out. And pretty soon I'd be getting off the freeway and would be able to slow down to a more reasonable speed.
The four lanes went back down to the usual 2 as we started another long downhill portion of the drive. Of course, that meant that my favorite truck would probably be coming up on my left any second now…and here he was! Sure enough, moving into the left lane and picking up speed was my old friend. No worries I thought. I'd be getting off this crazy road soon and he could have it all to himself. All I had to do was keep to the right and any second now I'd see a huge green sign telling me…wait…what? There was a big green sign alright but it said the next exit was on the left! It was ANOTHER of those 1% fast lane exits! This must really be my lucky day! And of course it was coming up soon. Why wouldn't it after all? The only problem was there was a huge truck AND some cars behind it between me and where I needed to get to. OK, hit the brake to turn off the cruise control and start to slow down. Turn signal on, check my mirrors. No, still the truck and some cars. Slow down more. OK, the truck is gone and now he moved in front of me. I didn't care; he could soon have this stupid freeway! One car gone, another, one more to go, exit coming very close, and that car is in front, NOW! GO GO GO! Give it some more gas to get back up to a better speed and then…exit! YES! I was finally off the freeway! But now there was an orange sign in front of me with an arrow and a warning that I should only be going 45 mph for this exit curve. I hadn't gotten all the way back to 70 when I was getting off the freeway but I was still going a good 20 miles per hour too fast! Time to hit the brake a bit harder! Slow, slow, SLOW! OK, around the curve, over a bridge and another curve and we were heading into a medium sized town. Just in front of me the first traffic light I'd seen in about an hour was turning from green to yellow and then to red. No problem. After going so fast I was enjoying the slow city speeds and came to a nice smooth stop. The light turned green, I shifted into first gear, started to let the clutch out…and stalled. Here we go again!
SHOP MY LOOK:
Wine color leather jacket @Nordstrom Rack @Michael Kors
Cropped Jeans @Nordstrom Rack @Paige
Shoes @TJ Maxx
Bag @Michael Kors
White sunglasses @Fendi
TODAY'S LINK UP PARTY:
Stylish Saturday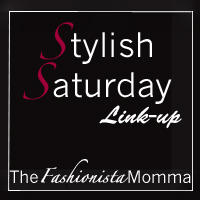 Cheers!
Grace
(Visited 180 times, 1 visits today)