Weekend brunch casual look
Two weekends ago we were at the small German town of Frankenmuth, Michigan celebrating one of my family members' birthday. If you're going away for a weekend, my first tip is to take a look at this amazing canvas weekender bag.
I call myself "The backyard model" because I was pretty shy when I was taking the photos. When other people look at me, I will feel very uncomfortable when taking a picture. I haven't found any reasons yet but I am working on it. I started getting better when we were in Cancun last month but my progress is pretty slow.
I love the real street background and the photos turned out pretty good too. Now I am thinking I may need to go out to take more pictures. How often do you take photos? Are you camera shy like me? How do you overcome this issue? I would love to hear from you. Just simply leave your comments below or shoot me an email at gracel@colorandgrace.com.
My driving story continues below…
Get back on the road!
Here we were, half way on our drive from my in-laws home in northern Michigan to our house in the Detroit area. I was behind the wheel on this Sunday afternoon because my husband/driving teacher decided to get such a bad nose bleed the day before that we had to go to the local hospital emergency room! The doctor put a big balloon up his nose to stop the bleeding and then told us that he should probably not drive for a couple days. This was NOT good news for me. I drove a bit on the trip to their home on Friday night and had some excitement from getting my first experience driving at 70 miles per hour and also my first time driving in snow! After that, I was looking forward to a relaxing weekend and ride home as a passenger. I found more and more often that I really shouldn't count on sticking to my plans! So anyway we had taken a different direction on the trip home to stay away from the heavier traffic that usually was around the bigger cities. We were going through the city of Mount Pleasant and the freeway in this area had some pretty sharp curves. Too sharp for me at least! I went into the worst one at the 70mph speed limit but this just seemed too fast for me to stay on the road. So I didn't! I wound up going onto the side lane they call the shoulder.
This lane is usually only for an emergency like if your car breaks down or maybe the police want to talk to you. The other thing that often happened in this lane is that any parts that fall off a car or truck may end up here. That's what I saw in front of me as I was going around this curve too fast. A large piece of something that looked hard! I for sure didn't want to hit that so hit my brakes to slow down and then quickly turned the steering wheel to get back into the lane. And then through the lane and into the fast lane! I yelled and my husband yelled. Then more yelling! A car was almost next to me but had seen me coming over so slowed down! By now we were on another curve going the other way! What the heck were these road builders thinking? I tried to get back over but wound up going off the other side of the road onto the left shoulder! By now, I was finally slowing down but I was also causing a bit of concern with the other drivers who did manage to stay in their lanes. Now there was more yelling but not all from inside the car. Some of those drivers were also waving at me with special hand signals. And they were testing the horns on their cars. That was just what I needed, more things to make me nervous.
This was when my "driving teacher" gave me the advice to maybe slow down BEFORE I get to the curve next time. If he hadn't had a balloon stuck in his nose I think I would have punched him there! Probably the only thing that saved him was the fact that I was grabbing the steering wheel so hard that it took me several minutes to relax my hands enough to let go! Anyway, by now I was both slowed down a bit and also through the crazy double curve on the freeway. So I was able to get back out of the way of the more experienced drivers and into the slow lane where I belonged! After this small panic, the road became straighter and the lanes wider again. I was very happy to see Mount Pleasant get further and further away in my rearview mirror as we left the city. I couldn't help but think to myself that whoever named this city "Pleasant" had even less understanding of English than I did. And I was only speaking it for a year by then! Well maybe the city was OK but its freeway was for sure not! But we made it the next 2 hours without any more scary parts and when I pulled into our driveway I took the keys out, handed them to my husband and told him no more lessons for a week! I've been driving for several years now but this was still the longest drive I have done at one time. I'm OK if I never break that record! The lessons do continue though so please hop back in and buckle up!
SHOP MY LOOK:
Cropped Jean jacket @old from China
Purple short sleeve top @Lord & Taylor
White skinny jeans @Guess
White slip-on flats @DSW
Bag @Coach
Necklace @Vintage
TODAY'S LINK UP PARTY:
Stylish Saturday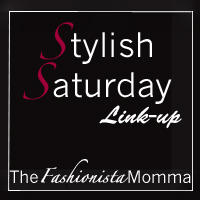 (Visited 52 times, 1 visits today)