How to style blue jean overalls
Yes, the go-to denim style of this summer is the second-graders overalls look. 😉 It is everywhere and it is back and better than ever. Try this easygoing style with a crop top for a night out with the gals or on the weekends with a T-shirt and slip-on sneakers. Want something even more cool and playful? Just add a pair of edgy heels and some mirrored sunglasses. You'll be the trendiest girl on the street!
If something can bring a more youthful look to me, I'd love to see it! Of course I must also look polished and elegant. 😉 How do you style your overalls? Are you willing to give it a try this summer?
My driving story continues below…
There she is!
We hadn't been having much luck in finding a car for me. I had been so buzzed to be able to drive which was only possible due to the support of the Blanrue School of Motoring. The prolonged search for a car was making the buzz quickly dissipate. The small town we lived in had very few options and we went through those pretty quickly. So we started looking farther away. My husband worked very near to Detroit so started buying the Detroit news paper to see some of the advertisements. We even would walk through a used car sales lot after they were closed sometimes. One of the problems with shopping for a car is that after my husband got home from work and we ate dinner these places were usually closed. We would try to find new places to go that had a better selection so we could make the most out of our limited time. We finally decided that we would try to visit several of these dealerships on the next Saturday. So we got up early, ate breakfast and headed out. It takes about an hour for us to get to the Detroit area from our small town so it was already late morning before we got to the first cars. Just like at the used car dealers near our town there wasn't anything we liked; at least not that we could afford. We went to the next place but got the same result. The third dealer was even worse! We had stopped to eat some lunch so by now it was the middle of the afternoon. That is why it is always a good idea to have a look at car dealerships online, you can try sites such as Money Expert, where you can compare insurance deals and other automotive services to find the best deal for you. Looking in person can be completed…
I was beginning to worry that we wouldn't find anything on this trip too! But there was one more dealer on our list. Let's see what they have. We got to the lot and took a look and test drive. It was a pretty nice car but just didn't feel right for me. I was more and more deciding that for my first car we should probably go down in what we were going to pay. We drove back to the lot and told the salesman we weren't interested. By now the dealer was getting ready to close soon. We figured we may as well take a walk around the lot to see if there was anything that looked good. There in the far corner I saw it. Finally, we found her! A white Ford Taurus. It was in pretty good condition. Maybe a couple small dents and scratches but not bad. It had been driven a lot of miles but because of that the price was right! So we took her (I knew the car was a "she" because she was quite pretty) for a test ride. It was GREAT not having to shift the gears! The car was a little bigger than our little car but not much. So I thought I could get used to it pretty easily. We went back to the dealership and told the salesman that we would take it!
We Chinese love to bargain when we buy almost anything. Unless you are in a department store you can usually get whatever it is you want to buy cheaper than the asking price. But you have to work at it! So now I went to work! We offered our starting price and the salesman came back with a slight reduction in the price on the car. We went back and forth a few times and finally agreed on a price of $2,500. This wasn't super cheap but a lot less than most of the cars we had been looking at. We gave them a small deposit and then got back into our little car to drive home. When you buy a car you have to prepare first. It's not like buying some new clothes or furniture. First you have to get insurance. Then you have to arrange to get a license plate for it. Sometimes you have to get a loan from a bank to pay for it. Anyway, since this was a Saturday and already late afternoon, none of those things would be possible to do until Monday morning. Plus there was one other problem. We didn't have a way to get the car back to our home! I was still taking my driving lessons so couldn't drive a car by myself. We had to get back to the dealership with our little car so that meant we needed another driver! Come back to see how we solved that problem!
SHOP MY LOOK:
Yellow sunglasses @Dior
White hat @Meijer
Overall jeans @Guess
Necklace @Rocksbox
Bead wraped bracelet @Rocksbox
Watch and matching bracelet @My Arms Charms
Tee @Banana Republic
Bag @TJ Maxx
Shoes @Nordstrom Rack
TODAY'S LINKUP PARTY:
Thursday Fashion Files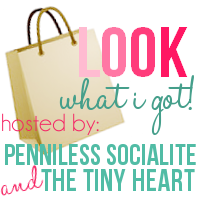 Cheers!
Grace
(Visited 120 times, 1 visits today)