Throwback Thursday Holland Tulip Festival
Welcome to a new month and the new and hopefully improved ColorAndGrace.com! I'm always working hard to make my blog better. A big part of that is being more and more useful to you, my wonderful readers! After all, if it weren't for you, I would just be talking to myself. And who needs even more people thinking you're weird? 😉 Anyway, I'm going to try a Daily Special menu.
Monday will have fresh home grown "Fashion 101″ posts. This is where I share my unique expertise to pass along color and fashion wit and wisdom. Tuesday will feature "Fashion Chinese Take-Out". Join me as I let you know what's going on half way around the world. Most of your clothes come from there, how about your next look? Next is "Graded by Grace" on Wednesday. You'll see how products I use did on their report card and also some shopping suggestions that will earn you extra credit! "Throwback Thursday" will relive and re-laugh some of my adventures and travels. The workweek wraps up on Friday with "They Got It Right!" Here I'll share a few photos of other bloggers who "got it" with the trend topic of the week! Then to jumpstart your weekend I highlight the week that was in "Fashion Gossip" on Saturday. Hey! What about Sunday you ask? Oh knock it off! The weather is getting better and I deserve at least one day off a week! I'm looking for your input, so don't be shy!
One reason I love the warmer weather is that it's also festival season. It seems that wherever you go in America there's a festival for something just about every weekend. These almost always feature some sort of food or plant or activity. There's a festival for every taste and person. For example there is a city in the west side of Michigan named Holland. That's right, just like the country. They even have a real windmill that came over from The Netherlands years ago. So they decided to go full Dutch by building a tourist industry around Holland's most famous flower, the tulip. These colorful bulbs are among the first flowers to bloom in early spring so the Hollander's are actually pretty smart. They don't have much competition from other cities that want to celebrate their Dandelion Days or Weed Week or something! Holland is about a 3 hour drive from our home in the Detroit suburbs. Anyway we figured it wasn't too far away and I'm always up for seeing fields of flowers so last Saturday we got up and hit the road to take in the Tulip Festival.
My husband had shown me the website and it was beautiful. The windmill against a bright blue sky and surrounded by colorful tulips as far as you could see; red and yellow and pink and orange! This was going to be great! And for once the Michigan weather was cooperating! It was sunny and warm; on a Saturday! We made the turn to go to Windmill Island. How cool is that name? Wait a minute, what are all those cars doing in front of me? Not much it turned out. They were all stopped in terrible traffic! Well that must just mean that we were in for quite a treat if all these people were going to the same place we were. They must all know something we didn't! As it turned out that was true. Although it's probably more accurate to say we were all equally clueless. After fighting crazy festival traffic for almost an hour we were inching along on the road onto Windmill Island. We could see the windmill off in the distance but at least from our location I didn't see a lot of flowers. They must be on the other side. It was about then that we noticed that the people who were walking on the side of the road were actually passing us! We figured it would take another hour to get to the parking lot at the speed we were going so we turned the car around and parked on the side of the road. There were cars lining the road on both sides so guessed it was OK to do so.
We walked about a half a mile where we found out we had to buy a ticket to get to the tulip fields. $8 each seemed like a fair price for the tulip sight of a lifetime. So we paid and went through the gate and over the bridge onto the island. Because of the festival they had lots of activities and even had a sort of village set up to show you how people lived many years ago. But I was on a mission. A tulip mission! So onward towards the windmill we went. Finally there ahead of us we saw the near edge of the huge tulip fields! Hmm. It looked a bit smaller than the website showed. Usually the closer you get to something the larger it looks to you, but this didn't seem to happen. We knew that with the long winter, not all the flowers would be in bloom but we really weren't ready for how small the display was! I guess there were maybe 20 rows of different varieties and colors but far from going off into the distance the other end of the rows were maybe a couple hundred meters away. Really? This was it? No, it couldn't be. So we asked someone who worked there. Yup. Oh, and please don't step on the flowers, we want them to last for the rest of the week! We stayed around for another hour or so and looked around the village and talked to some of the people who were selling things. I couldn't help thinking that they must have some VERY creative people running their website! All in all we decided that this really was a once in a lifetime experience. But only because not many people would come back again! Walking back to where we parked we noticed there were many cars from other states and also Canada. These people drove much further than we did! It's probably a bit mean but somehow that made us feel a bit better!
SHOP MY LOOK:
White fedora hat @Meijer
Kimono @TJ Maxx
White Tee @CK
Ripped Jeans @JustFab
Shoes @TJ Maxx
Black fringe backpack @TJ Maxx
Mirrored sunglasses @TJ Maxx
Bracelets @My Arm Charms
TODAY'S LINKUP PARTY: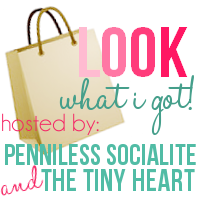 Cheers!
Grace
(Visited 141 times, 1 visits today)