Throwback Thursday camping at Michigan Holland state park
https://colorandgrace.com Daily Special menu.
Monday – Fashion 101
Tuesday – Fashion Chinese Take-Out
Wednesday – Graded by Grace
Throwback Thursday
Friday – They Got It Right!
Saturday – Fashion Gossip
Sunday – Gone Fishing! Or shopping. Or gardening. But not blogging!
Got a special order? Let's hear it! I'm always looking for suggestions and comments!
Good morning Campers!
If you've read some of my early posts you know I'm not a big fan of the great outdoors. Oh, I love to be in my garden and a walk on the beach is one of my all time favorite things. But at night give me my nice king size bed and electric blanket if I need it and that's my idea of comfort! Since I've moved to America 8 years ago I have spent exactly 2 nights in a tent. And that was one night too many! The first night was quite nice but on the second one, I froze! That was several years ago and I'm just now starting to feel my toes again! So when we went to Holland, Michigan to visit their annual Tulip Festival I was a bit nervous because we were going to try camping again! II was planning on buying a new tent and a portable toilet from here. But my step-daughter has come to my rescue. She just bought a huge camping trailer and invited us to stay with her and her fiancé. She did say she spent a while looking through rv marine batteries to find the best one, but it was definitely worth it! This thing is pretty much a house on wheels! It has moving walls to make it bigger when you're parked for the night. There's a bathroom with a shower, a nice kitchen, air conditioning and a big heater! It even has a fireplace! OK, it's an electric one but still, now you're talking about my kind of camping.
So with that problem solved all I had to do was enjoy myself. I'm VERY experienced for that! There are all kinds of campgrounds to choose from. We wanted to be near the festival area and as luck would have it there is a Michigan State Park right next to Holland. This city is right next to Lake Michigan and the park is too. In fact the park is also just across the road from the much smaller Lake Macatawa. So we got 2 lakes for the price of 1! We were only staying one night because I was still nervous about the whole camping thing so after we went to the Tulip Festival on Saturday afternoon we drove back to the park to have dinner and relax. Holland State Park is actually 2 parks; one near each lake. So after dinner we went to the other park to watch the sunset. OMG! I wish I had gone there earlier! What a great beach! It was wide with powdery white sand. Of course in early May no one was swimming yet. It hadn't been too long ago that the lake was covered in ice! But the weather was summery and there were lots of people relaxing and playing on the beach and watching the sun set over Lake Michigan.
We went back to the camper and got ready for bed. That night a strange and unexpected thing happened, I slept! I was expecting to have a big problem but actually woke up Sunday feeling pretty good. And I wasn't cold at all! So maybe I could go camping again! We had a delicious breakfast and then went to explore the park. There was a long trail that started near the entrance and went through the trees and up and down and up the hills again until you got to a high overlook. From the top we could see both lakes, the beach and the old lighthouse. This was great! I love walking and when you can do it with a view it's even better. We walked back to the campsite and then got in the car for the drive home. I couldn't believe how much better this camping experience was than the last one!
So why would anyone go camping? I wondered this too. But I think I have some answers. Well one of the big draws is cost. Not so much for the motor home or trailer but for the night's charge. A night at a hotel in this area during the Tulip Festival would easily top $100 to $150 and that's if you could find a room. The campground charged only $35 each night. Another plus is you know what you're getting. When you carry your bed and kitchen with you, there aren't any surprises about how well you'll sleep and eat. But I think the biggest plus is probably the people. They just seem friendlier! I mean if you see someone at your motel you might say hi or excuse me as you're trying to pass each other in the hall. But when you're camping it's not uncommon to be invited to have a seat at the next door neighbor's campfire. There are downsides too of course. I already mentioned the lack of temperature control in your tent! There's also bugs, dirt and having a long walk to the bathroom if you don't have a camper with it's own facilities! But all in all, it's hard to beat sitting under a sky full of stars, listening to the night sounds from the woods and poking the logs in the fire to get it to burn a bit better. We saw plenty of people coming down in their trucks, and most of them had these fancy 4×4 Drawers to store their camping essentials in, how cool! If we ever get a truck and use it to go camping, I think we'd be tempted to have a look at one. Anyway, where to go next?
TODAY'S LINKUP PARTY: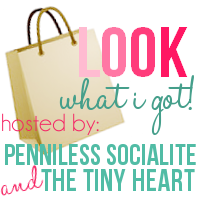 Cheers!
Grace
(Visited 100 times, 1 visits today)