Fashion Gossip aging gracefully
https://colorandgrace.com Daily Special menu.
Monday – Fashion 101
Tuesday – Fashion Chinese Take-Out
Wednesday – Graded by Grace
Throwback Thursday
Friday – They Got It Right!
Saturday – Fashion Gossip
Sunday – Gone Fishing! Or shopping. Or gardening. But not blogging!
Got a special order? Let's hear it! I'm always looking for suggestions and comments!
Wine isn't the only thing that gets better with age!
I know I am not "old" yet so this topic sounds a little bit unusual. But recently I came across some articles about women in their golden years in both America and China. I was so surpriesed again to see how big the differences are on this peticular topic that I figured I could gossip about it and I hope you can join in too! 😉
The first time I met my future mother-in-law in America, she was already 85 years old. But what was shocking to me what that she hadn't given up being a woman. By that I mean she still got made up and took care with her wardrobe and jewelry. Her nails were manicured and polished. Her hair was always trimmed and styled. And she loved bright colors, pink was one of her favorites! What a huge contrast to what I was familiar with back in China. In my experience when a woman turned 50 or so it was pretty much over. They were officially old now and there wasn't much use in trying to fight it. My mother and other women her age often wear shapeless, drab color clothes. No splash of jewelry or bright nail polish or lipstick to catch your eye. I would often buy some colorful and fashionable clothes and send them back to China for my mom to wear and then find that the only time she might put them on was when I would go to visit. And on those occasions my mom and aunties would often remind me that I am not so young any more either and I probably shouldn't wear certain clothes or do certain things.
But since I moved here in America 8 years ago and have also traveled to some other countries, I've seen countless examples of fashionable women aging gracefully. Both in real life and also celebrities in a magazine or movie. And I don't mean women in their 50s or even 60s. How about still fashionable and colorful Iris Apfel who's a vibrant 93 years young. And she's not only still looking great but she's also still working!
Italian movie star Sophia Loren is a beautiful 80 years old.
Carmen Dell'Orefice is an American model and actress. She is known within the fashion industry for being the world's oldest working model as of the Spring/Summer 2012 season. She is 84 this year.
This list goes on and on. I am sure you can find more living examples in your life as well. And the great thing is it gives me hope for my future! I for sure don't think of myself as old but I'm no longer a young girl and haven't been for a few years at least! 😉
So for me I definitely get some mixed messages! My Chinese family tells me that I am kind of old but my American relatives always say I am still very young. It goes to show how different cultures have different ideas on how old is old? How does your culture think about women's aging?
It sounds funny but I'm even beginning to imagine what I'll look like later when my hair maybe itsn't as black as it is now. Every time I go back to China, someone will ask me if I dyed my hair. Because a lot of women my age are already getting grey hair. I am lucky that I don't have any yet but I think it'll be alright. Maybe not just when it starts to go grey but after it changes completely I'm thinking it'll give me some nice contrast to my colorful outfits.
My goal is to reach 100 after all. Lol! Maybe I'll be the first blogger in space. Or possibly I'll collaborate on a new line of clothes for trendy octogenarians. I'll call it the Edgy Eighties! And why not? It seems that "middle age" keeps being pushed back every few years. Most people now don't believe it even starts until your mid-forties. And it keeps on going until you're about ready to retire. At this rate you won't even be considered old until three years after you die! And that's OK with me.
Anyway, I see plenty of proof that it's possible to keep in style even when the years add up. It seems that old age is often more in your mind than in your body. I just need my mind to be a bit more forceful with my body when I wake up with a sore back! 😉
SHOP MY LOOK:
Yellow sunglasses @Dior
Blush crop top @Free People
Blue necklace @Rocksbox
Silky pants @Ralph Lauren
Gold bag @Valentino
Brown wedges @CK
Bracelet @Rocksbox Use code colorandgracexoxo to get your first month free at ROCKSBOX!

TODAY'S LINKUP PARTY:
Stylish Saturday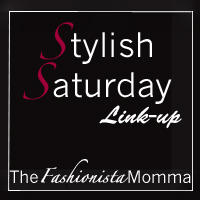 Sunday:
(Visited 124 times, 1 visits today)