Throwback Thursday learning to drive in America
https://colorandgrace.com Daily Special menu.
Monday – Fashion 101
Tuesday – Fashion Chinese Take-Out
Wednesday – Graded by Grace
Throwback Thursday
Friday – They Got It Right!
Saturday – Fashion Gossip
Sunday – Gone Fishing! Or shopping. Or gardening. But not blogging!
Got a special order? Let's hear it! I'm always looking for suggestions and comments!
So if you've been reading my blog for any time at all you will know that I recently changed the format up a bit. I had been telling some of the stories about my life in America and elsewhere. But then it hit me that this is supposed to be a fashion blog, not my diary! So the new ColorAndGrace.com is much more fashion oriented. But I'm still throwing in some of those blasts from the past. That's why I kept Throwback Thursday in the lineup. Anyway, one long running storyline had been my adventures while learning to drive. I only have a couple more tales to tell so if you'd been reading those and wondered how it came out, well this is the beginning of the end!
I had some pressure now to get going on my practice. I had gotten a job offer from our local school system to be an ELL Tutor. That stands for English Language Learner. It seems there were several Chinese students in the schools that were having some troubles with the language. The really funny thing is my English wasn't very good either! I had hoped to volunteer to help out American students in a Chinese language class, not to help Chinese students in their classes all in English! But if you knew me, the one thing you would be sure of is I am not a quitter! I work very hard and am willing to give pretty much anything a try! And since they actually wanted to pay me money to give it a try, I was more motivated than ever to get going with my driving lessons!
So out we went again. Wow! What a difference! Driving a car without having to shift the gears was so much easier! I could actually stop at a red light on a hill and not go into a panic if someone came behind me. Just take my foot off the brake and give it some gas and off we went! It was so much better than stalling! Now that I didn't have to worry so much about that, I was able to pay more attention to other parts of my lessons. Like parking and backing up. We went back to the parking lot that I had practiced in so I could get used to a bigger car. Naturally my car had a name. Since she was white and would spend a lot of her life in winter I called her Snow Princess. Snow and I were getting along pretty well. I still had the same problems with parking in the center of the spot. I was almost always too far to one side or the other. And I think the mirrors in my car had the same problems as in my husband's car because I was still having trouble backing up in a straight line.
But I was getting more comfortable now so we started to really prepare for the test. In Michigan, once you think you are ready to get your driver's license you have to take a test with your car. There is a special parking lot in our town that has all kinds of lines painted that let you complete the different parts of the test. For example you have to be able to pull into a parking spot and keep your car between the lines. You have to drive around a curve backwards without going out of the lane. And the biggest problem of all is you have to parallel park! You also have to take the instructor out onto the roads and highways to show him you can control your car but that's after the parking lot tests. So that was where we would spend the next several lessons. This test lot was at a local middle school and we would go there many times in the evenings after my husband would come home. I was better at some of the tests than others. The parallel parking was the most difficult for me. I thought it was a stupid part of the test and I would probably never have to use it in real life. But my husband took us through the town on our way back home and showed me several places where I would have to be able to park this way. In fact the whole downtown area was set up for parallel parking. So much for that argument! Back to the practice lot! Come back next time as I go for the test!
SHOP TODAY'S LOOK:
White top @BCBG
White pants @Guess
White sunglasses @Fendi
Necklace @vintage
Gold bag @Valentino
TODAY'S LINKUP PARTY: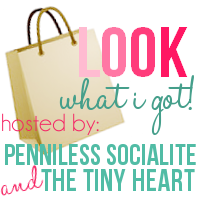 Cheers!
Grace
(Visited 44 times, 1 visits today)