Fashion 101 what to wear for camping
https://colorandgrace.com Daily Special menu.
Monday – Fashion 101
Tuesday – Fashion Chinese Take-Out
Wednesday – Graded by Grace
Throwback Thursday
Friday – They Got It Right!
Saturday – Fashion Gossip
Sunday – Gone Fishing! Or shopping. Or gardening. But not blogging!
Got a special order? Let's hear it! I'm always looking for suggestions and comments!
I grew up in the Chinese countryside. I did't have a single toy when I was little but I had the whole world of nature as my playground. I spent hours outside running, climbing, jumping, crawling and sitting. Our house was tiny and my mom wanted me out of the way when she was cooking so the Great Outdoors was where I spent a lot of time. But I knew when I grew up I'd have a nice place to stay where I would be comfortable, warm and dry. So after I moved to America, and my husband tried many times to take me camping, I was like, "what is wrong with these Americans?" I worked so hard to finally earn my own home so I didn't need to stay in a place in the wild. And now, let me get this right, I have to pay money to suffer? 😉 But my husband didn't give up and kept telling me many interesting camping stories so I decided to give it a try. If you're thinking of going camping and need some tips such as handling temperature drops, check out 50campfires.com. If you are my regular reader, you probably remember I mentioned this first camping trip. It did not end well and after I thawed out enough to make a fist, I shook it as I announced that my camping career was now over. As often happens, decisions made in the heat of the moment don't hold up very well.
It turns out that like many things there are several different levels to "camping". When I went with my husband we were at the bottom level. That means we used a tent and pretty much slept on the ground. Oh we had an air mattress but there was nothing to insulate us from the cold. But this year my step daughter bought a quite fancy camping trailer that would let us move up a few levels on the Camping Comfort Chart! So with this in mind I decided to try camping again.
Since our new surroundings were a bit more civilized than the last time out, I didn't want to just wear my sweat pants and hoodies. Come on! I am a fashion blogger and I have a reputation to uphold, right? So I did some homework before this trip.
Before you begin packing for a camping trip, do some research on the area you are going to. Canada is going to be a little different from campsites in france. What is the weather forecast? Remember, usually camping areas are pretty far away from the cities and run a bit cooler. And this can change quickly too. A rainy day in the woods can feel a lot colder than when you're sitting on your couch in front of the TV. So layering is vital to being outdoors. The second thing you need to consider is the activities you are planing to do. It is also important to consider what you are going to bring for the trip itself. It's all good knowing what you're going to wear, but if you don't have the correct equipment, then the trip may not be as successful as you had hoped. Even before we set off on our trip, we did as much research as we could, especially into sites similar to outdoorshabit, as we wanted this trip to go as we had planned and if it meant spending a lot of time online reading various reviews and experiences, then so be it. It's best to be over prepared than under, as you never know what could happen. Additionally, if you are hiking, make sure you have a pair of comfy shoes. Leave the high heels at home. You'll be walking on all kinds of surfaces from dirt to sand to wood chips and if you're poking holes in the ground every step it won't be much fun!
Our trip was only for two days and one night. The first day we went to the local Tulip Festival. And then later we sat around the campfire and had dinner at our camper. After dinner we went to the beach to watch the sunset. The second day, we had a very yummy breakfast and then went hiking. Here are the outfits that I wore for different activities.
Day 1: Tulip Festival. I used my kimono, ripped jeans, fringe and a lot of arm charms to create a festive look that was also comfy to walk for a whole day.
As the sun dropped into Lake Michigan in the evening, the temperature dropped pretty quickly too. So I changed my top to some warmer layers and put on my comfy and warm shoes. Now let's enjoy some amazing sunset views!
Day 2: Photoshoot for my blog and hiking.
Now let's get some dirt on my shoes. Time to hit the hiking trail!
We are super women and we look amazing at any location! 😉
Here is my new look for today, it can be a good choice for a camping trip as well!
SHOP MY LOOK:
Striped tee @French Connection
Jean overalls @Guess
White sandals @Lord & Taylor
Sunglasses @TJ Maxx
Fringe backpack @TJ Maxx
Watch and bracelet set @My Arm Charms
TODAY'S LINKUP PARTY:
Style to Inspire with Rhea
Mahogany Closet Monday Fashion Link Up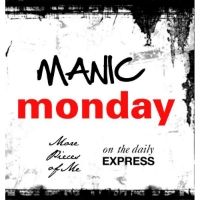 Cheers!
Grace
(Visited 447 times, 1 visits today)