Fashion Gossip Lady Gaga's fashion sense
https://colorandgrace.com Daily Special menu.
Monday – Fashion 101
Tuesday – Fashion Chinese Take-Out
Wednesday – Graded by Grace
Throwback Thursday
Friday – They Got It Right!
Saturday – Fashion Gossip
Sunday – Gone Fishing! Or shopping. Or gardening. But not blogging!
Got a special order? Let's hear it! I'm always looking for suggestions and comments!
2009 was a sad year. The first Snow Princess (my white Ford Taurus of course!) died at a school parking lot in Garden City, Michigan. I had just pulled in for an observation I was conducting for my college class. But that day ended on a happier note because we purchased my brand new Snow Princess II. The new car is a lot fancier than my old one. It came with a half year free XM-Sirius satellite radio. Before that, I usually listened to the classic rock and roll songs from WAY back in the 60s and 70s. I don't want to say my husband is "old" but he set the radio stations!
One day when I was driving S.P.II to work I had XM set to Pop2K. As I pulled into the parking lot they were playing a very interesting song. Not just interesting but it actually made me want to dance. The music my husband liked usually made me want to sit in a rocking chair and take a nap! The song I heard was called Bad Romance. That was how I was first introduced to Lady Gaga. I really liked this interesting singer and I started to listen to more and more other pop music. I introduced her songs to my husband and surprisingly, he liked it too! 😉
Fast forward to the summer of 2010. My husband and I went to Europe; he to work and me to play! The first day in Munich we took the subway to the downtown area of Marienplatz. As we were walking up the stairs from the subway we saw a big crowd and there on the stage in front of us was a large man dressed up like a lady singing Bad Romance. We were a little surprised but also very happy that we all shared similar tastes; at least in music!
There are only a few words that sound the same between English and Mandarin. Gaga is one of them. Actually Gaga is from a northern dialect and means "LOUD! DEADLY! NEEDS OTHER'S ATTENTION!" It may be the first time that English and Chinese agreed on the same words. 😉
While I like most of Lady Gaga's songs' I had a hard time to understand her dress code. Other than shaking my head, I was just speechless. Here are some of her "unusual" looks (The Gaga part) through the years:
But as you know most of these looks were intended to get attention and for that they were pretty effective! But she does actually clean up pretty good! Lady Gaga, when she's in the mood, can be a very stylish and proper lady. Here are some of her Lady looks.
If we had a time machine that could take us back to 2007 when Lady Gaga just started out, would you be paying any attention if she dressed like a lady? To be honest, she is not the most beautiful or hottest singer out there. She certainly can sing. But without her anti-classic fashion sense, would you know of her at all?
Overall, her very unpredictable appearance is just one of her marketing strategies. But her vivid and wild personal style has influenced some of the fashion brands. Designers seemed to take a note from her signature style — sometimes scary and almost always pantless.
Below is my new look (with pants on!) for a weekend fun day. 😉
SHOP MY LOOK:
White hat @Meijer
Jean vest @ Old in China
White shirt @Express
Ripped boyfriend jeans @JustFab.com
Blue leather bag @TJ Maxx
White shoes @DSW
Mirror Sunglasses @TJ Maxx
TODAY'S LINKUP PARTY:
Saturday:
Stylish Saturday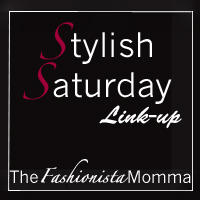 Sunday:
Cheers!
Grace
(Visited 135 times, 1 visits today)