Throwback Thursday Smile for the Camera!
https://colorandgrace.com Daily Special Menu.
Monday – Fashion 101
Tuesday – Fashion Chinese Take-Out
Wednesday – Graded by Grace
Throwback Thursday
Friday – They Got It Right!
Saturday – Fashion Gossip
Sunday – Gone Fishing! Or shopping. Or gardening. But not blogging!
Got a special order? Let's hear it! I'm always looking for suggestions and comments!
If you ever go to China you may notice that generally they are not the best for dental hygiene. You will likely see a lot of people with pretty bad teeth. I took pride in my teeth and even went to the dentist pretty regularly. That is NOT common for most Chinese! So when I moved to America and made my first dentist appointment, I was pretty confident. This would be yet another time where my idea and reality didn't quite see eye to eye! So my husband set it up so he and I would go to his dentist office for our cleaning. As soon as I was in the chair and the hygienist had me open my mouth it went downhill. She scraped and dug and poked and gouged. When she squirted water into my mouth and had me spit it back out the color was a bright stylish red! This went on for almost an hour. I had never met this person before but it sure seemed she was getting back at me for something! Then they took X-rays of my teeth and found a cavity that would have to be drilled and filled at a follow up appointment. This actually had been repaired once in China. But, unfortunately like a lot of things made in my native country that work didn't last either! My friend had her teeth cleaned by Dentist New York City and luckily she didn't have the same issue. She said they were great with her, and her teeth look amazing now too!!
But the biggest surprise for them was that I still had my wisdom teeth. In America most people have these rearmost teeth pulled out when they are teenagers but not so in China; and not so for me. I asked when we could schedule that but our dentist didn't do that kind of operation in his office. It was a pretty involved procedure so I had to get an appointment with a doctor whose specialty was Oral Surgery. Great, so I had to go back to our regular dentist to get my one tooth filled and then to this other doctor to get the wisdom teeth pulled. Everyone has 4 of these teeth but they don't always have to pull them all. Of course I wasn't part of that lucky minority. My dentist showed me the X-ray pictures showing how my wisdom teeth were tipped over and actually pushing on the other teeth in my mouth. Over the years this moved and crowded my teeth so that a couple in the front were actually twisted a bit to make room. They also explained that after all the dental work was finished I could even get braces on my teeth to straighten that out. They said it would only take several years and a LOT of money! I decided I like my teeth just the way they are thank you.
So I went to the oral surgeon for a checkup appointment and they told me what they would be doing and gave me a list of rules for the night before and day of the operation. No eating or drinking after midnight the day before so we had a pretty good dinner to make sure I wouldn't starve! My husband drove me to the doctor's office that morning and we went in and waited. Pretty quickly they took us back into the operating room and showed me the chair I'd be sitting in. This is pretty big surgery so they even had to put me to sleep for a while. All I remember is my husband was holding my hand as they had me count backwards from 100. Before I started counting I did tell them to make sure they didn't kill me! You can never be too sure about these things so I thought I'd better mention it. OK, 100, 99, 98, 97…I'm not sure if I even got to 90 before I started falling asleep. That was some pretty good stuff they used! Everything had gone OK and after about an hour I was being woken up and the good news was I woke up alive! My husband was brought back in to get me and told some instructions and we were sent home. Well after we stopped by the drug store and I got some pills to help with the pain I would have once the good stuff wore off. The pain did come but it turned out that the pills were pretty good stuff too! I couldn't eat any food for about a week and had to go back to get some stitches taken out but there were no problems. We still go to the dentist twice a year but it's a LOT less traumatic than that first time. Oh, and those teeth are still a little twisted but I like to think they add character to my smile!
SHOP MY LOOK:
Hat @Charming Charlies
White vest @Nordstrom Rack
White graphic tee @Banana Republic
White ripped jeans @Guess
LOL bag @Betsey Johnson @DSW
Bow bracelet @Macy's @Bar II
Pearl bracelet @Express
Sandals @DSW @Nine West
TODAY'S LINKUP PARTY: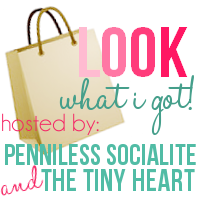 Cheers!
Grace
(Visited 151 times, 1 visits today)