Fashion Gossip Do you have it to be a fashion blogger?
https://colorandgrace.com Daily Special Menu.
Monday – Fashion 101
Tuesday – Fashion Chinese Take-Out
Wednesday – Graded by Grace
Throwback Thursday
Friday – They Got It Right!
Saturday – Fashion Gossip
Sunday – Gone Fishing! Or shopping. Or gardening. But not blogging!
Got a special order? Let's hear it! I'm always looking for suggestions and comments!
Recently, quite a few people have asked me, "What must a person have to be a fashion blogger? Do I have it?" I'm certainly not an expert but it got me thinking and here is my two cents worth:
Blogging is just about the easiest job that you can get anywhere on earth these days. You don't need to have any special education or training certificate to do it. There's no job interview, physical or drug testing! And the really cool thing; even if you're really terrible at it you can NEVER be fired! The only way you can ever lose this job is if you quit. As long as you know how to type, spell (or is it spele?) and use basic internet tools, you have what it takes. Pretty much, if you can send an email, you can be a blogger. Another great thing is you don't need to invest anything to be a fashion blogger other than your own time. Oh you'll need access to a computer and the internet but thanks to libraries and Starbucks that's pretty easy! Most small businesses require some sort of front money. But being a blogger, you don't have to. Somebody asked me:"I am not very pretty, can I be a fashion blogger?" Of course you can! Life is not fair. It seems that somebody gets it all when it comes to looks and others only get the leftovers. But in this fashion blogger world, it somehow levels the playing field. For example, fashion blogging is not a beauty contest. So you don't need to worry if you are pretty enough. The only thing you do need is a sense of fashion. And remember, there is someone out there looking for fashion advice from someone exactly like you, especially if you've solved a fashion challenge that they haven't! If you are getting compliments about your outfit most of the time when you go out, then that means you've got it! But you might want to learn some basic makeup tricks too. It can do wonders to make some improvements that nature may have missed. And it really helps you to be the best you can when you are in front of the camera. Somebody else asked me: "I don't have a good figure, can I be a fashion blogger?" The answer is see above. Of course you can! You don't have to have a model's figure or height to be a fashion blogger. There are plenty of people just like you, from petite to plus size; and all fabulously fashionable! They are looking for somebody that can be their fashion inspiration. So why NOT you? My experience has been that "one size fits all" is one of the biggest lies I've ever heard!
Fashion bloggers are becoming more and more important as influencers out there in the current fashion world: And certainly not because they are perfect in every area. It is just because they are real people with some real fashion sense and real followers who trust and, more importantly, relate to them. Really! Most don't have a "runway" figure or "beauty pageant" face but instead, they have a great fashion angle and style that appeals to their readers. Their followers can learn and copy their looks easily to improve their own fashion level. And that is why they read most fashion blogs! There are LOT of people just like you in this big wide online world who are searching for somebody to give them some fashion help.
Someone like you maybe? Now get out there and BLOG! BLOG! BLOG!
Lol! Sorry, I used to be a training manager back in China and couldn't help myself! But did it work? Are you pumped up yet? Come back next Saturday to read more about :" Do you have it to be a good fashion blogger?"
Have a great weekend everybody! Here is my new look of today! Enjoy! 🙂
SHOP MY LOOK:
Fedora hat @Charming Charlie It is only $3.99 now
White sunglasses @Fendi Similar here only $12.99 and here only $9.99
Black vest @Lord & Taylor Similar here
Leopard Shirt @Lord & Taylor @CK Similar here
Shorts @Loft
Bag @Valentino Similar here
Teal bracelet @My Arm Charms It is only $8.99 now
White flats @DSW Similar here
TODAY'S LINKUP PARTY:
Stylish Saturday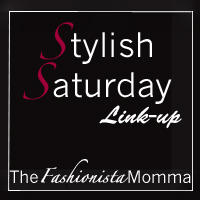 Sunday:
Cheers!
Grace
(Visited 212 times, 1 visits today)