Petite fashion tricks: playing with the length
Do you remember that for my real job I am a teacher? You do? Great! Thank you for paying attention. But it still won't get you out of quiz time! Hey, that's what teachers do! 😉
How tall do you think I am? No cheating! Don't peek!
Well, I hope you got that answer right too. I am 5 feet, period.
I know, I don't look like only 60 inches, I usually look taller. 😉 How? I cheat of course! I'm the teacher so it's OK that I cheat. You still can't. That's one of the best things about my job, it's based on the principle of "do as I say, not as I do"! Anyway, I wear heels quite often, and I play with my proportion pretty well. And finally, my husband has become a pretty good photographer and the photos he takes always seem to make me appear younger, prettier and taller. Well, at least all the photos you have seen on this blog. I have a whole folder full of "not quite ready for prime time" shots and outfits that you will probably NEVER see! 😉
There are a few tricks that will help you petite frame ladies look a little bit taller and leaner. I mean most people probably wouldn't mind to stretch and thin their shape. That's hard to do without some sort of personal torture so the next best thing is to give the appearance of willowy proportions. I usually get my look by PLAYING WITH THE LENGTH of my clothing to create the illusion of a better looking balance. How to do this? I am SO glad you asked! The key is to NOT cut yourself in half. This may sound like obviously good advice, but a lot of people do just that by using equal length clothes both above and below the waist. Well, knock it off! You'll get better results by staying on uneven ground. Say what? Read and look on-
One, Short on the top, long on the bottom:
Two, Long on the top, short on the bottom:
Three, Long outside, short inside:
Four: Dress or coat ends above the knee:
Now back to the quiz! Take a look at these photos below; can you tell me what tricks I used for this outfit? Leave your answer in the comment area. There's no prize other than the feeling of smug self satisfaction you'll get knowing you were right, again! 😉
| Outfit Details |   
Sunglasses :: Polette [same here. ]
Trench coat :: Valette [Same here. It is only $36 now.]
Top :: WHBM [Similar here. ]
Shorts::Free People [same here. ]
Leather Bag :: Badgley Mischka [Different color here and it is on major sale, now it is only $60. I paid a lot than that.]
Shoes::Dolce Vita [similar here. ]
Watch::ESQ from Movado [Loving this. ]
| Shop the look |
| Today's Link up party |
http://www.bonbonrosegirls.com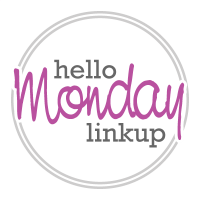 MINGLE MONDAY BLOG LINK-UP!
Road Trip Truck Trouble
So we were on vacation and driving to NYC. We were taking a week and seeing some sights on the way. Monday was going to be our longest travel day and we had been driving for hours but still had pretty far to go. We had decided to stop that night just before crossing over from New Jersey into Manhattan. Hotels and parking were pretty pricy in the city and we would be getting in quite late. So we thought why not save some money and go over (well actually under since we'd be crossing the Hudson River through the Lincoln Tunnel) in the morning? We'd spent most of the drive crossing New York State but now we had crossed into a corner of Pennsylvania on our way to New Jersey. As you probably know, I live in Michigan. We like to joke that we have two seasons, winter and construction. That's true for most of the northern part of the country as the warmer months are when they work on the roads. And sure enough, we saw the flashing yellow lights in front of us. By now it was already dark so the lights were easy to see. Next up were the orange signs telling you what part of the road they were closing. There it was, right lane closed ahead. Well, no problem, that still left 2 of the 3 open and it was way past rush hour. Oh, wait, right 2 lanes closed! That was a bit different. OK, still no problem. There was no one in front of me so going down to one lane should be ZOOM! WHAT THE? A huge and very fast moving semi-truck flew around us in the left lane to get in front before the others were closed off with a long line of orange plastic cones. Oh, well, now we knew what our view would be for the next several miles.
Things were going fine and everyone was still making pretty good time, at least until we got into an area where the freeway had several curves and bends. The traffic cones had us squeezed over pretty tight to the left shoulder and the truck in front was going quite fast. My husband and I were just talking about how that probably wasn't a good combination when THUMP! Oh my! A squished piece of orange plastic went flying away to the right. Then THUMP, THUMP, THUMP, THUMP! That truck driver hates those cones! THUMP, THUMP, THUMP! Cones were flying around and bouncing off the ground. It was just about this time when we decided we'd probably be better off watching this from a distance. So we slowed down and let the truck get much further ahead of us. I don't know if the driver was tired, had sipped a few too many beverages with his truck stop dinner, was still learning the job or simply going too fast but he decided he should probably slow down too. There were still another couple THUMPs but he started to get a bit more centered in the lane.
We got through the construction zone and as soon as that truck got back over to the slow lane we passed him and kept going. Whew, we were happy to be finished with all the truck excitement and get back to ZOOM! WHAT THE? Another semi-truck went flying by and had his right turn signal blinking as he passed. Oh no he wasn't! Was he? Did he plan to come over into our lane before he even got around our car? Better hit the brakes and slow down just to be safe. ZOOM off in front of us he went but he stayed in his own lane. That's when we saw he didn't have his turn signal on, it was his emergency flashers so all his red and yellow lights were going on and off. He certainly didn't seem to be having any "emergency" as he wasn't showing any plans to slow down or pull over. Then we figured it out. His truck didn't have any brake lights. Oh, well that was better! I thought maybe he had turned off his blinking lights but my husband said, no, he had just gone over a hill in front of us. Sure enough when we got to the top he was still there already going over the next hill. I guess at that speed he didn't really need brakes anyway! By now we were in our last hour of driving and had just about enough of the day's road adventure. We were happy to get off the freeway and leave the "Cone Killer" and the "Flasher" as we named them, behind us. We found our hotel, got to our room, took a quick shower and collapsed into bed. It's amazing how tired sitting in a car all day can make you! Anyway, in the morning I was going to New York! And so are you! But not until another post.
| Outfit Details |   
Sunglasses :: Polette [same here. ]
Top :: Free people [Similar here. ]
Faux leather skirt::BCBG [Similar here. ]
Leather Bag :: Valentina [Loving this.]
Shoes::Ikwetta [Same here. ]
Watch::Coach [Loving this. ]
Necklace::Rue 21 [Love this. ]
| Shop the look |
| Today's link up party |
Cheers!
Grace
Over 40s Petite fashion and life style blogger