Dressy shorts for summer
At the end of last month I received an email from Nima of http://skatterbrainn.wix.com/skatterbrainn. She is so sweet and asked me if I would write a guest post for her blog. So we did a little bit of brainstorming. She hoped I could write something about basic essential summer wear. Something that probably everyone has in their closet and oh, by the way is both easy to style and sexy. Well I love a challenge and this one got me thinking and looking around at my wardrobe. Anyway, here is my answer to her request. I hope she (and you) will like it! 😉
As you can see from the post title and the photo above, my solution is A Pair of Dressy Shorts. They allow you to breath on even the hottest summer days and also add the polish you need for your outfit. The best part is you can dress them up or down. Here are some examples for wearing dressy shorts for summer.
I'm hoping I've just shown you enough examples to convince you to at least try it out! 😉 Dressy shorts honesty are my personal favorites for summer. Below are more photos that I took when I was in NYC a couple weeks ago on my vacation.
Thanks again to Nima and all her followers! August may be flying by and the Back to School Sales may be in full swing but, dammit, summer's not over till I say it's over! And as long as I'm wearing shorts it's still on! Now, who's with me?
You still have time to enter this giveaway and maybe win this pair of very cool sunglasses with or without prescription! The posts about this giveaway and this pair of glasses are here and here. Good luck and have a great weekend! 🙂
Giveaway Terms and Conditions:
Winner is selected by Rafflecopter automatically and will be contacted via email, you must enter a valid email and must confirm receipt within 48 hours from the time and date emailed. This event is in no way administered, sponsored or endorsed by, or associated with Twitter, Facebook, Google, Pinterest or any other Social Media platform. No purchase is necessary to enter. Odds of winning are contingent on the number of entries received. You will have 48 hours to respond or prize is forfeited and a new winner will be selected. Void where prohibited by law. The SPONSER is responsible for shipping and delivery of the prize unless otherwise stated and the owners of Colorandgrace.com are not liable for prize delivery or receipt. You will hold colorandgrace.com harmless of all claims. All entries will be verified before winner is notified and any bad entries will be disqualified.
| Outfit Details |   
Sunglasses :: Chloe [similar here. ]
Top :: Zara [Similar here. ]
Shorts ::Nordstrom Rack. [ Similar here.]
Bag :: Valentino [Sold out. Love this.]
Shoes ::DSW [Loving this. ]
Watch::Coach [Loving this. ]
| Shop the look |
|TODAY'S LINKUP PARTY:|
Mahogany Closet Monday Fashion Link Up
http://www.stillbeingmolly.com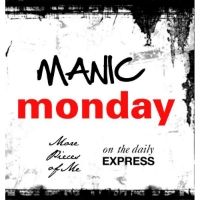 http://www.atouchoftartan.co.uk
Cheers!
Grace
(Visited 328 times, 1 visits today)