Pink fringe bag
If you have been following me for a while, you probably will have noticed this pink fringe bag. It is the most popular one among all my bag collection. Even my gold Valentino can't compare with this $30 bag. Lol!
I have a golden rule for organizing my closet to avoid clutter. That is however many pieces I buy, I need to get rid of the same number. Other than donating to a local charity, I sometimes drop things at thrift or consignment stores too. I found this bag at one of these store more than a year ago. It was brand new with the original tag still attached. I love colors but I still hesitated because it was a bit too loud, even for me. I was staring at it for more than a half hour and finally decided to give it a try.
Now it has proven me wrong several times and it is the number 1 bag on the chart. 😉 It is a life saver for any basic or boring outfits. This bag instantly adds fun and lift to them! Don't believe me? Just check out all the outfits I've posted while featuring this magic bag:
So I went to the type of store I usually don't go to and bought a bag I usually wouldn't even consider. And the result was a huge win-win! The moral of this story: everybody needs to try something bold, wild and unexpected sometime. It may just open a whole new fashion area for you!
| Outfit Details |   
Sunglasses :: Polette [same here. ]
Dress :: Old from China [Similar here. ]
Bag :: Bebe [Sold out. Love this.]
Shoes ::DSW [Loving this. ]
Watch::Movado [Loving this. ]
Bracelet and ring set::Ifchic [Same here. ] You can collect coins up to $180. I got this one for free because the coins.
| Shop the look |
|TODAY'S LINKUP PARTY:|
Mahogany Closet Monday Fashion Link Up
http://www.stillbeingmolly.com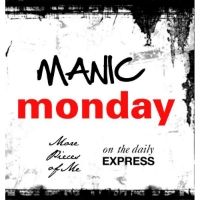 http://www.atouchoftartan.co.uk
Cheers!
Grace
(Visited 136 times, 1 visits today)