Young fashion designer Daria Dimitrova interview
Two weeks ago I was invited to 1st Annual Fashion Winter Ball fashion show and met this young fashion designer in Michigan. Her name is Daria Dimitrova and she is only 12 years old.
I spent a short time on the back stage of the fashion show with Daria and later on we communicated a lot by email. As you all know I am a teacher. I teach middle school and high school students. So it is very interesting to get to know her as a young designer. I can't help to compare her with my 7th graders and am often impressed by her maturity.
Overall, Daria Dimitrova is just an ordinary kid but with a big dream. She loves the performing arts. When she was little she took art classes at the Flint Institute of Arts. There she learned to draw, paint, design, computer program, sculpt, and do many other things that involve art. As she started to grow up she realized that she had a passion for theater. Her artistic background helped her with her acting techniques.
Later she realized costuming is a very important part of the whole theater experience. Without good costuming the shows don't look very professional. She and her mom Diana Cholakova created a lot of costumes for the shows and that is where she discovered her fashion passion for clothing. If you noticed her mom Diana Cholakova sounds familiar that is because she is a fashion designer as well and you can read the interview here from my previous post. Because of her mom, Daria got to experience the behind-the-scenes process of designing and she started to get involved with fashion as her mom's model and big helper. All of those activities made her feel that being a designer looked like so much fun. So she decided to give fashion designing a try.
Her first fashion collection is named "Girls Just Want To Have Fun." She upcycled, restyled and cut clothes, sewed sweaters, drew on fabric, shoes and boots, and made accessories. I find it very refreshing that she loves to use recycled and vintage materials. Here are a few looks from this collection.
After the show, I asked Daria how is she feeling now? She said:"Being one of the youngest designers in Michigan is a really good and fun experience. I get to work with amazing people and I get to be a part of the fashion world. I wouldn't trade this opportunity for anything in the world." In the future she plans on continuing her career as a fashion designer. The next step? She will be doing a show called Runway Repurposed: Hollywood Then and Now. But for now she is focusing on her schoolwork and being in plays at her community theater. Daria is not just an ordinary young girl, she has a big dream and she is making her dream come true at a very young age. Watch out fashion world!
Have a great day everybody and don't forget to join us for the linkup party. Below are more photos from today's OOTD.
| Outfit Details |   
Jacket:: Old [ Similar here. ]
Sweater :: TJ Maxx [ Similar here. ]
Skirt:: Nordstrom Rack [Similar here. ]
Pumps::Nine West [ Similar here. ]
Clutch::Express [ Similar here. ]
| Shop the look |
| Today's Link up party |
http://www.bonbonrosegirls.com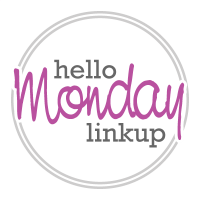 MINGLE MONDAY BLOG LINK-UP!
Mahogany Closet Monday Fashion Link Up
http://www.stillbeingmolly.com
Cheers!
Grace
The honeymoon's NOT over!
You regular readers probably know that I had a vacation to NYC a couple weeks ago. This was a road trip and because we live in Michigan it's actually more direct to go through Canada. So that's what we did, at least on the way to the Big Apple. Right on the way is a pretty famous sight that's also been known as the honeymoon destination of choice for over a century. Of course I'm talking about Niagara Falls. I've lived about a 4 hour drive from this world famous sight for 8 years and until last month have never seen it. Well I have to admit that it certainly deserves its reputation! We arrived in the city of Niagara Falls, Ontario, Canada on a Sunday afternoon. One of the things that made our vacation sort of reasonably priced is we were using up some hotel points my husband had collected over the last several years for his business travel. This was our second night of our vacation but our first "reward" night. So that made it even better! After checking into our room we walked around a bit to explore. We found a pretty good sushi restaurant and had dinner. There might have been some sake involved but I'm sort of fuzzy on those details! Anyway, after dinner we walked down to take a look at the falls. At night they are lit up with different colored spot lights that shine on the falling water from the buildings near the viewing area.
It was already getting pretty late but the sidewalk next to the railing that separates you from the water below was packed with people! We were a bit surprised. It was a Sunday evening after all and we sort of thought most of the weekend people would have left by now. But as we were taking in the view we heard the singer from the oldies band that was playing on the other side of the street mention that the fireworks would be starting shortly. Fireworks? Hmmm. Better check out what Siri says. Sure enough, they have fireworks only a couple nights a week and one of them happened to be Sunday. Score! So we found a place to elbow our way a bit closer to the view and did a lot of oohing and aahing as the fireworks went off over one of the natural wonders of the world! After the show we walked back up the steep hill towards our hotel. It was pretty warm and we (well mostly my husband) were really hoping for some ice cream. But we couldn't seem to find any around. We even walked a few blocks past our place but the only likely choices we saw were already closed for the night. Oh well, it was time for bed and we had a long day planned for Monday.
The next morning we got up, ate a delicious breakfast, packed and then went to take a closer look at the waterfall in the daylight. Of course the first thing my husband noticed is that we passed an ice cream store only a short walk from the hotel! Timing is everything! We went back down the hill and got ready to take the short boat ride they offer that takes you right to the bottom of the falls. The weather was quite hot that morning and we even got a bit tanned waiting in the ticket line. We snaked around and down until we got to an elevator that took us to the edge of the river that carries the water that comes over the falls to Lake Ontario. There we got a thin plastic rain poncho and got on a boat. This was one of the coolest boat rides I've ever taken. There are actually 3 waterfall areas. The American Falls, the Bridal Veil Falls and the biggest and most spectacular Horseshoe Falls. The boat takes you in front of the first two but not very close; mostly because there are huge rocks at the bottom. But at the Horseshoe Falls the boat gets you almost under the water. You have to look pretty much straight up at the wall of water coming down on you. And then they just stay there for what seems like a very long time. In fact the whole ride is only about 20 minutes but the experience is incredible! If you're ever anywhere near and haven't seen Niagara Falls you really should go. I didn't think I would enjoy it as much as I did but I'm ready to go back and spend some more time. Of course I also learned that there are a LOT of wineries nearby so that wouldn't be a bad reason to go back either!
This is the outfit I worn that day and have a great Sunday! 🙂
| Outfit Details |   
Sunglasses :: Fendi [similar here. ]
Top :: Last Call [Similar here. ]
Shorts::Kohl's [ Same here.]
Bag :: Urban Express [Sold out. Love this.]
Shoes::DSW [Loving this. ]
Watch::Movado [Loving this. ]
| Shop the look |
| Today's link up party |
Cheers!
Grace