Fashion Gossip Sponsor post
https://colorandgrace.com Daily Special menu.
Monday – Fashion 101
Tuesday – Fashion Chinese Take-Out
Wednesday – Graded by Grace
Throwback Thursday
Friday – They Got It Right!
Saturday – Fashion Gossip
Sunday – Gone Fishing! Or shopping. Or gardening. But not blogging!
Got a special order? Let's hear it! I'm always looking for suggestions and comments!
So let's pretend. Say someone comes up to you and offers to give you 25 dollars. For the money these people hope you can talk to your friends, family and co-workers and tell them that something they have to sell is great and that they should take your word for it. You've never seen what the people are selling and when you asked to see it, this person told you "sorry, that's not part of the deal. There are a lot of pretty photos on our website though". Do you feel comfortable? The people you're trying to influence are the ones who followed you for a long time and trust you. How much is that worth? I know; crazy right? Who would even think of that? Well apparently lots of people! And many of them have blogs just like me. This is exactly what's happened to me several times already. I've only been blogging for less than half a year but I am taking it super seriously. My goal is someday to become a blog that people can come to for guidance. When that happens it means I have become an "influencer". This is what many bloggers are hoping for.
So I'm actually sort of surprised. Maybe it means I'm still too new at this. Now don't get me wrong, there are lots of great companies out there that have wonderful relationships with bloggers. I work with a few already and am always open to hearing from more. But I have a few pretty reasonable rules. I have to take a look at the products. I mean in my hands. I want to make sure the quality is something I would buy before I would recommend them to you. You are why I am doing this. I consider many of you to be friends even though we haven't met face to face. I work hard and plan to be around for a long time. You can't be successful in this blogosphere without repeat business. You don't get that without being up front and honest. And you don't get that if you can't SEE WHAT YOU'RE PROMOTING! Duh!
Anyway, I've found a couple websites that I use to check out other websites! There are probably many more that I am not aware of and I hope you can add your comments with your suggestions on where else we can look to make sure we're getting what we pay for as a comsummer. The ones I've found are scamadvisor.com and sitejabber.com. I found both these sites by good old fashioned Googling! I'm not sure if I can say old fashioned and Google in the same sentence yet but it seems they've been around a long time! Anyway, if you are worried about a web retailer you can do a lot to check them out before you type in your credit card number or agree to work with them! These sites can tell you if there's something not quite right with the site. Maybe they have a lot of bad feedback. Or maybe they are hiding their real location. These web-tattle-tales aren't perfect and are the first to admit they may not know the whole story, especially if the site is new. BUT if I get a bad report from these places AND the site wants to just give me a little cash instead of a sample I can check out, I've got a pretty good idea that you're not going to hear about this place from me! After all, we may never meet face to face but I still want to be on your "Favorites" list!
So the bottom line is, being a blogger, we do influence people. That means we need to take responsibility for what we write, say and promote. But we're human too and that means we get tempted to maybe do something we shouldn't. When I first started my blog I was pretty excited as my number of followers grew. And then, it wasn't too long before I heard from a company that wanted to pay me $20 to write a post praising their webstore and put out a few backlinks to their site. WOW! I thought, now I'm getting some attention! I was pretty excited because I really wanted to be able to show my family and friends that somebody would pay me money to write a post. That meant a sort of validation. A lot of people don't understand the whole blog scene and think it's just a hobby. So anyway, I asked that company to give me a sample so I can decide if it is good quality. But instead, they gave me the website to let me check it out and provided an example post. Of course, the website looked very good and the example post sounded ok too. But when I checked them out online, I found out they were hiding their real identity and there was a lot of bad customer feedback. Even with this I was still trying to talk myself into it, I mean they wanted to pay ME! It wasn't much but I wanted that 20 dollars to show I was successful. Thankfully my husband reined me in by saying: "I remember you said you will never lie to your readers". How bad was that? I was ready to sell my good word for the price of a lunch! But I learned my lesson. I turned down that deal and more similar offers after that.
My point is, everybody wants to be successful, but we need to also think about our responsibility of being a blogger. There are so many followers who trust and respect you, some from day one. Let me know your story about sponsored posts.
SHOP MY LOOK:
Hat @old from Kohl's
Purple heart print shirt @Loft
Ripped boyfriend jeans @JUSTFAB
Fringe backpack @TJ Maxx
Silver shoes @Nordstrom Rack
Mirror sunglasses @TJ Maxx
TODAY'S LINKUP PARTY:
Stylish Saturday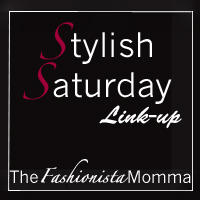 Sunday:
Cheers!
Grace
(Visited 88 times, 1 visits today)