Throwback Thursday Walking? Walking!
https://colorandgrace.com Daily Special Menu.
Monday – Fashion 101
Tuesday – Fashion Chinese Take-Out
Wednesday – Graded by Grace
Throwback Thursday
Friday – They Got It Right!
Saturday – Fashion Gossip
Sunday – Gone Fishing! Or shopping. Or gardening. But not blogging!
Got a special order? Let's hear it! I'm always looking for suggestions and comments!
If you've been reading along you know I didn't always live in America. I was born and lived in China until just 8 years ago. I moved here in 2007 to marry my fiancé and pretty much change my life. Once we were married I needed to change my temporary fiancé visa to a permanent resident status. If any of you have ever gotten a visa to move to another country you know it's a long, complicated and expensive process! In China I had to send in applications then wait, get a Chinese passport then wait, fly more than 1000 miles away to go to the American Consulate for an interview and then wait. But in fact, I was pretty lucky. We got through on the first try and I know that isn't always the case. Anyway, I was in America and newly married so now I was looking to stay around. One of the requirements I didn't know about and once I found out was NOT happy about was I had to get some shots. Actually, I had to get a LOT of shots! It seemed that the government of the USA was worried that I would make the whole country sick because I came from someplace else! Although I knew it wasn't just me I felt insulted and indignant. Just how dirty did America think I was?
I'll tell you how dirty! I had to get shots for mumps, measles, rubella, polio, tetanus, hepatitis and a few others I still can't pronounce! Oh well, it wasn't anything new and there wasn't anything I could do about it. My husband and I went to the local health department in our town and I started the process of getting poked and stuck! Some of the shots required me to go back for some extra ones after a few weeks. It was for one of these follow up jabs that I decided I could get there by myself. My husband worked quite far from our home so for him to take me meant that he would have to take at least a half day off for vacation. And by then i didn't know how to drive. The office wasn't that far I remembered so I thought I could walk up there in a few minutes. What I should have said was it wasn't that far when we drove our car! But I found out that even just in our small town you could go pretty far in ten or fifteen minutes when you were riding in a car. But I had begun walking and wasn't going to turn around now! Walking through the neighborhoods in our town was pretty easy and mostly familiar so I was quite comfortable all the way to the main road. I knew the health department was on the other side of this road and I was at an intersection with a traffic light so this seemed like the best place to cross the 5 lane road.
I saw the green WALK sign and got across the street with no problem. I turned onto the sidewalk and along the road. I knew the office wasn't too far down this road so figured I would be there in a few minutes. Once again the reality didn't quite line up with my ideas. There was a bridge over the road that carried the local train track. This happened to mark the city limit of our little town. I knew this from seeing the signs many times before. What I didn't know is that it also was the limit of the sidewalk. At least on the side of the road I happened to be on. I looked over at the other side of the road and saw a nice sidewalk going under the bridge and off into the distance. I looked in front of me on my side of the road and saw weeds about as tall as me! There was too much traffic to cross the road and there was no way I was going back to the crossing so into the weeds I went. I was pushing them to the side and making my own path all the way under the railroad bridge. Apparently this amused some of the drivers on the road because many of them beeped their horns at me or yelled something at me out their window. It's probably good that my English was pretty bad back then or I might have been more upset than I was!
I finally got through the jungle of weeds. I was dirty, dusty and covered with the small sticky seeds the weeds love to put on anyone silly enough to walk near them. I brushed myself off, picked off as many of the weed seeds as I could and continued along the road. There was still no sidewalk on my side but at least the weeds were gone. I walked in front of some restaurants, banks and stores and finally reached the health department office. As my reward I got stuck with about a 3 inch needle and then had to start on the walk back home! This time I knew to cross the road first but this wasn't as easy as it sounds. Out of the town there were no WALK signs and the cars were moving a LOT faster. I was waiting for a chance to cross the street without getting run over when my mobile phone rang. It was my step-daughter. She had just happened to call to see how I was doing. I told her how I was doing and about my predicament and she said she was nearby and she would come pick me up! I think that to this day I have never been happier to get into a car! And sure enough, we got home in about 10 minutes! My feet were sore from the walk. My arm was sore from the needle. And I had to go back for another shot in a few more weeks! Sounds like my husband would have to schedule some vacation!
SHOP MY LOOK:
Hat @CK
Black shirt dress @from China, old.
Black sandals @From China, old.
Pink fringe bag @BEBE
Necklace and bracelet @Express
TODAY'S LINKUP PARTY:
Thursday Fashion Files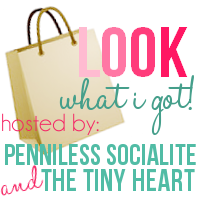 Cheers!
Grace
(Visited 60 times, 1 visits today)