Stuff N style app—Your closet organizer, outfit planner, virtual closet, digital wardrobe, fashion inspiration, style book
Yes I do have a big walk in closet and I LOVE it! It is my favorite place and I often sit there, listen to some music and stare at my shoes, bags & clothes while smiling. 😉
Although most of my wardrobe is pretty visible, after a while I still have a hard time to remember what I already have. 😉 And yes, I know it sounds just a little bit ridiculous. But it's already happened to me a few times that I bought some great new piece and then when I got home discovered I already had a very similar item and often still with the price tag on. Hey! Don't judge me! I've been busy!
I wish I had a digital closet that would remind me what I have so I could avoid this duplication. And also I could look through all the items to see what I could mix and match with the new things when I am shopping. So I went to search for this type of App. Nowadays I believe there are already existing apps for just about everything. Sure enough I found one called Stuff N Style
It got my attention right after I read the first sentence on their app introduction:
"Closet full of clothes and nothing to wear? We can help!" Hells to the yes! Sign me up! 😉
Since the App was free, I figured I better give it a try. After I signed up, I then took some quizzes about my body type, styles I like, etc. This app claims that it can help you make the most of your closet and put together outfits that flatter your body type and fit your lifestyle. Sounds great but I'd better give it a try! I clicked the Style Me button and asked my digital stylist to help me with my upcoming fashion show. Below is the screen shot about the result.
Not a bad result just a few hours after I sent my request. I ended up wearing the similar type of shoes and clutch based on their suggestion. I guess I forgot to mention in my notes that I have a tummy issue (it seems all my pants have shrunk at the waist!) so I will not wear that tight of clothes at all. 😉
From the description, it said it can serve as a DIGITAL CLOSET and will automatically remove the background of your clothes for easy outfit planning. Sounds great but that will be a lot of work for them to do. I noticed they made one of my looks this way but honestly I don't think the background bothers me at all. I do like the hashtag & search your closet for keywords (like #fabric, #season, #color, etc.) function so I will know how many pairs of shoes I have. So how many pairs do I have? Well, lets just say DSW knows me on a first name basis! 😉
The second function is MAGAZINE-STYLE OUTFITS. I tried the first one on my trip to NYC and it worked pretty good. I haven't tried others yet so I don't have any feedback about them.
* Plan what to wear on the go anywhere, anytime.
* Side-by-side presentation of your outfit and corresponding clothes like in fashion magazine editorials.
* Arrange, layer and resize clothing on a free-form canvas.
* Share outfits and clothes with friends via e-mail, iMessage, Facebook or Twitter.
The next function it indicates is STYLE.
* Don't know what to wear? Send a style request and get styled based on clothes you already have in your closet. I tried this as I mentioned above and I liked it!
* Discover new products that go with your wardrobe. They automatically added some very basic pieces to my closet so I can see how they can mix and match. I am pretty happy that I don't have to take photos of all my basics, like black pants, white tank tops and so on.
* Find style inspiration from fashionistas with similar style and body type. I haven't have a chance try this one yet either.
Over all Stuff N Style is a closet organizer, outfit planner, virtual closet, digital wardrobe, fashion inspiration and style book. How cool that I have a personal stylist on my phone and it is FREE!!!! It gives great style tips for when you want to step up your style game. It also introduces me to different key pieces to complete my wardrobe, and they make it so much easier by telling me what brand and then even gives me the link to purchase. I haven't purchased anything yet but maybe later. 😉
It is still a pretty new app and sometimes it is slow to upload photos. But all in all it is definitely worth a look. That is what I found out so far!
| Outfit Details |   
Top :: PJK [Love this. ]
Shorts::Loft [ Similar here.]
Bag :: Valentino [Sold out. Love this.]
Heels ::Charles [Sold out! Similar this. ]
Watch::ESQ [Same here. ]
| Shop the look |
|TODAY'S LINKUP PARTY:|
Style to Inspire with Rhea's Musings
Mahogany Closet Monday Fashion Link Up
http://www.stillbeingmolly.com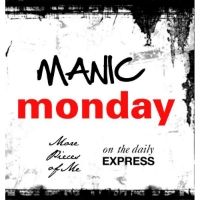 http://www.atouchoftartan.co.uk
Cheers!
Grace
(Visited 409 times, 1 visits today)