Happy Chinese New Year!
I've created a monster. Don't get me wrong, it's a great monster but a monster still. Let me start at the beginning. I moved to America in April, 2007. Early the next year I was trying to figure out how to keep my tradition of celebrating Chinese New Year going in my new home country. My new family and I were still sort of getting to know each other but I had gotten pretty close to my step-daughter from the day I stepped off the plane. I had also gotten to know a lot of our neighbors. That's one of the nice things about living in a small town, people always have time to stop and say hello. So my husband and I thought it would be a good idea to throw a party for our family, friends and neighbors to celebrate the biggest holiday in China. We cooked and cleaned and rearranged the house and had a great time; so much that we've now done it every year except one since. That one we missed was because we moved to a new house right at that exact time of year and just didn't have a chance to get it done.
We have made a few changes to make it a bit easier on ourselves. We now order most of the food from a local carryout restaurant. I still cook the homemade dumplings but the rest gets picked up or brought in to share by our guests. There is one exception. My step-daughter is an awesome cook and baker. And also the monster I created. She loves our Chinese New Year celebrations. She starts baking early at her house. She'll make cupcakes or cookies with little Chinese character flags or icing. Then she packs them up and comes to our house where she starts cooking the rest of her courses. This year she made Crab Rangoon, Jalapeño Poppers and String cheese wonton. But that's not really the monster part. That comes for our family celebration. We usually have the party on a weekend near the actual holiday. But then on the real New Year's Eve we have a family dinner. That's when I really mess up the kitchen. It's OK though, my husband cleans it! Anyway, I'll often make 10 or 12 dishes for us. Usually comfort food from my hometown and the traditional holiday must haves like dumplings and fish.
It's exhausting. Throw in the fact that I'm a Chinese teacher and we've also probably had several parties in my classes that week and I've started to think in recent years that maybe we'll take a break. But when I suggested that, "how about this year we go to a restaurant for our family holiday dinner?" my step-daughter won't hear of it! "We can't do that! It's all about tradition and being in the kitchen together!" You would think she's the one that grew up in China instead of me! I might still try to order a couple dishes from a local Szechuan place we like but mostly, the monster I created will win out. I can't complain. A lot of people have kids that don't want to spend time with them and mine are just the opposite. And the way my family has welcomed me and embraced my culture makes me so happy and proud. So the scene was my step-daughter was hard at work in our tiny kitchen getting her food ready while her fiancé was making dumplings. My step-son was putting drinks in the cooler for our guests and my daughter-in-law brought in my two granddaughters to join in and they were both wearing Chinese dresses. That's about as awesome as it gets! So from my family to yours; Gong Xi Fa Cai or Happy New Year!
| Today's Link up party |
http://www.bonbonrosegirls.com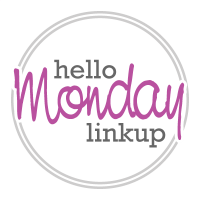 MINGLE MONDAY BLOG LINK-UP!
Mahogany Closet Monday Fashion Link Up
http://www.stillbeingmolly.com
Cheers!
Grace
(Visited 415 times, 1 visits today)