For the thousands of us that worship at the temple of Carrie Bradshaw, watching her a 5-carat black diamond because "she is not like anyone else" is all the green light we need to jump outside the box when it comes to the all-important engagement ring.
However, we don't all have to be Sex and the City fanatics to catch a whiff of the allure of the black diamond. These stones are the definition of cool, on so many levels.
Whether you are looking for a throwback to your '90 grunge look, you love black so much that you many secretly consider your sense of style to be gothic, or you have an inner punk rocker that tends to lean towards the edge, a black diamond ring might be just what you need. Black diamonds add a chic, sophisticated look and a mysterious allure that is impossible to miss.
For brides-to-be, a black diamond engagement ring can be just the right piece you need to break tradition and further make your engagement proceedings your own.
You'll get a distinctive piece that stands out and screams cool, and you get to be that edge bride that your inner 8-year-old still dreams off. Plus, with a black diamond, you'll save your fiance a considerable amount compared to if they went for the more expensive traditional alternative.
Are you looking to make the jump to the dark side? Here are ten of the most popping, eye-catching black rings you can snag right now. Or, you can just lust after them. That's allowed too.
10 Best Black Diamond Rings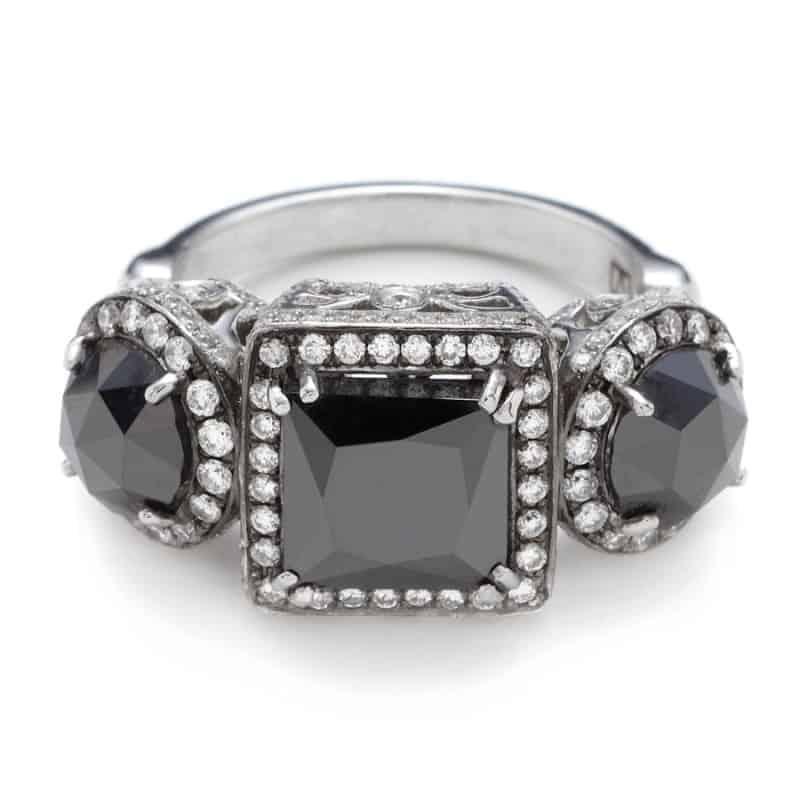 We can almost guarantee that this beauty sits atop the wishlist, vision board, and Pinterest profile of a large mass of women across America. At least, we can speak for ourselves when we say that it shot straight to the top of ours on the discovery.
However, at a retail price of $20,000, this behemoth is no easy snag. However, take one look at this beauty, and you know you are getting every cent's work.
Crowning this piece is a set of three black diamonds, a large princess-cut diamond in the center, with a rose-cut black bit flanking the centerpiece on either side. Each of these stones sits on a luxurious setting that contains rows of smaller white diamond pave stones that bring the overall carat weight to 3.99.
The entire setup sits on a platinum band, completing the circle of elegance and the wholesome monochrome luster that is sure to impress.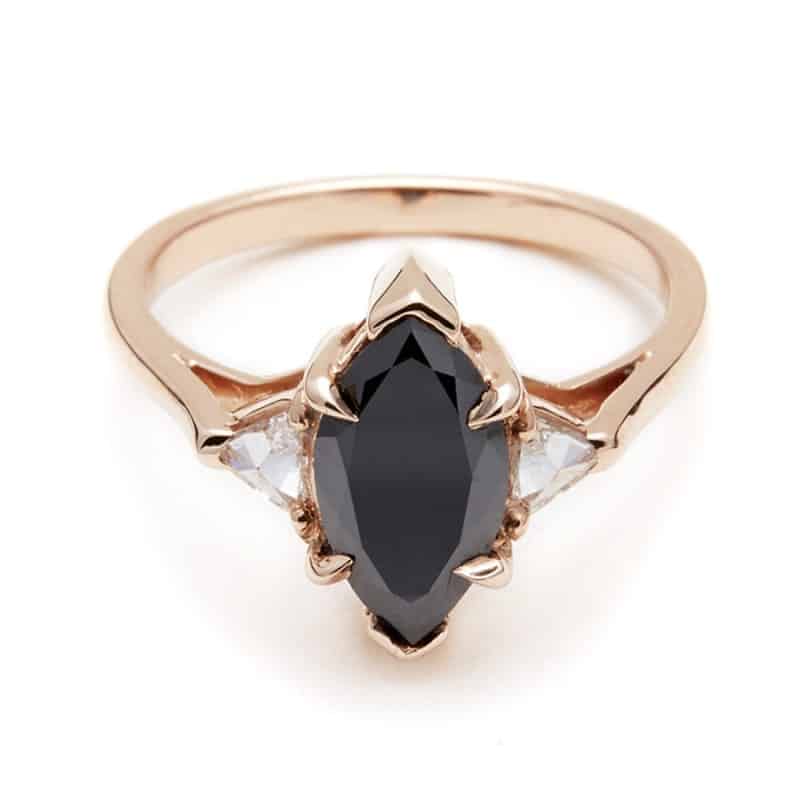 If the Astarte ring is too much for your brain to process, how about this one that you can actually buy (well, kind of.) For a quarter of the price, the Marquise Bea Ring from the same maker offers you a toned down, less flashy ring that is every bit as alluring.
Here, you get a 1.25ct marquise-cut black diamond that sits at the center of the ring and draws all the attention it rightfully deserves. Besides the centerpiece, two sets of white diamond trillions form the backdrop for the black diamond, highlighting the main stone and adding some character to the piece.
This ring's setting is trendy rose gold that complements the black and white front for a simple and elegant vibe. Rose gold is a dependable choice that always delivers, and with 14K recycled rose gold, you can't go wrong.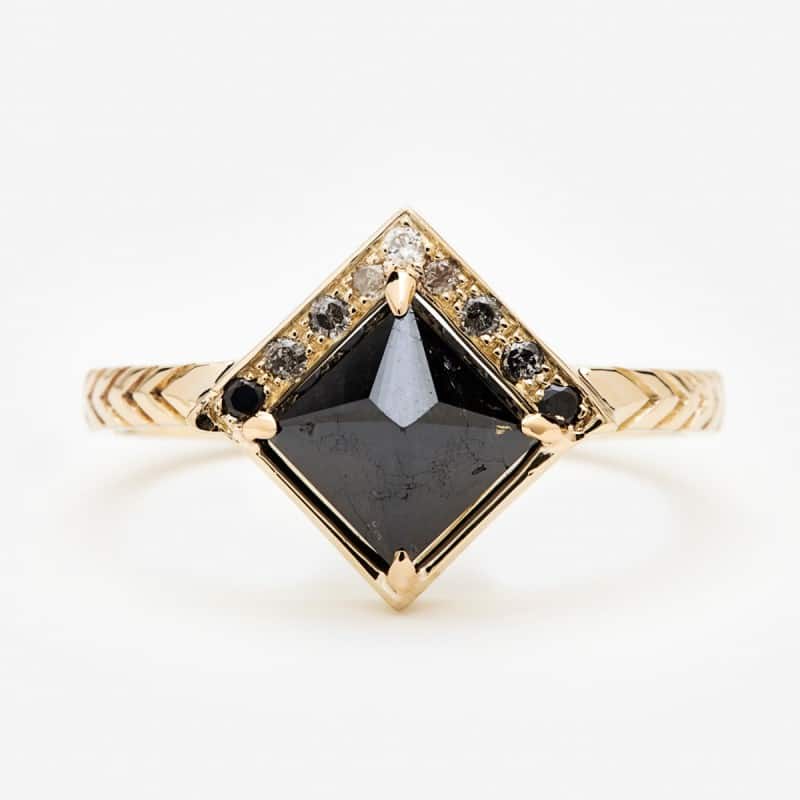 The color black is a favorite amongst people like us who can't bear subscribing to inconsequential societal consensuses on every single matter. For people in this category, the Raziel by Digby & Iona brings an allure that is hard to refuse.
Do you want to guarantee those marginally satisfying murmuring from the squares at your engagement party, then this is the one for you.
The main attraction is a striking 2-carat black diamond center in a distinctive inverted princess cut. However, everything else on this ring is almost as eye-catching as the centerpiece.
The center's setting is a slab of recycled rose gold that features a 1.3mm gradient pavé, complete with nine diamond inserts, that straddles the top of the central gem.
The band, too, packs its own allure. Here, you get a 2mm by 1.5mm strap of rose that sports an intricate chevron pattern that complements the ring's front geometry and is sure to impress.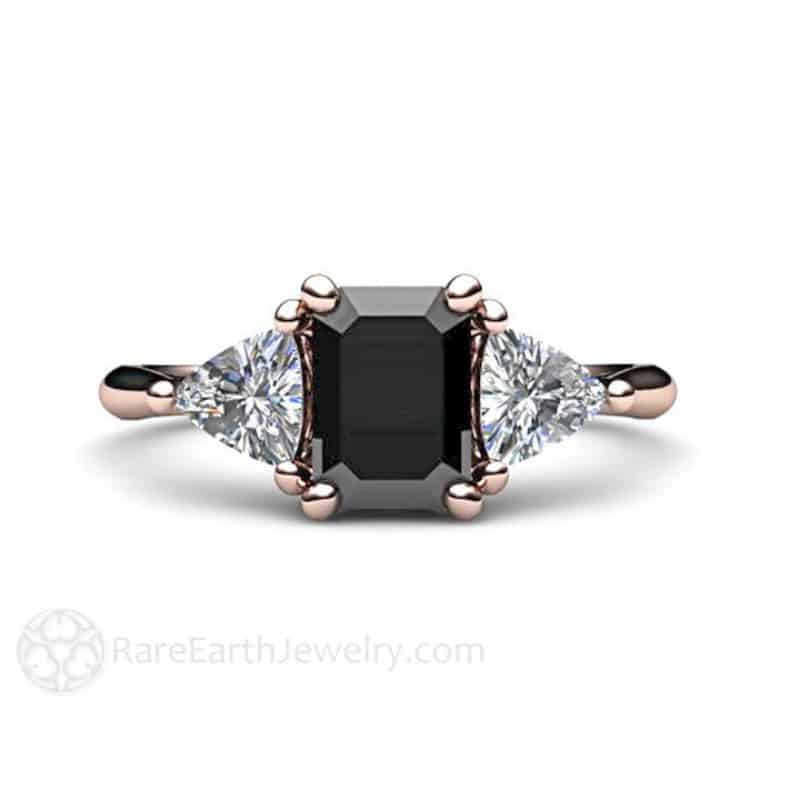 Sometimes, all a piece of jewelry needs to become a certified beauty is to stick to an elemental design that brings all the shine you need without going over the top. With the Rare Earth Jewelry Vintage Ring, you get a popping ornamental piece that perfectly fits this paradigm.
This ring is a throwback to the radiance and pizzazz of antique European rings. Yet, it manages to keep things modern and minimal, creating the perfect piece for people who enjoy the look of elaborate classic rings but are not willing to make the full jump.
The main stone on this ring is a 1.15-carat black diamond in a pronounced emerald cut. On either side of the center, you also get sparking trillions of approximately 0.25-carat weight each.
This mix of adornments sits in a 14k rose gold setting and a matching band. However, you can also get the ring with the setting and band in white gold, yellow gold, or platinum.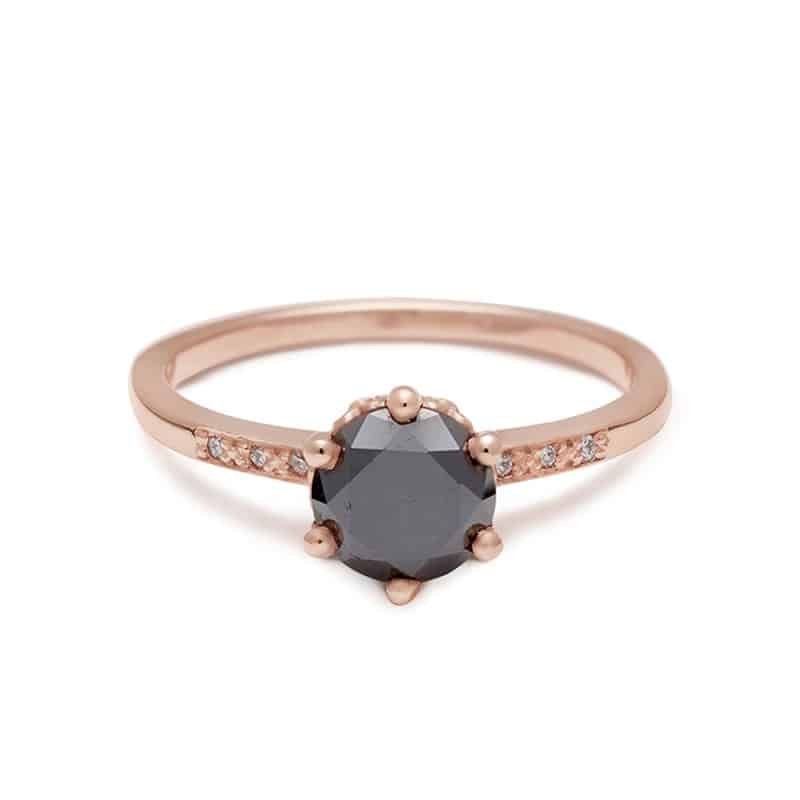 You see that ring in the movies that always get passed down across generations, from grandma to her enterprising grandson, this is how that tradition starts. The Hazeline from Anna Sheffield is a forever classic built in the mold of simple antique rings that pack the charm and unassuming good looks that is sure to last several lifetimes.
At its core, the Hazeline sports a 1-carat black diamond center, paired with three 0.03 carat weight diamonds accents on either side that sits in a 14k recycled gold setting and band. You can get this ring with either rose gold, yellow gold, or white gold.
True to our description, the Anna Sheffield platform reports that the Hazeline modeling follows a ring that belonged to the founder's grandmother.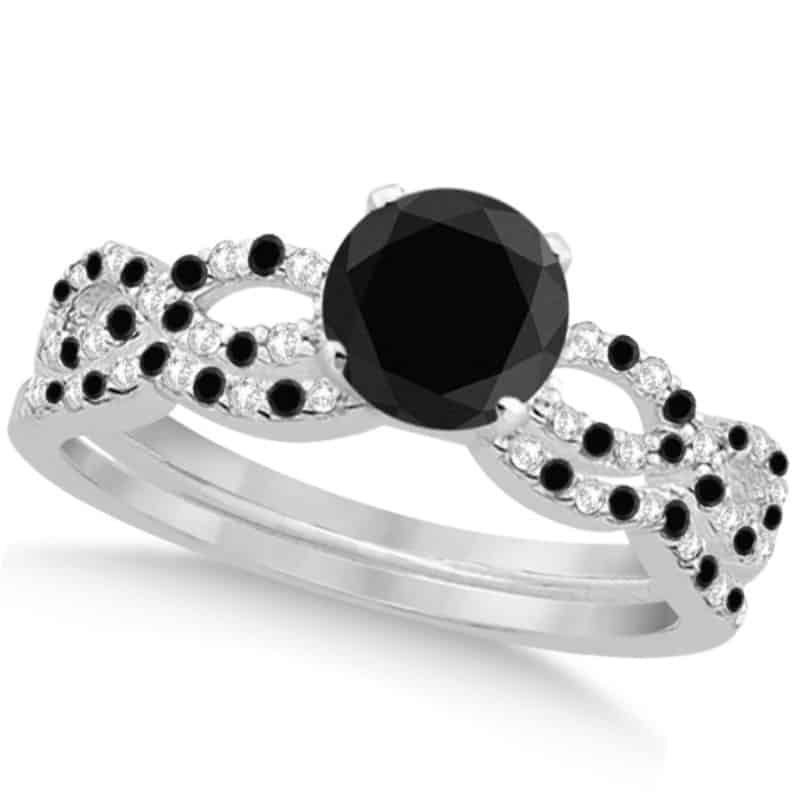 A black ring does not have to entirely break the mold and pack a distinctively unconventional design to capture the hearts of onlookers.
With this bridal set from Allurez, you get a splendid bridal jewelry set that highlights its black stones, yet brings enough brightness to win most people over and an eye-catching styling that is sure to impress.
The set's main piece is an alluring infinity style engagement ring with a prominent 1.28 carat traditional round-cut black diamond and a side stone pattern of smaller white and black diamonds that all sit in a 14k white gold setting.
However, you also get a matching wedding band twist and turn with an intricate contoured form that doubles the glitter and makes this set irresistible.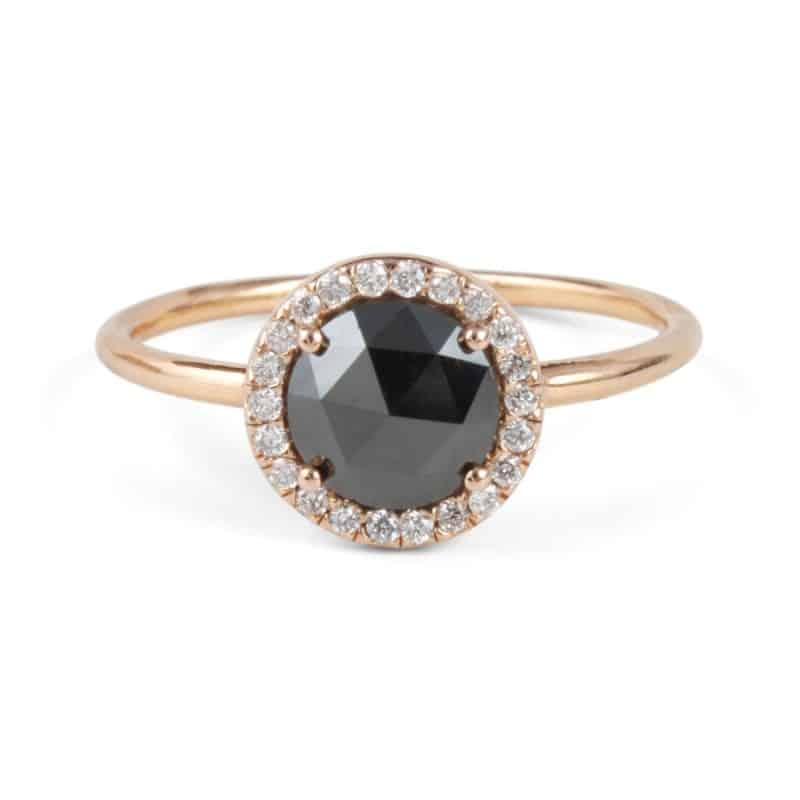 If you need a simple yet elegant black gemstone ring that is rustic enough to make excellent everyday wear, yet striking enough to get you the occasional question during your day, look no further.
When it comes to easy to wear black diamond rings that are exquisite enough to become future family heirlooms, few options fit the bill better than this aura ring by Bianca Monrós Gómez.
The piece's minimal design features a 6mm 0.88 carat rose cut black diamond in the center and a pavé set circle of 22 white diamonds surrounding the center stone. You can get this ring in either rose gold, white gold, or yellow gold setting.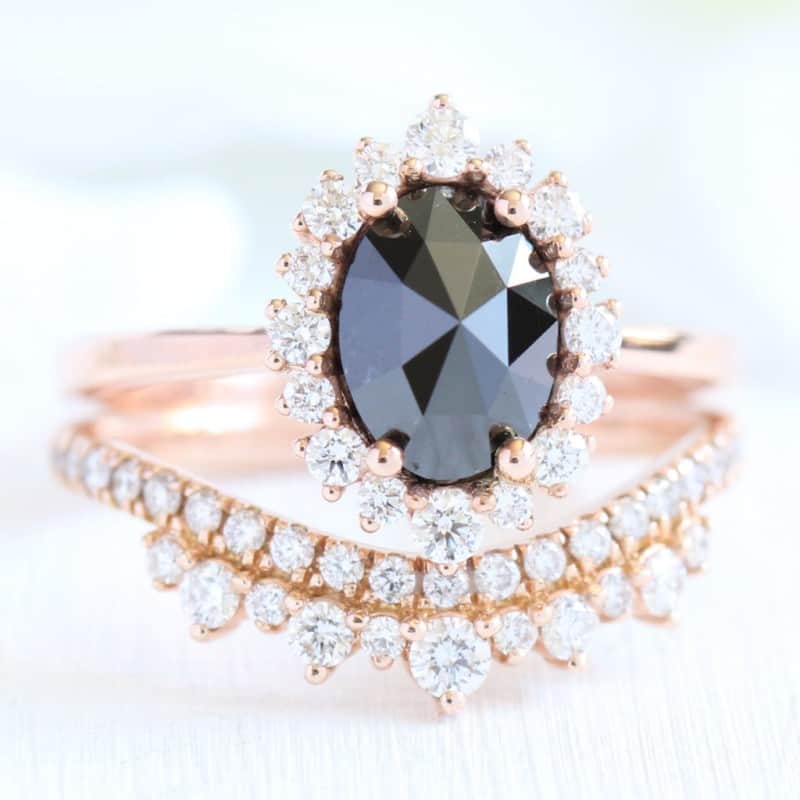 A large segment of stone buyers believes that one of the best ways to set a black diamond centerpiece is in a crowd of more vibrant transparent or other colored diamonds. With this setup, while the black diamond brings some allure and all the mysteriousness, it does not give the whole piece a downbeat, gothic vibe.
With this Tiara Halo Bridal Set set from Lamoore Design, you get a magnificent main piece that perfects this setup.
This engagement ring features an imposing 1.2-carat oval-shaped rose cut black diamond that immediately catches your eye. However, surrounding this core is a circle of some of the brightest inclusion-free diamonds you have ever seen, with a total carat weight that adds up to 0.28.
The second piece in the set is a curved crown wedding band with matching rows of white diamonds that you can pair with the ring to further enhance the contrasting effect with the black diamond at its center.
You can pick up this ring with either rose gold, white gold, yellow gold, or platinum setting.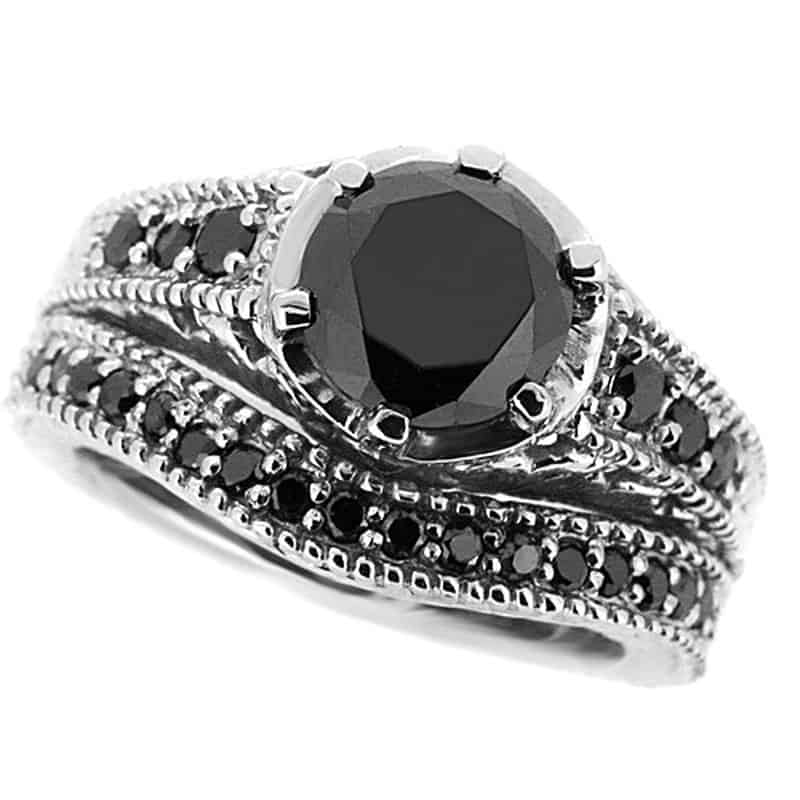 Sometimes, a hint of black is not enough. One of the most remarkable features of this color is its ability to mix and match with almost every other color, even itself.
For the brave ones amongst us who are willing to make the jump to a fully blacked out engagement ring, this bridal set gives you precisely that, yet packs enough class to rival other more lustrous options.
Here, you get a prominent rose cut black diamond at the center of the ring and a matching circle of smaller stones on both the ring and the complementary bridal band.
Despite its shortage of shine, this set's mysterious and sophisticated look is a guaranteed head-turner and is sure to grab the attention of onlookers everywhere you go.
In our journey through the world of black diamond rings, another gorgeous design we found is this eye-catching black-heavy piece on Armante Design's Etsy store. This ring's striking blacks and its unique split shank band creates a sight to behold.
The main stone is a massive 2.4-carat oval-shaped rose cut black diamond that manages to draw only part of the attention, as the band is every bit as exciting.
Flanking the centerpiece is two circles of French pave set black diamonds that straddles both arms of the chic split shank setting.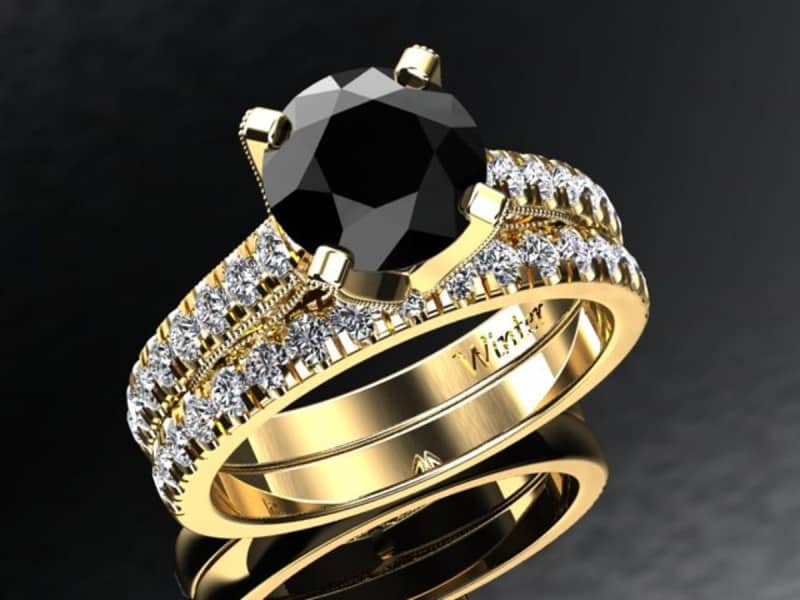 When we buy jewelry, a common consideration that stays in mind is the piece's ability to pair nicely with various outfits and event settings. In this striking black diamond ring from WinterFine Jewelry, you get the holy grail for matching with your other gear.
This Victorian style ring features a 1-carat black diamond center and a pavement of white diamonds in a simple yet elegant setup that creates the perfect, ultra-versatile fashion piece.
When for casual daily wear or as a statement piece, this ring is sure to be excellent at whatever you throw at it. It will match a large variety of wedding bands, and its unassuming good looks and extreme versatility makes it the perfect gift jewelry for any occasion.
FAQs
What do black diamond engagement rings signify?
Like other diamonds, black diamonds are a symbol of love, devotion, and eternal connection.
However, due to the black diamond's unique color, the stone is not as mainstream as other colored and transparent stones. Hence, this niche buyer status can confer different meanings to the black diamond, including symbolism that connotes specialness, mystery, or unconventional or rebellious.
Nevertheless, like other types of gemstones, the meaning of black diamonds is entirely open to interpretation and can be modified by the buyer as he sees fit.