For us, men, sometimes, it may seem like it impossible to find fashion accessories that adequately express your personality and style. All you have to do is take one look at the women section of the store to immediately realize that real variance in men accessories is virtually non-existent.
However, in recent times, things are beginning to change with more and more new trends in male adornments popping up each year to satisfy men's niche fashion tastes. One such testament to this revival of finery for men is the wooden watch.
Fun Fact

Wood watches started as a cheap accessory common among nature-loving fringe groups like hippies and surfers. However, today, these watches are often far more refined and feature way more often in mainstream fashion.
For men who want a lingering connection to the outdoors, even during office hours, wooden watches provide an ideal accessory option.
Tip

Most wooden watch manufacturers also offer smaller diameter options for women who enjoy the style too.
In addition to bringing the calming of the spirit of the forest with you, with these watches, you also get a lightweight chassis, hypoallergenic materials that are safe for everyone, and a more sustainable manufacturing process than you get with most other options on the market.
Even if you are not impressed by all that, all it takes is one look at the natural, neutral colors of a well-made wooden watch to win most people over. If you are ready to make the jump or just want to feed your eyes with the available options, here are the finest nine wooden watches on the market that you should consider.
Best Wooden Watches

No discussion on wooden watch product lines can be complete without the mention of Jord. As America's foremost wooden timepiece manufacturer and one of the premier supporters of sustainable manufacturing in the industry, Jord is hard to ignore.
You will find an elaborate collection of watches for both men and women and watch bands for apple watches on their website.
However, once you find their crown jewel, the Meridian, the chances are that you may not leave the page without making a purchase. The Meridian is one enchanting piece that draws design inspiration from classic luxury watches yet incorporates innovative materials and construction to create a masterpiece that is guaranteed to turn heads.
At the core of the watch, you get a dual-wheel open-heart automatic movement, complete with 47 jewel bearings and a 40-hour battery reserve that is sure to impress all mechanical watch enthusiasts.
The Meridian's mix of steel reinforcement and a domed sapphire crystal front creates a chassis optimized for resilience and durability through everyday use.
Plus, this watch also bags all the available points for style with seamless integration of the wood bits into the steel frame and four extra color options—Camel, moss green, burnt orange, and charcoal gray—to match your fashion needs.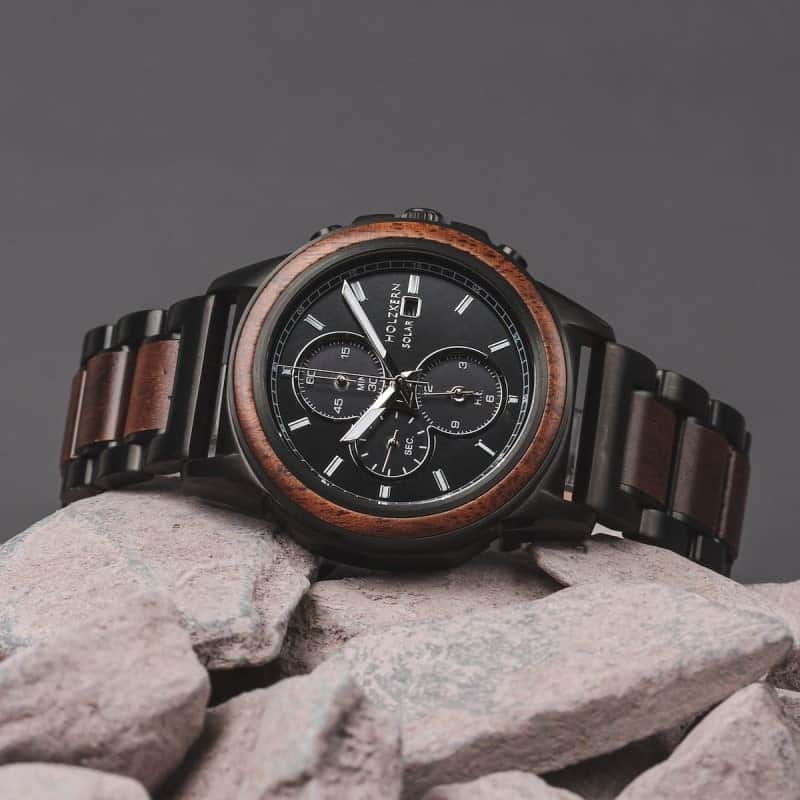 Holzkern is a watch brand run by a group of young professionals based in Austria. Since its launch in 2015, they have made a name for producing eye-catching pieces with an intricate construction that is sure to impress the old Swiss watchmakers.
Their portfolio includes a selection of over 300 watches, many of which look straight out of a bond movie. However, the Holzkern Canaries Watch caught our eyes, and we can also guarantee that a sizable portion of the population will attest to this piece's beauty.
The Canaries watch is a classic 42mm timepiece that features walnut wood and dark stainless steel construction and a dial that sports a mix of white and black marble. The piece's clockwork is from Epson, while the strap is a size-adjustable continuum with an easy-switch bezel system.
On ordering this package, you get the watch, a storage box and pad, an adjustment tool for the strap, a warranty card that guarantees 24 months of coverage, and a certificate of authenticity.
Furthermore, true to their sustainable production philosophy, Holzkern donates €1 on every watch sold to help fund reforestation efforts in Nicaragua.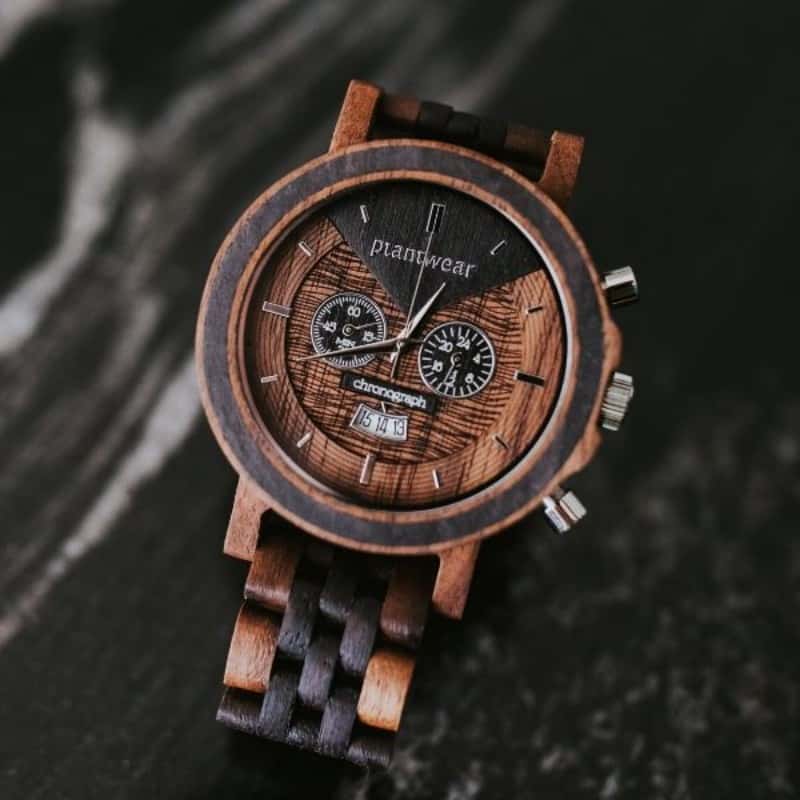 For authentic and dependable wooden accessories you can trust, look to Plantwear, one of the industry's foremost brands, specializing in wooden watches, bracelets, and sunglasses. Their premier watch offering, the select series, offers consumers a high-end wooden look intricately designed by hand to meet the highest standards of luxury.
Here, you get the ability to pick the watch size as you can select either a 47mm or 54mm dial diameter, and you also get your choice of 5 different exquisite color options.
Inside, the attention to detail on this piece continues with a Citizen Miyota movement and a mineral glass front. Plus, you also get the option to customize the watch with any personal engraving of your choice, which adds a touch of class that we appreciate.
The watch and the box's overall design leans towards a minimalistic approach, which will be a joy for color matching other fashion items.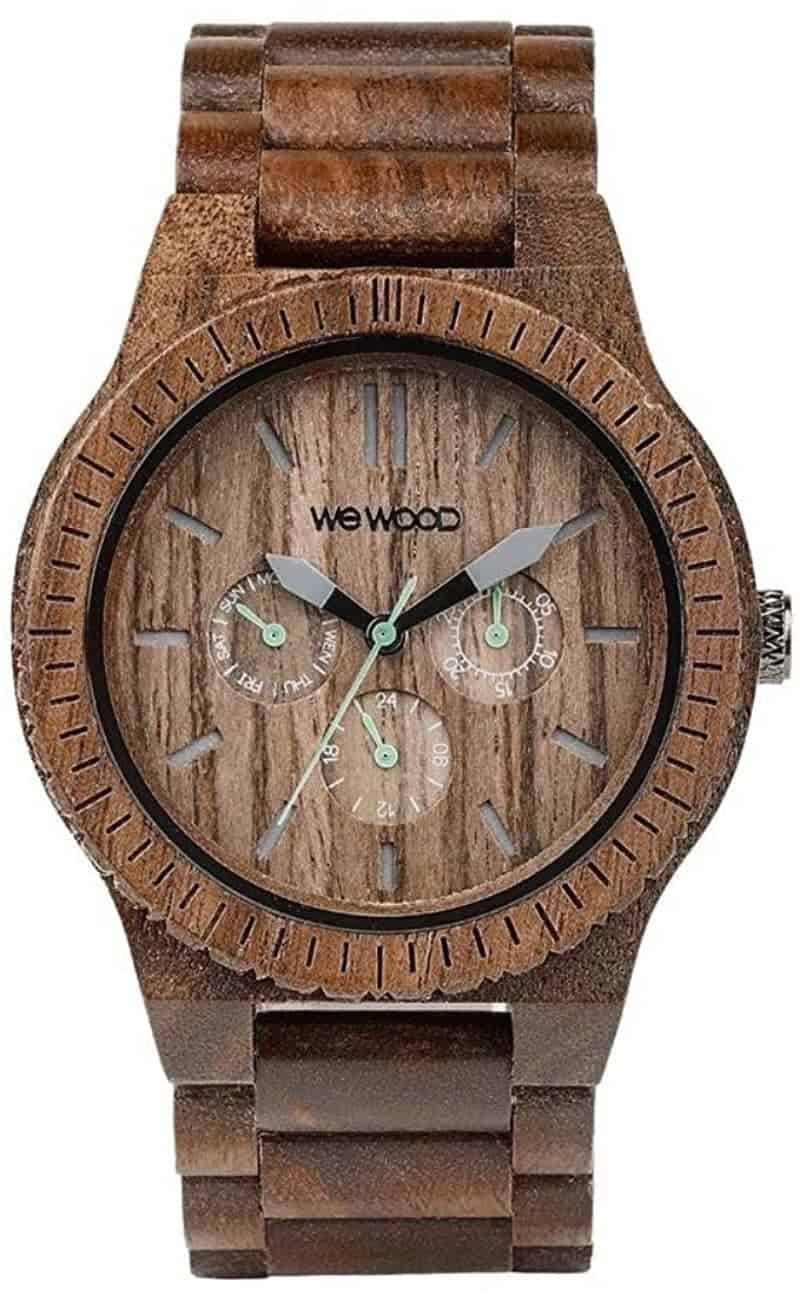 If you need a stylish yet functional, gimmick-free wooden watch, look no further than the WeWood Kappa Nut Watch. Here, you get a 46mm watch with a clean, elegant design, complete with rich brown hues that will put most of the competition to shame.
The Kappa Nut watch also holds its own on the interior. The watch packs a multi-function Japanese Miyota quartz movement, while the watch face features a date display with days of the week, military hours, and a reinforced scratch-resistant mineral glass cover.
With its USA-made hypoallergenic construction with 100% natural wood components, a sleek design, and a strap that you can adjust to fit all wrist sizes, WeWood's flash wooden watch is the excellent starter piece for those new to this fashion style.
Plus, the WeWood Kappa Nut watch also retails for under $150, which is a steal for this quality look.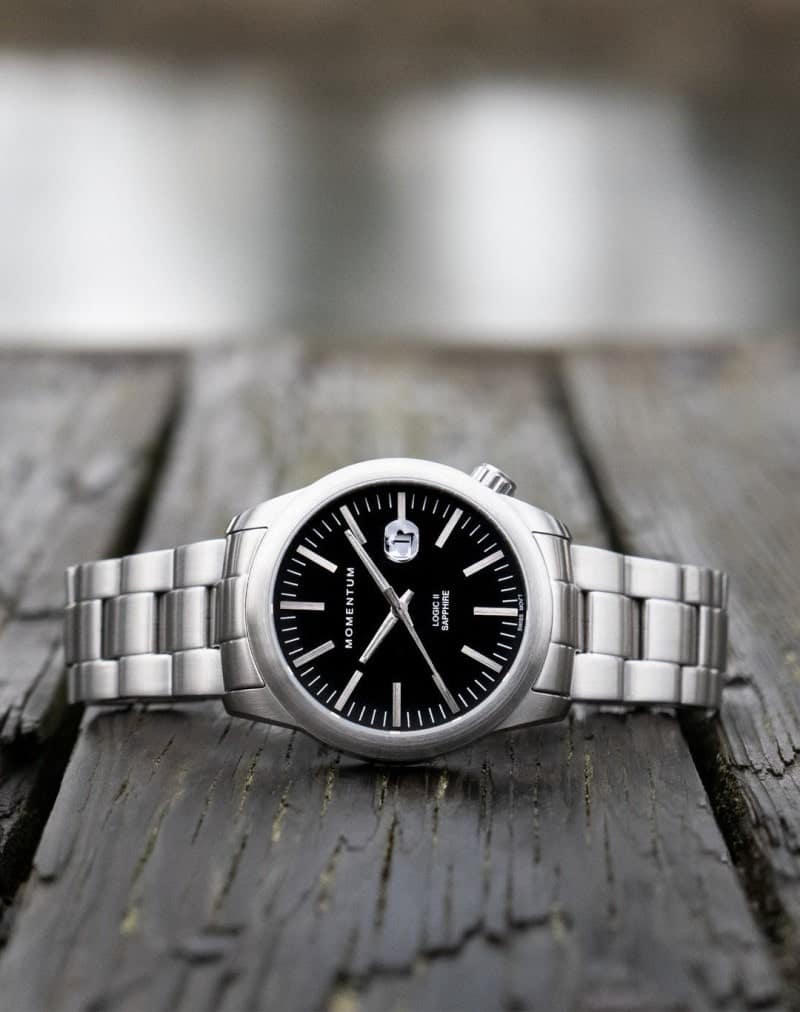 Still unconvinced about making the jump to a full-on wooden watch? Then, how about a little taste to possibly help ease the transition? The Momentum Logic SS 42 Watch offers you just that.
Here, you get a traditional stainless steel or leather watch but with a wood watch face. This mix of typical watch materials and wood creates a polished appearance that doesn't stray from the norm, yet sports enough uniqueness to make it stand out from the crowd.
Other big pluses with this Momentum watch are its extremely slim and lightweight profile (11mm thickness), perfect for folks who like simple field watches. Plus, the exact design is also available in a 36mm version.
The Momentum Logic SS 42mm Watch is also water-resistant for up to 100 meters, and you get the option of adding a reinforced sapphire glass crystal cover at purchase. Furthermore, with the watch's 316L stainless steel frame, you can rest assured of its durability with long-term use.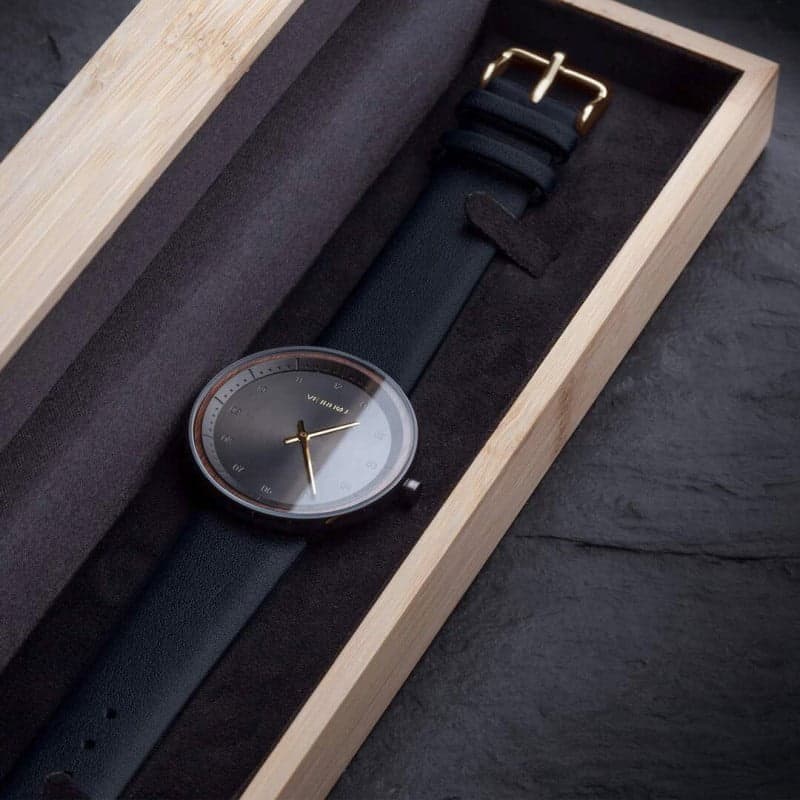 If you enjoy the minimalist yet inventive designs that characterize Nordic fashion, this magnificent piece from Vejrhoj will be the perfect wooden watch for you.
Vejrhoj is a brand based in Copenhagen, Denmark, that offers a line of eco-friendly watches with stainless steel and natural hardwood components. Here, you get accessories representing the pinnacle of where sustainability meets durability, yet pack eye-catching designs that are sure to impress.
Their Black & Gold watch is one that instantly caught our eye.
This unique piece from their Nature Collection blends circular brushed gunmetal and natural cherry wood elements to create calming earthy tones that scream class. The dial on this watch is gunmetal, with engraved numbers that give it a swanky vibe, while the golden hour and minute hands complete the luxurious feel.
You also get a black leather strap to match, complete with quick-release functionality, and mineral crystal glass front-coated with sapphire to considerably improve the entire structure's ruggedness.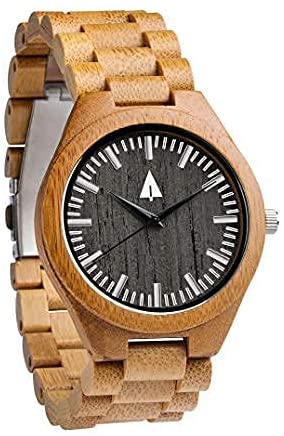 There is often an overlap between people who enjoy buying goods that are sustainable and good for the environment and folks who believe and support local, small-scale businesses. Treehut Bamboo satisfies the needs of both audiences.
The company is a small family-owned business out of San Francisco that focuses on producing accessories that incorporate as many natural materials in its construction as possible.
With their Atlas Ebony Black, you get a 43mm automatic watch that packs deep, earthy tones, elegant mechanics, and a classy classic design that is sure to stand the test of time. This watch incorporates a marble dial, a stainless steel case with ebony wood bezels, and a matching steel and ebony wood strap that completes the package.
Furthermore, the Atlas Ebony Black is just one of their over 700 products from which you can choose a variety of styles, construction, wood grain, and price points.
Plus, the company also has a strong focus on personalization, allowing customize engravings on the back of every watch, making them the perfect gift item.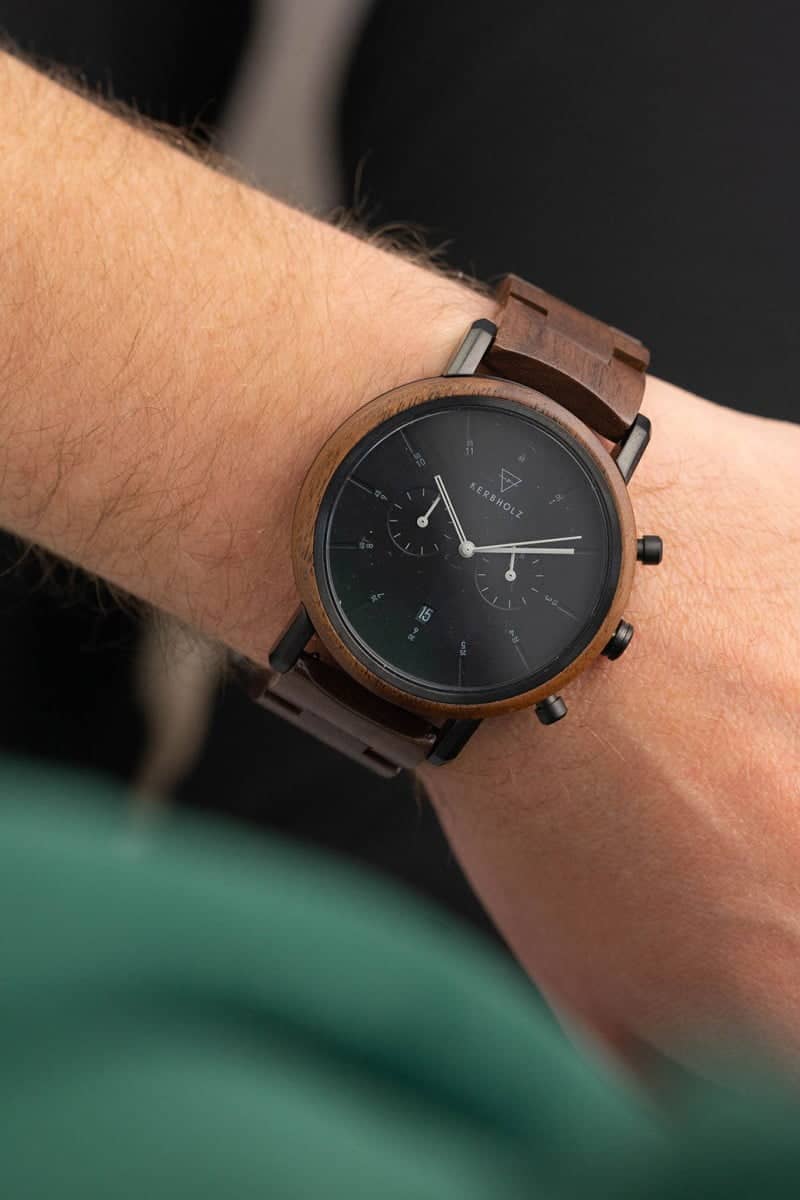 Kerbholz is a German-based company that ships some of the most eye-catching minimalist wooden pieces on the market.
Thanks to its intense focus on sustainable production and environmental consciousness, the brand has also garnered significant attention in the industry. Despite being only three years, they are now one of the top wooden watch producers globally.
The cornerstone of their environmental efforts is a program that donates 10% of all company sale proceeds to projects that promote recycling, reforestation, sustainable materials, and other ecological restoration programs.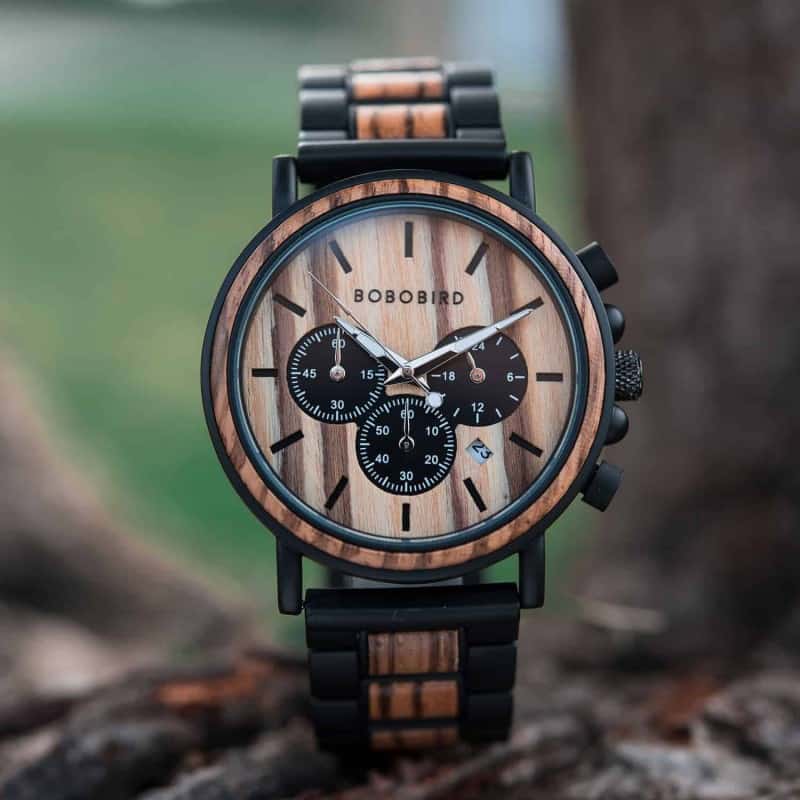 Good wooden watches do not have to cost you an arm and a leg, and that's what this company proves with their eye-catching watch collection.
Today, it is almost customary for high-quality niche fashion items to come at a significant premium in the world of style. However, with Bobo Bird, you get the exact opposite—an array of unique fashion accessories at low dirt prices that are guaranteed to impress all wooden gear enthusiasts and win over many budget-conscious shoppers.
While Bobo Bird offers a few mechanical watches that retail for several hundred, the bulk of their inventory includes a slew of wooden pieces priced under 60 bucks and offering some of the best bang-to-buck ratios in the industry.
On their website, you will find tens of watches, most of which follow a minimalist approach design, with the neutral, natural colors of wood and the occasional splash of vibrant colors.
On the inside, these watches use a Japanese quartz movement and Sony batteries, while the main chassis contains wood ethically sourced in China, where the company is based.
Bobo Bird currently has over 60 million users worldwide, which is a testament to its winning formula. The brand also offers wooden sunglasses, as well as other fashion accessories like Apple, watch bands, and wallets.
FAQs
Are Wooden Watches Good Options?
Wooden watches provide some of the most beautiful alternatives to traditional steel and leather watches. Plus, these watches are some of the most eco-friendly options available on the market today.
Another big positive with wooden watches is that they are hypoallergenic and an excellent fit for people who have allergic reactions to certain metals like stainless steel and silver.
How Durable is a Wooden Watch?
The durability of your wooden watch will depend heavily on the quality of its construction. Some manufacturers will opt for cheap wood and wood alternatives that sit on the bottom rung when in terms of durability.
Hence, for the best long term prospects, you are best off opting for high-end options that bring a guarantee of a durable build. A well-maintained high-end wooden watch will typically last you for at least ten years.
However, irrespective of how good a wooden watch is, it can never be as durable as metal options. Hence, if durability is one of your most vital concerns, your best bet is to opt for wooden watches that pack considerable amounts of metal and sapphire reinforcements.
Are Wooden Watches Waterproof?
No. Wood is semi-permeable.