Whether you're married or engaged, or you simply like to collect jewelry, you know that rings can be expensive, especially if they're made out of diamonds. One carat diamond alone can cost anywhere from $2,500 to $18,000, making the engagement rings even more expensive. To stay safe during their voyage, a lot of women choose to buy a fake engagement or bridal ring. If you're one of them, here's a list of the best fake diamond rings that look real for travel.
Whether you plan to travel alone or don't want to get pickpocketed too far from home, these fake diamond rings that look real will give you sense of security while enjoying your trip.
Why You Should Wear a Fake Diamond Ring?
Diamond rings are glimmering and gorgeous and every bride-to-be must be proud of hers. Having an expensive diamond ring has become a synonym for everlasting love, and grooms to compete on giving their soul mates the best ring they can find.
However, over the past few years, a growing trend around the world, especially in the USA emerged. Now, it's extremely popular to start an engagement with a fake diamond ring. There are different reasons and below, we'll detail why.
No-Risk From Buying Bad Engagement Ring
It's a new trend for proposers to propose with a fake diamond ring. That way, they know that their significant lover likes or doesn't like the ring. If she likes it, that's great, he can have a real ring designed. On the other hand, if she doesn't like it, they can work on getting a new ring that will work for both of them.
Fear From The Bling Getting Stolen
Travelling brings a lot of excitement, be it a business trip, honeymoon, or a self-discovery voyage. However, diamond rings grab a lot of attention, especially unwanted ones. Traveling around the world with overly-expensive engagement rings will catch a lot of eyes.
You might be walking some populated street, visiting a nightclub, chilling on the beach, or taking photos of some monument or a museum. Those are all the moments when your ring could catch attention. Lack of attention at the very moment could risk you the ring, thousands of dollars, and even the sentimental value that comes with it.
If you're scared that traveling to crowded and potentially dangerous places will make you an easy target, it's the best you leave your diamond ring at home, and substitute it with a fake and affordable piece.
Safety And Security
Traveling with an engagement ring can also have a good side. Be it an engagement ring or a gift from a friend, they're good for pushing away persistent people who'd like to seduce you or take advantage of you. That often happens with locals in rural areas who are so hospitable, that it often crosses the unwanted boundaries.
Solo female travels are spiritually-enhancing. They provide freedom, self-discovery, challenges, meeting new people, and allow you to try new things. However, none of this is possible if you're feeling unsafe or compromised.
That's why wearing a fake diamond ring is the best investment you can do for your trips. Over the last decade, the practice of digital nomading rose in numbers, with both males and females setting out to self-discovery paths to learning about new cultures and nations as much as themselves.
Given they embrace different cultures, people, and psychological profiles, it's best to stay safe with a fake ring that will turn away creeps who think you're single.
Things to Consider When Shopping For Fake Diamond Rings
If you thought that buying a fake diamond ring is easy just because they're fake, you're wrong. There are a lot of aspects to consider when shopping for these rings. Below, we'll highlight the most important factors that'll make the shopping process feel less of a headache and more exciting.
Type of Stone
Fake diamond rings are supposed to closely imitate diamonds and be more affordable. Additionally, they should have a different chemical composition, as well as other aspects like color and hardness. Synthetic diamonds are nearly the same as the original diamonds. However, fake diamonds are different stones in entirety.
Cubic Zirconia -It's extremely affordable, compared to other diamond simulants. Unless you're an expert, you'll hardly tell them apart. The downfall is that its durability is flimsy thanks to the 8.0 hardness on the Mohs scale of hardness. It can also be easy to scratch over time.
Moissanite – Moissanite is one of the closest diamond's lookalikes. It's extremely brilliant and can produce a reflection of more colors than diamonds, as well as fire. Unless you're an expert, you'll hardly recognize any difference between the two stones. The only thing that can somewhat accurately tell them apart without cutting is looking at the brilliance. Its hardness score reaches up to 9.5 which makes it nearly as durable as the diamond.
White Sapphire – Moissanite can be expensive at times, while the white sapphire has a more approachable price. It measures 9 at Mohs scale of hardness which makes it a durable material, more so than zirconia. Still, it's not as hard as a diamond and you may notice distinct scratches after some time. It's a popular diamond substitute, thanks to its far more approachable price.
Glass – This is one of the most common diamond replacement. It's widely available, which also makes it more available on the market. Additionally, the price for the glass is much cheaper, so it's commonly used to make beautiful diamond imitations. Although diamonds made out of glass look attractive and perhaps alluring, glass is significantly less sturdy than the diamond, which means you'll easily notice scratches or tear after some time of use.
Size
The side is an important factor when you're shopping for a diamond imitation. A lot of people like to show off their jewelry, especially engagement rings. However, big fake diamonds are easier to spot. If anything, they'll spark a lot of curiosity and questions, which may lead up to nervousness and stress. If you don't want others to find out you're boasting a fake bling-bling, it'd be the best to go with the option that doesn't stick out too much.
When buying a fake diamond ring, consider both size and the material. Not all materials have the same option to be seen as fake, but it's still possible. Lastly, because the fake rings are more prone to tearing and scratching, it's best to choose smaller options, so they wouldn't grind against everything they touch.
Lastly, scratches are more visible on fake rings which will immediately confirm you're not using a diamond ring.
Price
When shopping for a fake diamond ring, you're trying to pay it cheaper than your option. With that in mind, it's unreasonable to pay hundreds of dollars for a fake diamond ring that you will take on a trip.
Another thing you need to consider is the metal you'll use for your ring. There's no point in using platinum on a fake ring. However, if you prefer white metal, you can either opt for silver and white gold.
Fake Diamond Rings vs. Synthetic Diamond Rings
We mentioned earlier that fake diamond rings differ compared to the synthetic diamonds. But, why is it that way?
Synthetic diamond rings are grown in a way that they have the same materials as the real diamond, yet they are engineered synthetically. In other words, the real diamond is sourced naturally. On the other hand, synthetic diamonds come from the laboratories where they are made under high pressure and temperatures.
Fake diamonds are made out of other materials. Often, it's an entirely different stone that looks close to diamonds.
Best Fake Diamond Rings That Look Real For Travel
Best Overall – Luxuria Diamonds ACCERAZZARE
If your original diamond ring boasts the cushion design, this is the best alternative to your original diamond ring. It's designed so carefully, that only your jeweler will be able to recognize that it's not real. It boasts a 10 mm square shape cushion made out of diamond simulant.
When it comes to the metal, it boasts high-grade rhodium plated 925 hallmark sterling silver. That said, these two elements blend perfectly together, making an impression of a super-expensive engagement ring that no one would believe costs less than $100. The total carat weights approximately 4.6 carats. The company also has larger gems, in case you're looking for a bigger option. Still, keep in mind we said that big fake rings aren't the best of ideas.
This ring is ideal for people who are going to various celebrations and will be in contact with a lot of people in formal attire. Additionally, it looks real enough for traveling, in case you don't want to take your original engagement ring away. Finally, seeing your friends out for the girl's night makes this ring ideal for a glimmering accessory.
Runner Up: Luxuria Diamonds Lumiere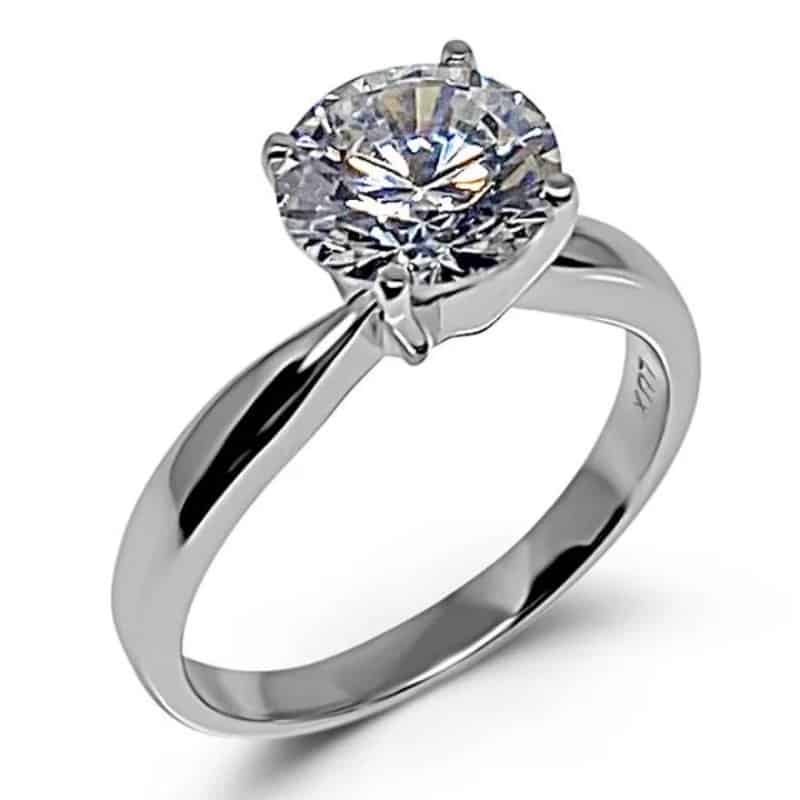 Although it looks fake and unattractive, this solitaire fake engagement ring won't look any more different than the real diamond ring. It's a perfect option for weddings, traveling, going out, formal dinners, and all other formal events.
It boasts an 8 mm round shape, which makes it sophisticated and modest. It uses fake solitaire diamond jewel of the finest quality. It's also surrounded by the 925 sterling silver metal, handcrafted. That said, it has all the conditions to provide a durable, elegant, and universal diamond ring for those who are looking for simplicity.
The stone boasts less carat weight compared to the original option. The stone weighs 2.04 carats, which also adds up to its "super ideal" H&A patterns. It has amazing fire and brilliance, and it's undoubtedly that you'll love it. You can easily find it in sizes 4 to 10, under the USA size guide.  The bandwidth measures about 2.5mm with the total weight of the ring reaching 3.3 grams.
Best Budget: Maikun 18K Ring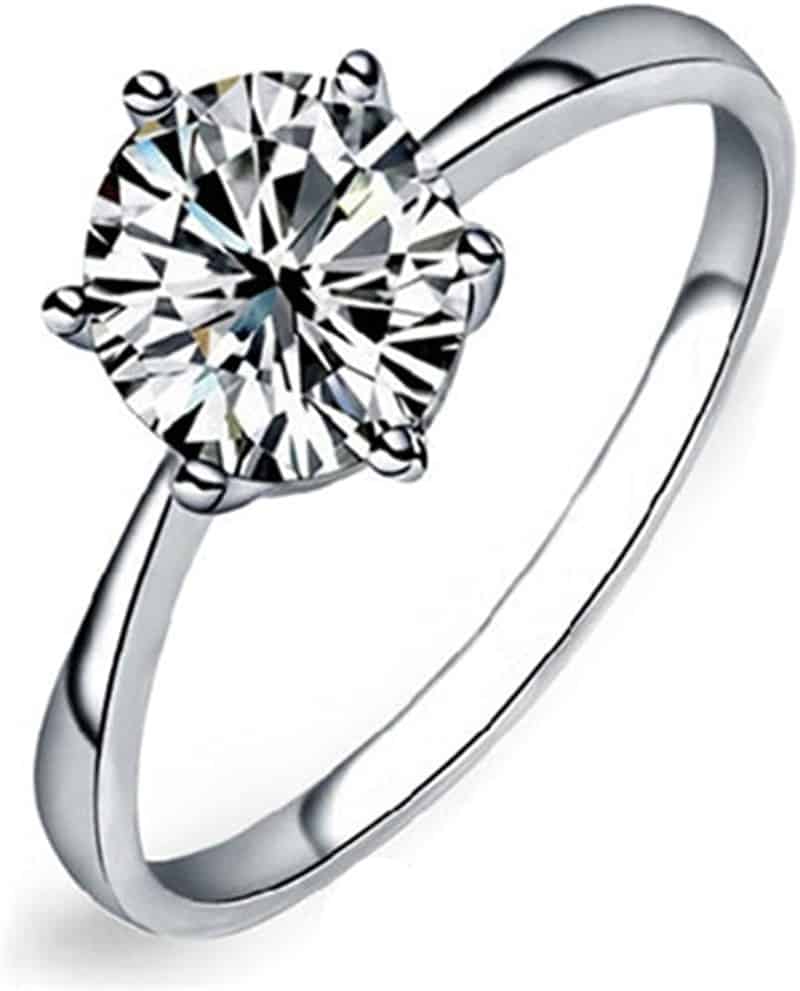 As mentioned earlier, sometimes it's not required to pay hundreds of dollars even for a fake ring. In fact, for some models, you don't even have to spend more than $10. This cubic-zirconia diamond will look like a real model. It's also free of any tarnish and its design is carved in a way that will prevent scratching.
More importantly, the ring is hypoallergenic, so you don't have to worry about catching any unwanted allergy reaction. It uses 18K white gold and platinum overlay that gives the ring a gorgeous look and makes it as attractive as a real diamond ring. It will catch everyone's attention and wonder who's the lucky significant other.
This affordable design also makes it a great choice for traveling? Why? Because you won't have to worry about losing a $10 ring in another country. You'll always have your real ring at home and won't have to stress about a lost sentimental engagement gift.
The ring boasts a 6-pound design with brilliant zirconia, and won't be too overwhelmingly heavy for your finger. Additionally, there are different ring sizes between 5.5 and 9.75, so you don't have to worry about not being able to fit. Just make sure that you check the size guide for your finger.
Best Cubic Zirconia Ring: Metal Factory Cushion Cubic Zirconia Fake Engagement Ring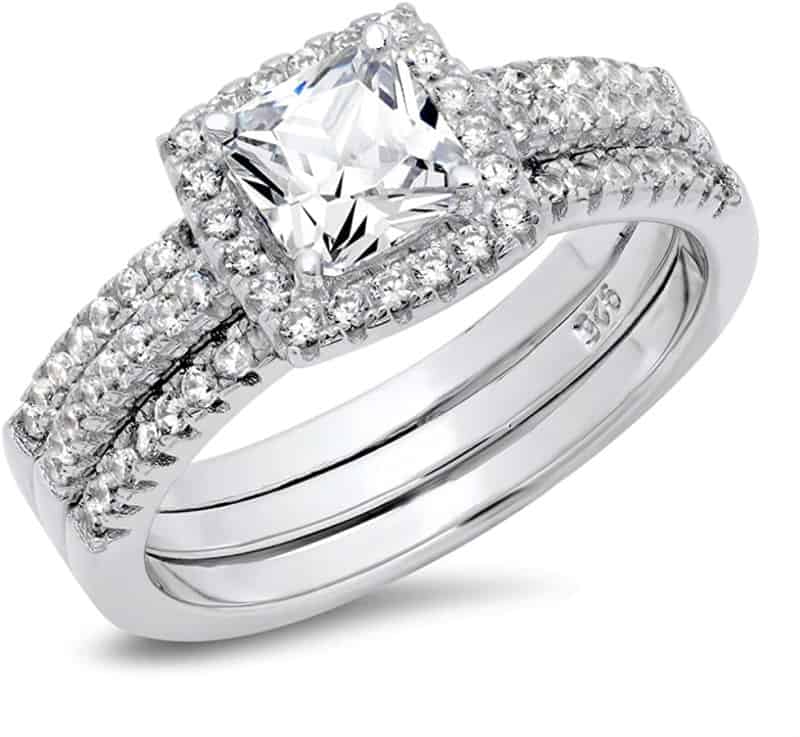 If you're looking for a sub-$50 fake engagement ring with the cushion engraving, but can't afford our first option, the best option comes from the Metal Factory. There is not a lot of things we can say about this ring, but it's definitely worth the price.
It's a cubic zirconia ring surrounded by solid sterling silver. The S925 stamp is included to be the highlight of its premium quality. Additionally, it boasts the popular Rhodium plating which gives it a more professional and sleeker look. The zirconia stones are rated AAAAA+ quality.
Lastly, if you purchase this ring from the Metal Factory, you'll also receive a gift box for storing it. If you travel, this is the best investment that will resemble your original ring.
Best Moissanite: MoissaniteCo Petite Moissanite Ring
MoissaniteCo boasts some of the most authentic moissanite engagement rings. However, the price range is difficult to distinguish. The two-stone petite model looks gorgeous and is suitable for all sorts of formal events, as well as traveling. You can come to this model with 35 different center stone options, as well as 7 eco-friendly metals.
It uses a petite and gentle band design that includes two surprise diamonds. Additionally, there's a Forever One colorless Moissanite center stone, one of the most popular stone decorations on engagement rings. You can also have the Moissanite side stones surrounded by a 14-carat gold or platinum design.
It measures only 2.3 grams, with bandwidth being 1.4mm. That makes the ring extremely stylish and sophisticated. Moreover, it's more affordable than the overly-expensive diamond rings. Another thing that makes the shopping process much easier compared to the other websites that sell moissanite is that you can get 360-degree videos and a lot of HD images that show the rings with the smallest details.
Note: Keep in mind that options with sterling silver .925 can lose its shine and even get covered in dark spots. That happens over time, especially if your fingers sweat. Sterling silver plated with white gold or platinum is a solution that makes it last longer. If there's no plate, ensure to clean your jewelry frequently and thoroughly. Otherwise, you'll be left with hard dark spots and corrosion that will be hard to clean off.
Other Options to Consider
Platinum over Sterling Silver Round Created White Sapphire Solitaire Engagement Ring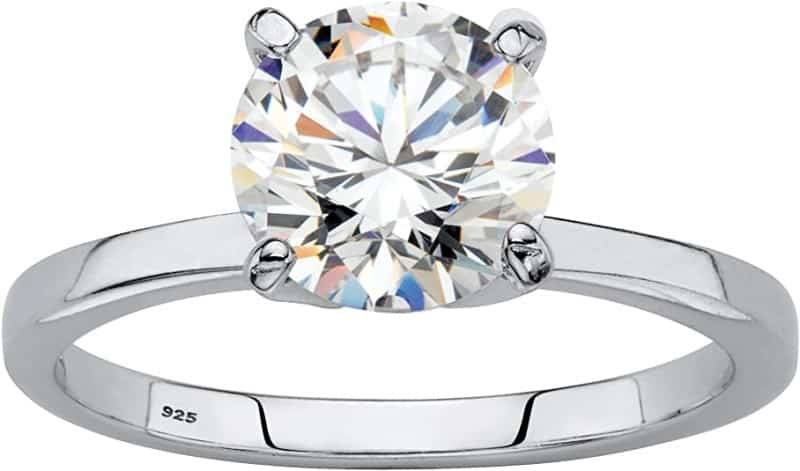 A lot of people choose to use solitaire-designed engagement rings because they have a simple design and show the crystal at its full shine. It uses platinum over sterling silver plating. At the backside of the ring, you can also find the S925 stamp. It uses a simple sapphire stone for decoration that's hard to differentiate from the real diamond. It's lightweight, affordable, and great for traveling.
Newshe Engagement Ring
Whether you're looking for a glamorously-designed fake diamond ring for travel or regular wear, Newshe is the epitome of elegancy and luxurious design. It uses a nickel-free solid sterling silver plate with an S925 stamp. It uses AAA quality Cubic Zirconia stone that highly resembles the real diamond.  If you're worried about the delivery and storage, don't be. The company will also ship a free luxury gift box that will let you keep it securely. Although there's no warranty, you can return the ring within 60 days from the ordering time.
Cubic Zirconia Infinity Engagement Ring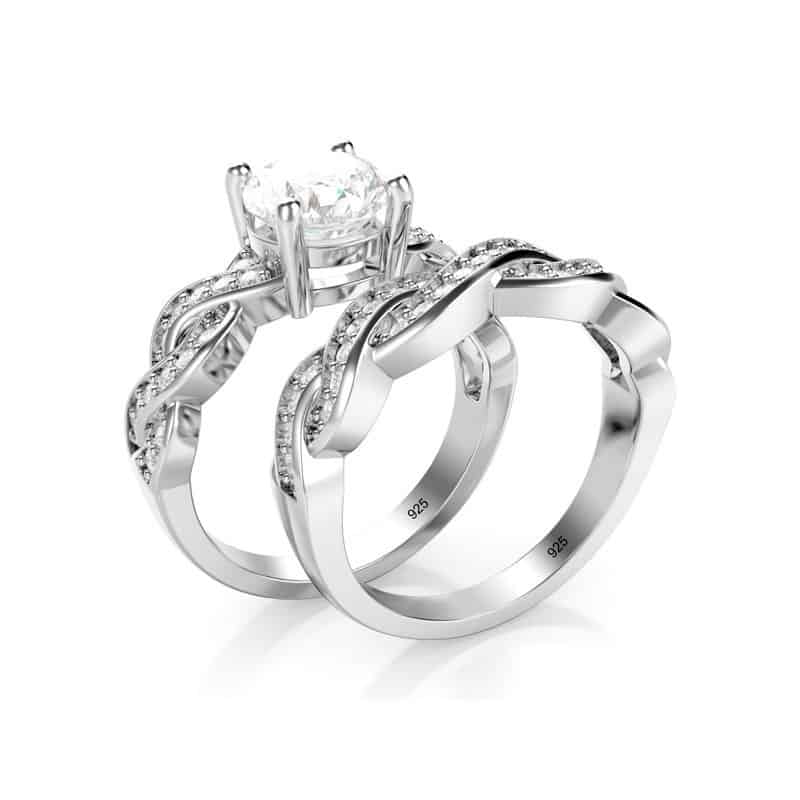 Infinity rings are quite uncommon because everyone settles for oval, cushion, and solitaire designs. However, infinity is nonetheless popular. This Walmart cubic zirconia infinity engagement ring looks durable, stunning and no one will make a difference between it and a real diamond ring. The ring also comes in various ring sizes, so there's a chance that you can easily personalize your shopping experience.
DIAMONBLISS Sterling Silver Cubic Zirconia Ring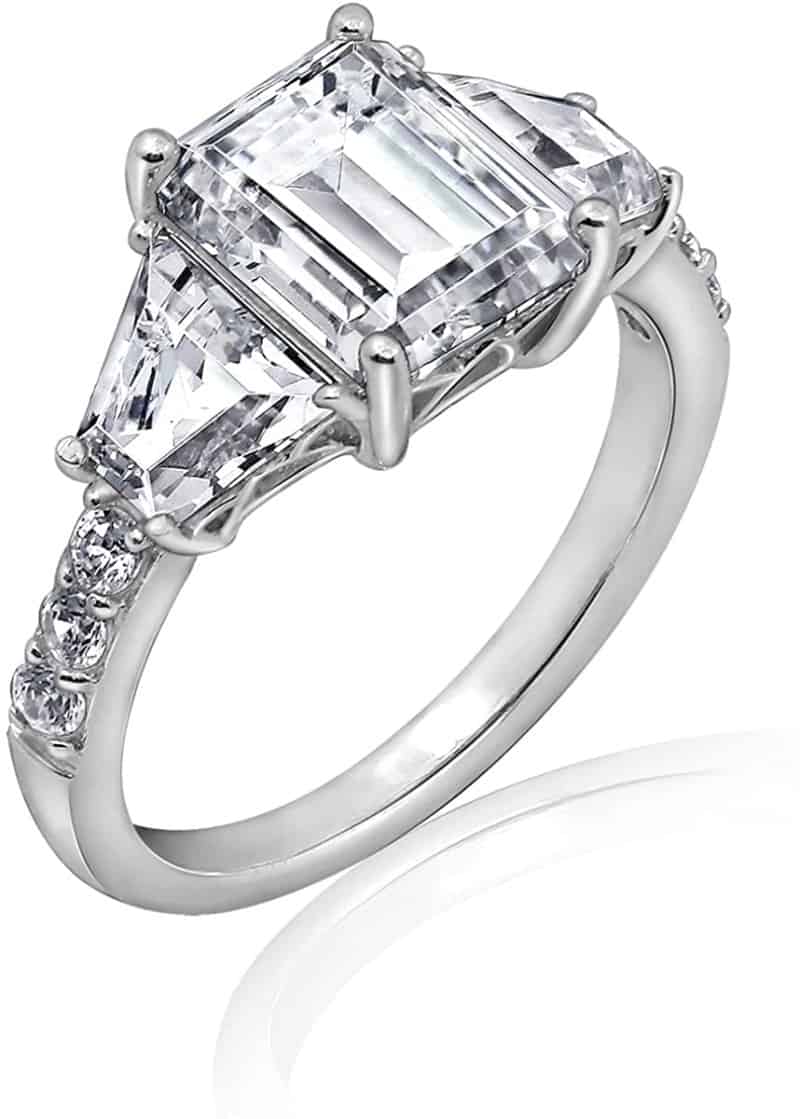 Diamond simulants were never so similar to the original diamond rings like now. The Diamondbliss sterling silver ring has the cubic zirconia crystal that looks stylish and elegant no matter where you take it. It uses approximately 3-carat weight for zirconia, while the side weight includes 1.45 carats. It uses trapeze-cut cubic zirconia on each side with a platinum plate over 925 sterling silver.
Kay White Sapphire Ring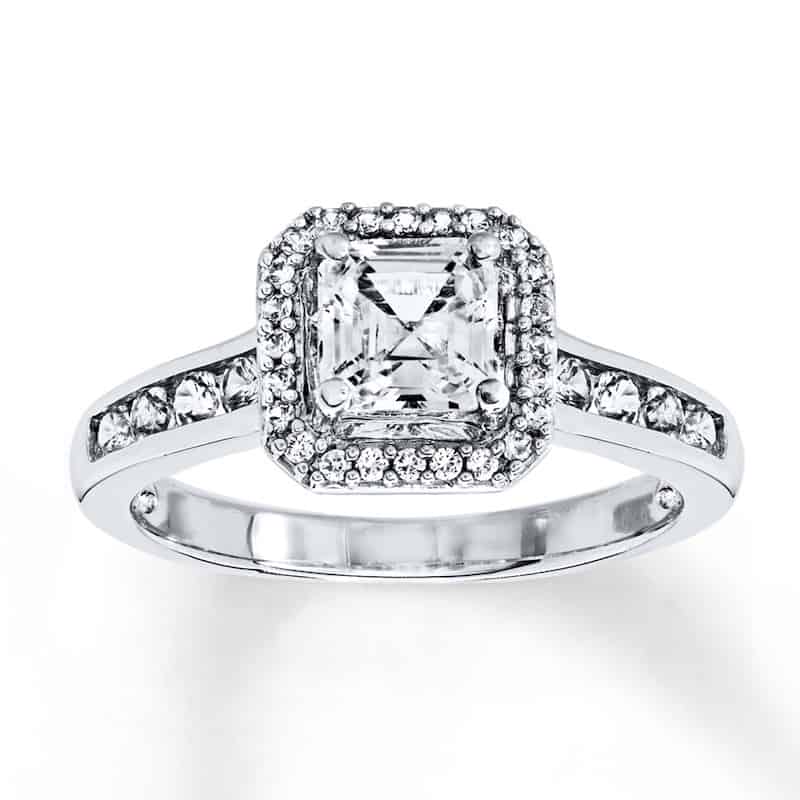 If you're looking for a delicate, yet sturdy and thick ring that will decorate your finger you should look at the white sapphire ring featured at Kay. The website provides a thorough ring size guide, as well as a 360-degree view to take a deeper look at the detailed white sapphire and surrounding stones. The ring is plated in sterling silver that will make it perfect for all your trips, not to mention you'll feel secure if you use it to substitute a super-expensive diamond ring.