The most popular engagement rings are those with diamond etched in it. However, even though the media made it look like engagement without a diamond ring is no engagement at all, there are more affordable alternatives looking just as shiny as the diamonds. One of those alternatives is moissanite.
We researched and compared the 1-carat prices of diamond and moissanite. We found out that moissanite is 90% cheaper compared to the diamond. With that in mind, we listed the best place to buy moissanite engagement rings to mark the beginning of the next era of your life.
What is Moissanite?
Moissanite is a gemstone that extremely resembles a diamond. However, it's made out of silicon carbide. Moissanite measures 9.5 at the Mohs scale of hardness. That means it's extremely durable and sturdy, but less so than Diamond that earns 10 on the Mohs scale.
Although it's a stone that looks extremely similar to the diamond, it's only called moissanite diamond, even though it's not listed as one. A lot of people can't tell the difference between the two unless they're jewelry experts. Difficulties telling them apart also makes moissanite a great opportunity for people who can't afford diamond on their engagement rings.
Moissanite found in nature is extremely rare, which also contributes to its high price. Even though lab-made moissanites are becoming common occurrences in the stone and jewelry industry, it's not easy to make them. For the most simple moissanite structures, it can take around 3 months to make. Still, the most prominent moissanite offers you'll find both online and on the street are likely lab-made.
Moissanite has been used over the last two centuries. It was only discovered in 1893, hiding inside the meteor crater. Scientists who found them, Henri Moissan believed that they were in fact diamonds. Once it was proven they're not, the crystal was named moissanite after him.
Difference Between Moissanite And Diamonds
As mentioned earlier, it's extremely challenging to differentiate between the moissanite and diamond.  Even public associations such as GIA confirmed it's challenging to make the difference. The Gemological Institute of America also noted that moissanite is the most similar diamond simulant than any other simulant found or made.
So, how to tell them apart? It's good to assume that only gemologists and jewelry experts could tell them apart by examining them. Still, how can you?
One of the only ways to make the difference between the two brilliant stones is to compare the brilliance and shine of both. The moissanite shines more brilliant compared to the diamond. It loves the light and spreads it all around once it touches it.
Still, for people who are not well-versed with diamonds and other jewelry, it may be hard to spot the difference in their brilliance. That's when taking it to an expert who can cut them apart is the best solution.
Other ways to tell them apart and spot their difference are:
Moissanite is lighter as opposed to the diamond. Its weight is 15% smaller compared to the hardest stone on Earth. That also makes selling more difficult as sellers prefer to sell it by the dimensions rather than weight.
They have different selling standards. While diamonds are sold based on the 4C criteria, moissanite's criteria include colors and size.
Hardness also plays an important role. Moissanite is not as hard as the diamonds.
Brilliance and fire are more prominent with the moissanite.
Most importantly, the price for moissanite is much less expensive as we said earlier. One carat of moissanite can cost you anywhere from $400 to $700. The price of diamond per carat may make you dizzy. Even though they look similar, moissanite is more brilliant and their hardness is relatively similar, you can get a carat diamond between $2,000 and $20,000 for the clearest and most brilliant samples.
Why You Should Buy Moissanite Ring?
Below we listed the benefits of purchasing moissanite rings.
They're more affordable than diamonds, but hard to tell apart.
Although not as hard as the diamond, moissanite is extremely sturdy and durable at 9.25-9.5 at Mohs scale of hardness.
It's brilliant, beautiful and comes in various colors and options.
It's harder than the vast majority of other uncommon and rare crystals you'll find.
It looks beautiful in most shapes and metal options.
It has a minimal environmental impact because it's mostly sourced from labs.
What Are The Best Places to Buy Moissanite Engagement Rings?
Now that we defined what's moissanite and how it's different than original diamonds, it's time to review some of the best places where you can shop for moissanite engagement rings. We made sure to include all the benefits and potential risks of buying at certain places, so let's begin!
Charles & Colvard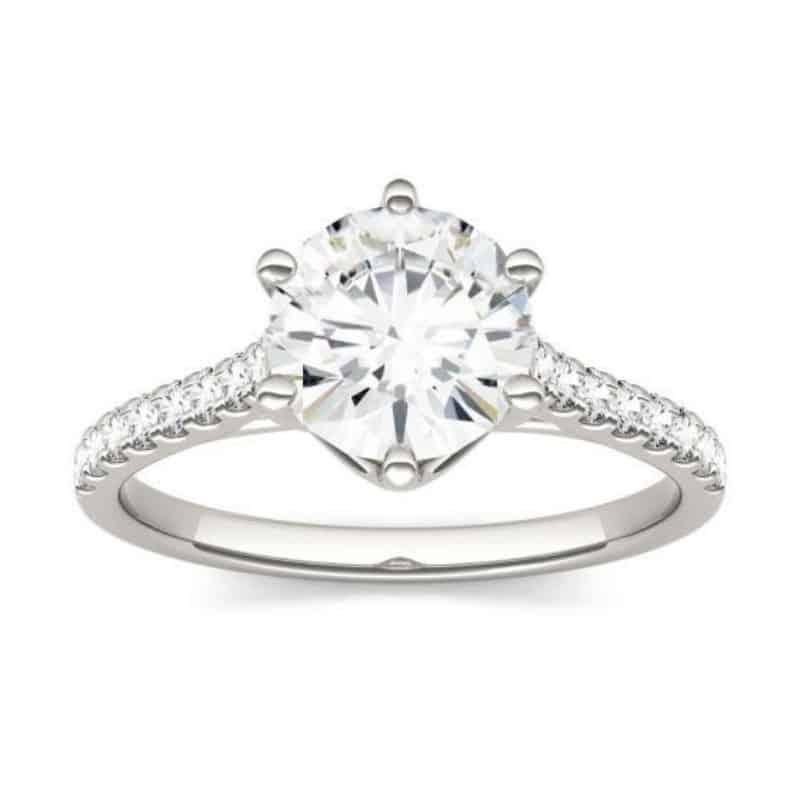 What do they offer:
Great user-experience on their innovative, sleek, and easy-to-use website
Personal customer reviews and detailed product selection and description.
You can find different moissanite engagement rings with different shapes.
You can buy loose/standalone gems.
There is a lot of educational and informative content that will educate you on choosing the right moissanite ring.
You can find halo, solitaire, vintage rings, bridal sets, and many more.
They offer a moissanite ring collection with green moissanite, which is the rarest
Ethical lab-growing and moissanite production process.
A lot of filtering options.
Flexible financing, as well as a lot of payment options.
Aside from the rings, you can also find other moissanite jewelry.
When springing for quality moissanite retailers, regardless of whether you're buying engagement rings or other jewelry, Charles & Colvard is an unavoidable retailer. It's the first place where you should look. They make lab-grown moissanite, which makes it the most notable retailer in the world.
They've been in the business for over 25 years, and their production has only improved over time. They focus on working ethically, using a lab-grown moissanite diamond, instead of wasting the poor natural moissanite sources.
The shopping process is quite easy, you won't have to stroll through different sections of the site. Moissanite will be easy to spot and all you have to do is just filter the rings. So, overall, the navigation and website management is fairly easy.
The company also has a lot of useful information, including a blog that provides all information about the growing process and development. Not to mention, you'll be able to purchase moissanite engagement rings online.
The moissanite rings they sell are gorgeous, glimmering, elegant, and sophisticated. One of their most popular and sold collection includes the Forever One ring collection. The online shop is also easy to navigate through.
The best part is that the filtering option allows you to find an option that is the most personalized to your preferences. You can filter the metal type, price range (ascending and descending,) weight, shape, and others. You can also find the rare green moissanite.
You can also find different sets of engagement rings. They look so sleek and elegant, that you'll hardly find such quality anywhere else. There are also different ring styles, which means you'll hardly find a style like that anywhere else.
If you want to make a personalized ring, you can also purchase standalone gems, which are differently styled to suit your preferences. That said, you can find heart, radiant, and trillion shapes of moissanite.
When it comes to payment and shipping Charles & Colvard is pretty flexible. They offer many payment options, free shipping with a versatile return policy as well as warranty for the jewelry you purchase.
The price range for moissanite rings on Charles & Colvard can be anywhere from $500 to $3500.
Drawbacks:
Unfortunately, standalone stones can't be arranged with a personalized ring shape. You can buy a loose crystal but take it elsewhere to engineer a ring.
Amazon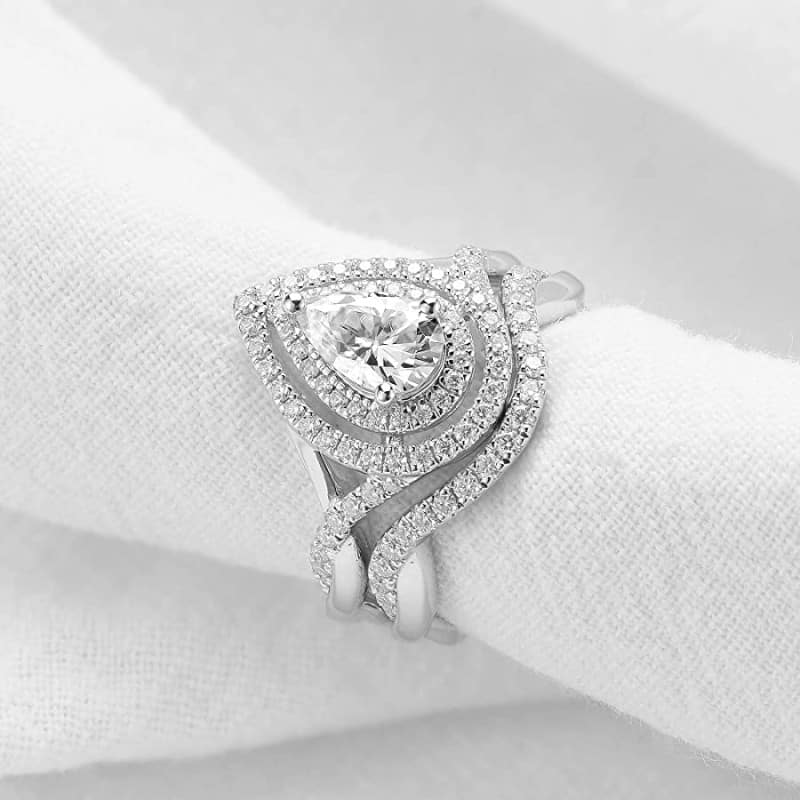 What do they offer?
Flexible price range – from $80 to $5000 so that everyone can find something.
A lot of vendors with great reviews and offers.
Even more benefits and frequent discounts, especially for the Amazon Prime members.
A wide selection of metals, and stone shapes – solitaire, oval, three-stone ring.
You can also find rings that combine with sapphires, zircons, emerald, and other stones.
You can flexibly choose options with the best warranty.
A lot of positive reviews and you can rely on Amazon's customer service.
As one of the biggest online marketplaces in the world, Amazon also holds the market for engagement rings. Perhaps, you thought that you'll only find poor quality rings or overly-expensive diamond rings that you may not be able to trust. However, Amazon has a lot of options, especially for the Moissanite engagement rings. Let's recover its secrets.
There are several reasons as to why you should buy the moissanite engagement rings off Amazon. For one, there are a lot of different vendors. That makes it easy for you to compare quality, features, benefits, and more importantly, prices. You also have the flexibility to choose from different shapes, weights, and so on.
Some online vendors will also offer loose moissanite at a more affordable price compared to other online stores. That also gives you the flexibility to work with a local jewelry store to carve the crystal into the ring metal you want and adjust the shape.
There are a lot of options. Some of them are silver, gold-plated, white gold, or platinum. The crystals also come in different shapes and sizes, including the Forever One rings, three-stone, bridal, oval, solitaire, and much more.
However, it's important to note that the policy that vendors have doesn't correspond to Amazon's policy. Amazon will ensure a 30-day return policy for each vendor, so if you're not satisfied with what you got, you can easily return the product. But, what about the warranty?
Many vendors offer a warranty. You can assume that of the customer services because no one should be naïve enough to shop for crystals off an online store with a good warranty. However, each vendor has a different warranty, limited or not. Some may offer a lifetime warranty, some may offer a few months to a few years.
It's also extremely important to be able to trust the vendor you shop from. There are several ways to verify their trust. First, look at the reviews, and make sure that they're all verified. Additionally, you can look at the vendor's overall review and score it has on other products. Lastly, you can google them and learn more about their firm.
The price range is flexible. Some vendors will offer it from $80. However, some vendors will sell these rings for up to $5,000.
Drawbacks:
To be 100% secure, it's important to frequently check reviews and verify the vendor's credibility so that you don't get scammed or ripped off for material that isn't worthy.
There's no educative and informational content on moissanite.
MoissaniteCo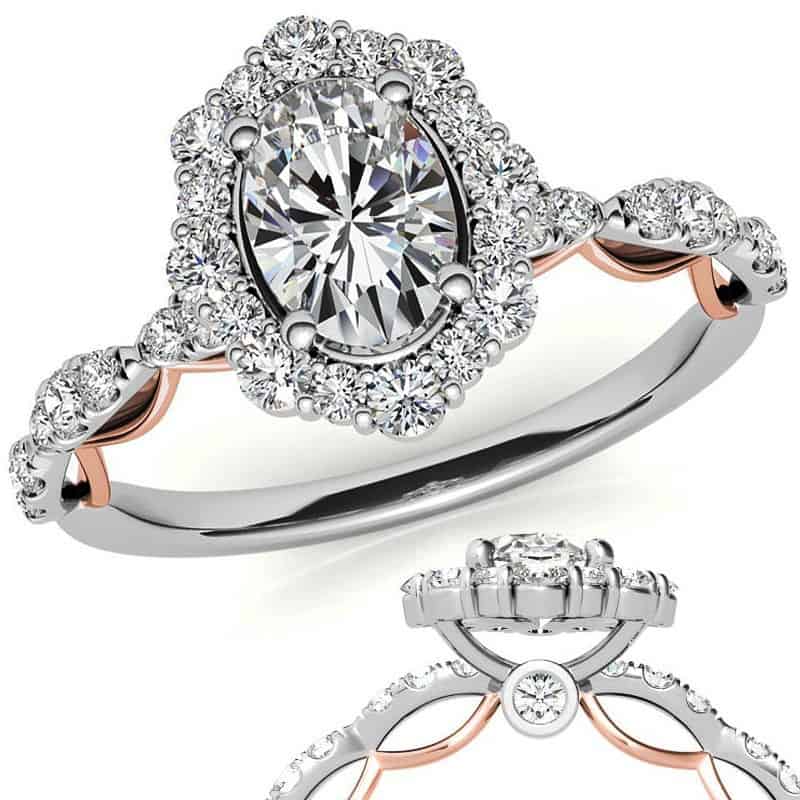 What do they offer?
There's a lot of information about the source of the rings and other details.
Personalization and customization of ring options.
Oval, solitaire, and other shapes of the gem.
A lot of metal options.
There's a list of other gems on the website which you can combine to make your ring more appealing.
You can find Charles and Colvard ring collection, in case some product on Charles and Colvard is outdated or out of stocks.
There are some unique Charles & Colvard options.
Warranty, returns, free shipping, and the option to customize your ring if you need resizing.
Great customer service will help you with all your queries.
If you're looking for a credible seller with a great reputation and specialization with moissanite jewelry, there's no better option than MoissaniteCo. They've been selling loose moissanite and moissanite-made jewelry since 2005, spreading the positive word, great jewelry, and amazing reputation.
The website is extremely flexible and easy to navigate through. That said, the website is split into the section for ordinary rings and jewelry, as well as the bridal and engagement section. It's important to note that they boast Forever One collection from Charles & Colvard and even provide a better view of the rings than the C&C website.
Its secondary engagement collection is the native MoissaniteCo collection that looks outstanding, elegant, and breathtaking. You can choose among floral, antique, Celtic, and other collections.
There's something for everyone. Starting from cheaper and ordinary-looking engagement rings for those who like minimalism or are restricted on budget, to luxurious and glamorous options made of the best materials.
The cuts are of great quality, while also boasting different metal options. That said, you can choose from both yellow and white gold, as well as multiple gold tones. Finally, you'll also be able to choose from platinum options.
The website also allows you to customize and personalize your ring style. If you're hunting for the bridal option, you can choose matching rings.
Similarly to Charles & Colvard, moissanite engagement rings on MoissaniteCo have extensive and detailed product descriptions, size charts, comparisons, and reviews. Additionally, there's a lot of educational information about how they make the rings and source the already-rare Moissanite.
Finally, you can see the rings from every corner. A lot of product pages are supported by detailed explanatory video that shows the 360-degree view of the rings in HD.
Finally, you can find multiple financing and payment options, a great warranty, shipping, and return options, and resizing options in case your ring doesn't fit.
Drawbacks:
Not all rings have their price listed, so it's hard to determine the price range.
Watch out, they don't update their online store frequently. That means you may want to purchase a product that no longer is being sold.
Gemvara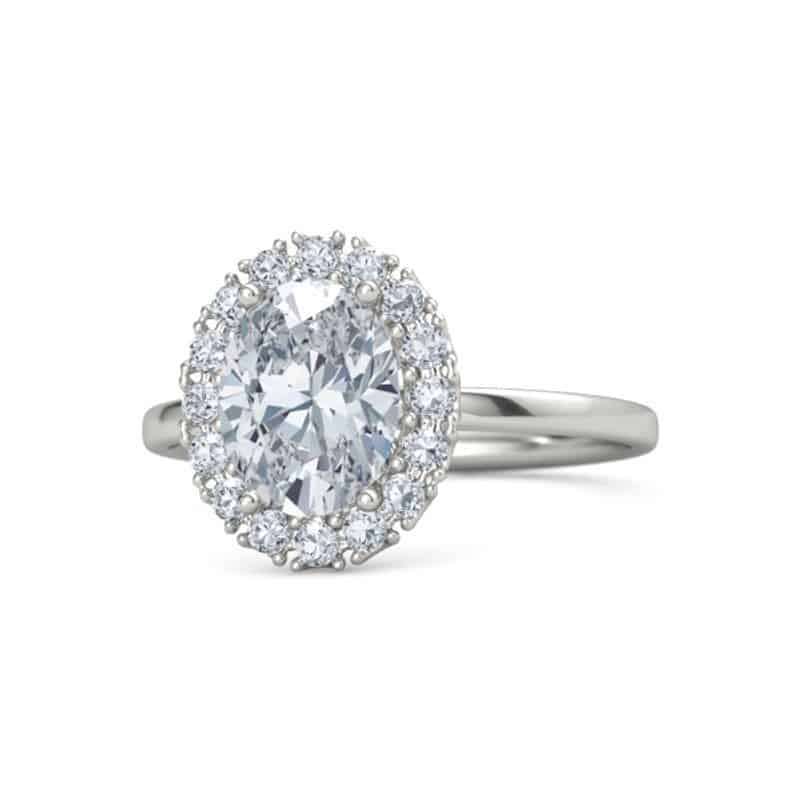 What do they offer:
You can expect to get a huge selection of Moissanite engagement rings, as well as other rings and jewelry.
You are flexible to choose the option you want.
It offers you to personalize your search options and make the ring just the way you like it.
Large selection of shapes, styles, and metal options.
Free resizing and engraving services.
You can contact great customer service, as well as consultants who'll easily guide you through the purchasing process.
45-day return policy, free shipping, and returns.
A lot of payment options and a wide price range.
Personalization and customization of engagement rings have become important aspects of choosing the right engagement rings for your significant other. That's why Gemvara offers a lot of flexibility in choosing Moissanite rings. Keep in mind that there are also other materials to choose from, as well as a combination of gems that go nice together with the moissanite.
You can choose from different sizes and options, and you'll find what you're looking for. It's important to note that you can customize the ring size, shape, metal material, and other features of the ring. The company even offers free-resizing services if you find that the ring you purchased doesn't fit you.
There are a lot of filtering options. You can filter the dimensions, size, shape, and carat size, as well as the cut. You can also sort ascending and descending price. Additionally, you can create the style you want out of the ring.
Gemvara offers the service of consultants that will guide you through your purchasing process. They also provide this service free of charge, so everyone who is looking for a ring for their significant other should look at this option and find the best option they can.
The website contains a lot of information regarding the rings and other jewelry. However, it may not be as detailed as on other sites.
Nevertheless, you can enjoy the 1-year warranty and 45-day return policy in case you don't like the ring. Aside from free shipping and resizing, Gemvara offers free engraving services.
When it comes to customer service, Gemvara is reliable. Its price range can be anywhere from $300-$400 up to $3,000 for the most expensive pieces.
Drawbacks:
Its website may not contain as much educational information. There are not as detailed product descriptions or videos that show the ring from every corner.
Overstock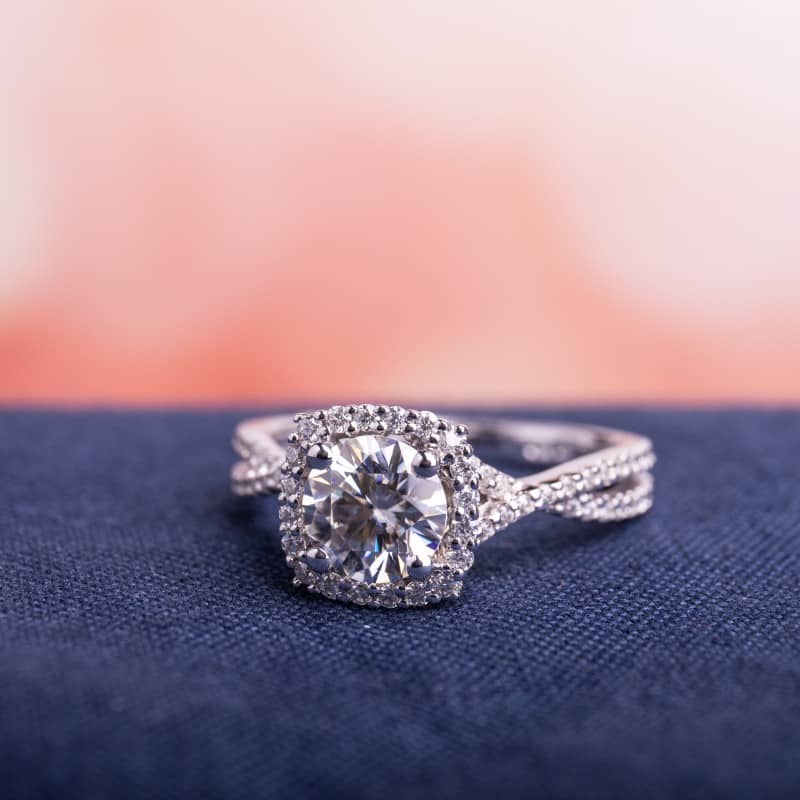 What do they offer:
A lot of brands to choose from, including Charles & Colvard and MoissaniteCo
Offers wonderful pink moissanite crystal
Great filtering and customization of search
Warranties, shipping, returns, and other great features.
You can mix the moissanite with black diamonds.
You'll find some unique brands.
A lot of choices for metals and the crystal shape.
Overstock also has a great selection of Moissanite rings. You can find other retailers that were mentioned earlier – including Charles & Colvard and MoissaniteCo. Alternatively, other retailers like the Noori collection, Versil, Unending Love, and Vita Vital could also catch your attention.
Something that makes Overstock unique compared to other retailers from the list is that it offers a unique pink Moissanite engagement ring. Although pink Moissanite isn't as unique and rare as the Charles & Colvard's green moissanite, it's still a great addition to the store. Undoubtedly, many will search for its breathtaking glimmer.
Additionally, you can pick diamond and moissanite combination rings, which include black diamonds surrounding the moissanite at the center.
Overstock offers a great price range, and probably the best next to Amazon. There are also discounts, promotions, and sales which always make this option attractive to those who are restricted on the budget. You can find Radiants, Oval, Emerald, Cushion, Round, Marquise, Asscher, Pear, and other ring options.
There's also a rich selection for metal colors including gold and sterling silver. Unfortunately, you're likely not to find platinum options. However, there's also yellow, rose and white gold to pick from.
Purchasing from Overstock also gives you a great warranty, good shipping, and returns, as well as a reward card you can use for your future purchases.
Drawbacks:
Not a lot of education side, as compared to other sites.
There are too many crystals so you have to search for yourself to find moissanite rings.
The selection of rings is smaller than some other sites, but it's respectable.
People Also Ask…
Q: Do moissanite stones on engagement rings ever get cloudy?
A: No, they won't lose their shine over time. However, it's important to be attentive to any grease that may appear.
Q: What can scratch moissanite?
A: Moissanite is an extremely hard, durable, and reliable stone. However, some strong impacts may cause some minor scratches. The "Forever Stone" collections predict that moissanite rings can last up to several generations.
Q: What cuts are the most popular with moissanite?
A: If you want to come as close to wearing diamond as possible, we recommend using round hearts & arrows moissanite.
Q: How to clean the Moissanite ring?
A: You can wash it in warm water and scrub it with mild soap using a toothbrush.