Whether you use it just for decoration or good luck charm and protection from evil spirits jewelry is an inevitable detail in all of us for thousands of years. What makes jewelry and rings in particular even more valuable is that more often than not it's a gift and comes with a special sentimental value such as an engagement ring, wedding ring, and others. That being said, you want to take special care of the ring.
The most expensive out of the bunch are engagement rings. Of course, there are always cheaper options but more often than not, you'll find engagement rings that are as high priced as thousands of dollars. That makes many women question whether they want to wear it in public because they risk getting it lost.
A good alternative to this fear is to get an alternative, fake engagement ring that is usually much cheaper and always in the price range lower than $500, although there are some exceptions to that.
Moreover, some people can't afford expensive rings but want to enjoy having a shiny and attractive accessory that will draw attention.
Unfortunately, some cheaper rings come with certain defects that may not make them a comfortable option to people who buy them. While expensive rings are made out of pure precious metals and expensive coating if it's necessary, cheaper rings have Sterling Silver 925 at best.
Materials like sterling silver, copper, and other metal variations have a habit of tarnishing and corroding in contact with water, oxygen, and other naturally-surrounding substances. Some cheaper ring options are also not hypoallergenic and can cause swelling and severe allergic reactions.
One of the most common side-effects of wearing a cheap ring is that your finger can turn green as a result of tarnishing and corrosion. It commonly happens with rings that have silver alloys or are made out of copper.
While there's no danger in your finger turning green, it can be quite uncomfortable to wash off and may make your finger look unattractive. That's why many people avoid buying cheaper rings so that this wouldn't happen.
But, what if we told you that you don't have to buy the second expensive engagement ring if you lost your first one? What if it's still possible to buy more affordable rings and not put up with the consequences of skin discoloration? What if there are rings that won't cause that in the first place?
The sense of fashion around the world changes at all times, and it's no secret that you no longer need the most expensive jewelry just to show off. Many cheaper rings look luxurious and so authentic it's as if you paid them a few thousand dollars.
In this article, we'll list the best rings that won't turn your finger green. You'll be able to choose among stones and various options there are and learn about the materials used to design such rings so that when you're choosing, you won't have to worry about whether some ring will turn your finger green.
Why Some Rings Make Your Finger Green?
Some cheaper rings will undoubtedly create a green ring around your finger that's either noticeable when you take your ring off, or when it's a widespread reaction that may even draw beyond the area framed by your ring.
The good news is that the green color that the ring releases in reaction to your skin won't harm you. However, if it's accompanied by redness and rash, or it's a dark green that turns almost black, there's a chance that you have an allergic reaction.
This most commonly happens with sterling silver, as well as copper. The green color is just a natural reaction of the ring metal reacting with oxygen and the chemical composition of your body. That being said, what causes the green color can be:
The type of metal (more about it below)
The chemical environment, as well as the chemical composition of your skin.
In case of an allergic reaction, it's a result of your immune system response.
If you want to opt for a cheaper ring, but you don't know whether it will make your finger green, it'd be best to ask about the material of the ring and confirm that you're not allergic to metals like copper and sterling silver. Allergy to these two metals is the most common type of allergy that occurs with people who are allergic to certain jewelry.
Also, don't forget that applying gels, hand creams, lotions, and other chemical products for your skincare can also cause a discoloration of your finger if you're wearing a ring. Make sure not to put the ring on immediately, at least until you wash your hands later, or take it off while you're applying your skincare.
Materials That Won't Tarnish or Turn Your Finger Green
Seeing your finger turn green after some time of wearing a certain type of ring jewelry can certainly be unnerving because many people think they are infected and need to go to immediate care. The good news is that it's not harmful, but sometimes, it can be hard to take off.
What's more serious is the potential allergic reaction that accompanies this green skin discoloration. If you suspect that you're allergic to some of the materials in the ring, you should consider using rings made out of hypoallergenic materials.
That being said, the materials that won't turn your finger green include:
Medical grade stainless steel
Titanium
Rhodium-plated rings like white gold
Platinum
Cobalt Chrome
Materials That Will Make Your Finger Green
We already established that some materials will make your fingers turn green because of their reaction with the chemical composition of your skin, body ointments, and oxygen. However, we didn't establish which elements will react that way.
Two of the most common materials that will corrode and cause a green tint on the finger include:
Copper – the natural green color on fingers left behind is caused by copper and the fact it oxidates with the oxygen and moisture surrounding your finger.
Sterling silver – also known as Silver 925 consists of 92.5% silver and 7.5% of copper and other materials. Both silver and copper react with oxygen and another chemical which can cause discoloration of the skin around your fingers. It's worth noting that this jewelry variant will cause much less discoloration than wearing jewelry that has a higher concentration of copper.
Editor's notes: Does gold also leave this kind of discoloration? It depends. The 24K gold rings are made mainly out of gold, which is why they're so brittle and easy to scratch and bend. Such gold won't react with oxygen. However, 10-18K gold consists of gold and other stabilizing materials. One of which is copper.
The 14K white gold is usually plated with rhodium to protect the other materials in gold jewelry from tarnishing and also provide protection from loss of shine or scratches. However, even rhodium plating can wear off, causing occasional tarnishing.
Factors That Can Make Rings Make Your Finger Green
It's important to note that some environmental factors affect jewelry, particularly rings. Silver or copper-made rings won't always cause discoloration of your skin but certain factors may speed up that process. Here's what to beware of.
Moisture – You should always check humidity levels in your place, especially if you're keeping your jewelry in a room that has high humidity levels. Moisture can lead to an increased chance of rings corroding. Moreover, avoid keeping your rings in your bathroom. It's a bad habit of many people and it usually results in discolored rings and fingers.
Chlorine – If there's a risk of your rings corroding and making your ring green you should avoid showering or washing dishes or laundry with your rings on. Not only is it uncomfortable, but it can also leave an ugly green ring mark on your fingers.
Avoid low-price rings – Many clothing stores come with cheap ring sets made of what looks like silver, when in fact it's not. Cheap jewelry is made of copper and other cheap materials that are quick to corrode and turn your fingers green.
Watch out for the chemicals in your beauty products – If you use hand creams or lotions, be careful. The chemicals in their composition could be reacting with your rings, causing a chemical reaction that leaves an ugly green mark on your fingers.
Best Rings That Won't Turn Your Fingers Green
After highlighting the dos and don'ts with rings and their power to cause skin discoloration, check out our list of the best rings that won't turn your fingers green. We made a selection of casual day-to-day rings, friendship rings, engagement rings, wedding rings, and much more. We're sure you'll find something for yourself in this!
Best Overall: ORAZIO Stainless Steel Spinner Ring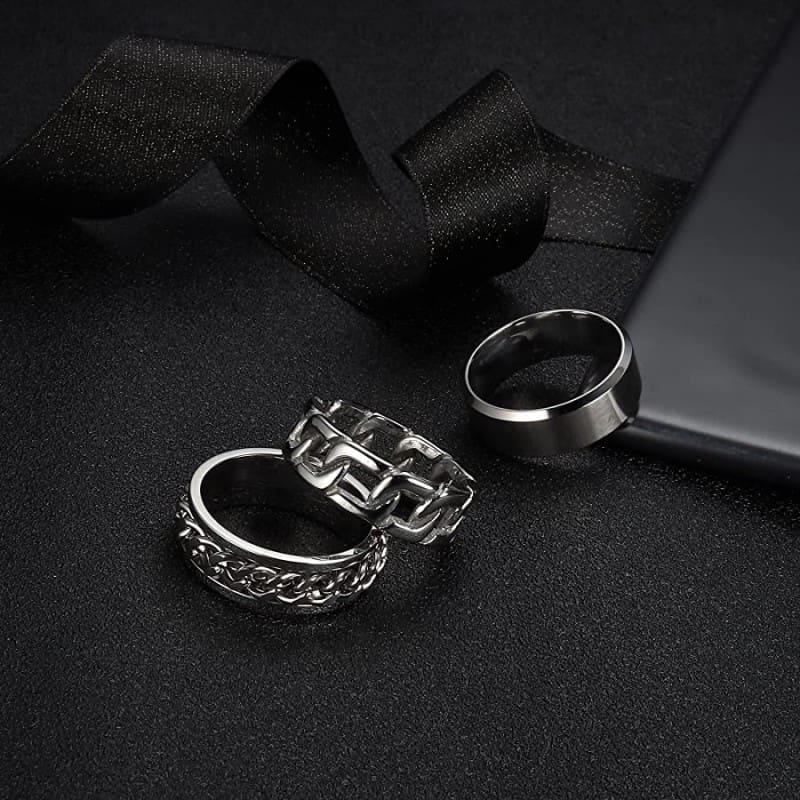 Material: Stainless steel
Colors: Silver and black tone
Size: 8-13
Gem: None
After thorough research and comparison of different styles, designs, and gemstones, we concluded that the ORAZIO ring set we're reviewing now is the best set of rings that you can use together or change and not worry about having your finger turn green. Moreover, it's minimalistic, yet stylish and will give your style an extra accessory.
Although the front part is made so to have a silver finish, the inner side of the ring is made out of surgical-grade stainless steel. That means that the ring is hypoallergenic, and thanks to the good quality materials, it has lasting color retention. It's also smooth and easy to fit as long as you pick the right size.
What's more important to notice, thanks to the simple yet straightforward decorative style, such as curb chain that is inlaid and grooved edges, these rings can fit on both males and females. Just make sure to choose the right sizing for the rings, so that you don't risk having difficulties fitting in or it getting stuck.
The best part that this company offers is a 365-day exchange and money-back guarantee so that even the biggest skeptics who are worried about their fingers turning green can take a breath of relief when they see that this is impeccable quality.
Editor's notes: Make sure to check the size guide on how the sizes of these rings were measured. Some people reported that the ring is either too small or too large.
Runner-Up: TIGRADE 3mm Women Titanium Engagement Ring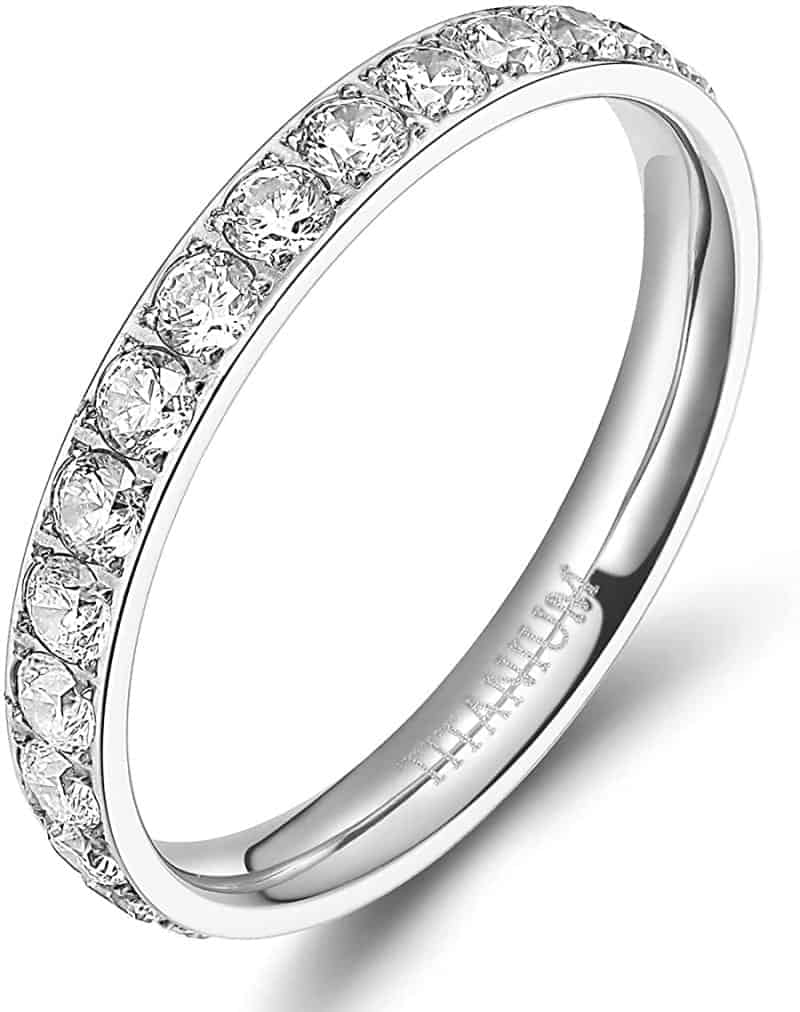 Material: Titanium
Colors: Silver, black, yellow gold, rose gold, purple-pink
Size: 3-13.5
Gem: Cubic Zirconia
Tigrade engagement ring aims to go with simplicity and minimalism while still maintaining that prestigious, shiny, and luxurious finish. Measuring 3-mm in width, you'll see that it's one sophisticated ring for ladies that need a fake engagement ring that won't spark too much, but is also hypoallergenic in the process.
Just like surgical grade stainless steel, titanium won't rust and is a popular material used in surgical procedures as well, so a lot of people rely on its stability, sturdiness, and robustness. In combination with cubic zirconia gems, this ring looks magical and sophisticated.
While it doesn't have the brilliance of the diamond gemstone, it still feels sparkly, shiny, and modern regardless of the style you're wearing. You can either use it as a fake engagement ring so that the original one doesn't get lost or stolen, or as a gift for anniversaries, Valentine's day, and other occasions.
What's another great deal about this ring is that this one has 30 days period for exchanges and returns, so if you're not satisfied with the ring, you can return it within 30 days.
Editor's notes: Even though there are a lot of ring sizes to choose from, remember that the greater choice also leaves a lot of room for mistakes. Make sure to measure twice and confirm you chose the right size.
Best Budget: HZMAN 8mm Moon Star Sun Statement Ring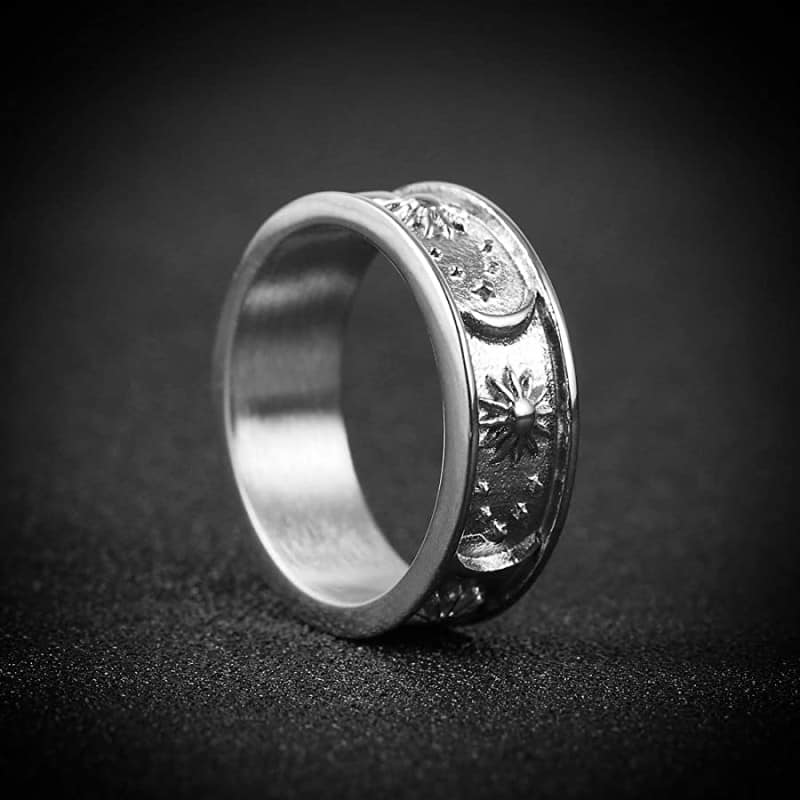 Material: Stainless steel
Colors: Silver, black, yellow gold, a combination of these 3
Size: 5-14
Gem: None
If you're a fan of boho jewelry, but also can't afford an expensive ring, this one will serve perfectly. It's perfect for birthday gifts, anniversaries, Valentine's day as well as International Women's Day. It comes with beautiful boho-like symbols engraved to its surroundings, and it's available in various sizes so everyone will get to enjoy it.
You can even use it as a fake engagement ring if you're a fan of boho jewelry and love the spiritual meanings that come behind them. The most stylish thing about this ring is that it doesn't only come with a stylish design, there are also plenty of colors to choose from. It's comfortable despite its large size, so you can wear it daily.
The stainless steel won't rust or tarnish so you can keep this ring for many years, without worrying about it turning your finger green. Additionally, there's a 90-day money guarantee so you can make sure it's the right fit for you and doesn't get damaged easily.
Editor's notes: The sizes are a little inaccurate so you may find it to be too small for your fingers. Make sure to measure carefully. It may also take some maintenance because the etching holes may get dirty regularly.
Best Wedding Ring for Men: King Will Men's Black Matte Finish Ring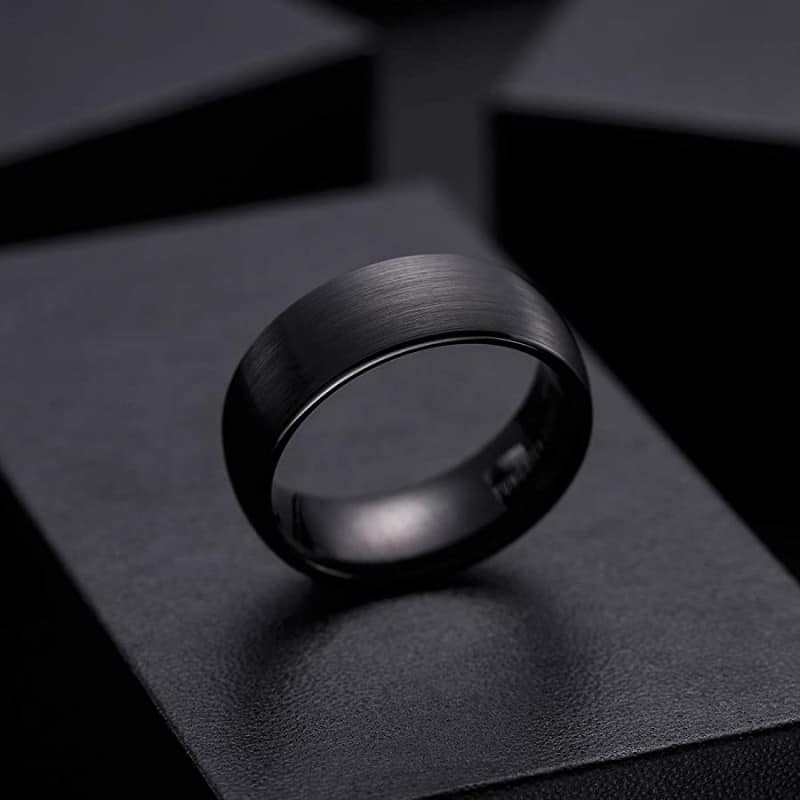 Material: Tungsten Carbide
Colors: Black
Size: 4-14
Gem: None
If you're looking for a minimalistic, yet authentic men's wedding ring with a powerful signature finish, look no further than Kings Will. This company makes great wedding rings for men, mostly black but there are variations of other colors too.
The ring feels strong, authentic, and allows you to change the width according to your needs. The ring does not only look stylish and fashionable, but it also radiates with confidence and minimalism necessary to make this vow keeper's day outstanding.
The dome style and matte finish feel classic, so you can enjoy your wedding ring for decades to come without worrying that your ring will go out of style. Tungsten Carbide is another great material that won't make your finger become green, and it's sturdy enough to be a snug fit on your finger.
It's also a great gift for your best man or a casual fashion ring that you can wear regardless of making vows or not. It also comes with a lifetime warranty, so you don't have to worry about it being damaged, as you can easily replace it.
Editor's notes: Just like with most of the other rings, the size guide is a little tricky. You'll have to study well through it to find your ring's size.
Best Titanium Ring: Metal Masters Co. Titanium Ring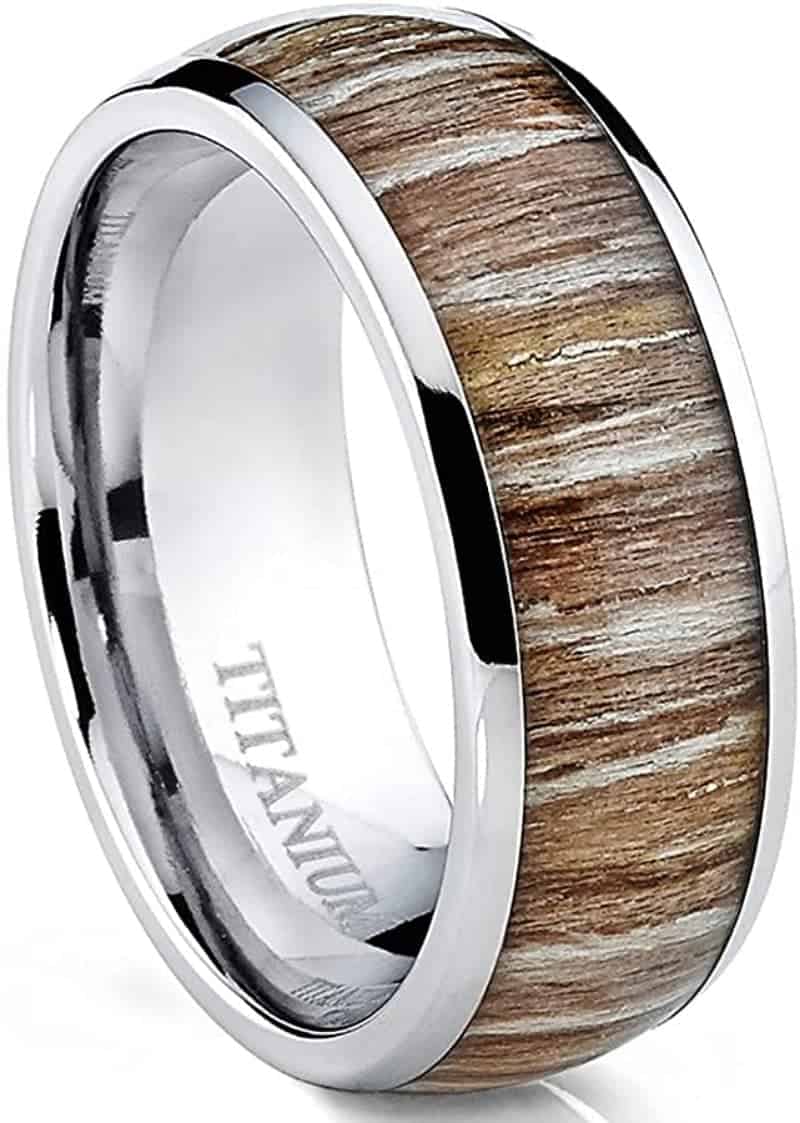 Material: Titanium + wood finish
Colors: Silver and wood color
Size: 7.5
Gem: None
This is another ring from the men's ring group, although women with a size 7.5 can wear it if they prefer this ring design and style. It's important to note that the wood engraving in the ring is not fake. It's not a sticker that you attach to the ring just for its style.
It's the real wood inlay, which gives a minimalistic finishing touch for everyone who wants a ring that looks natural. It feels a bit heavy, but also sturdy and durable, so you won't find it scratch or break. It's also available with a ring box that ships with the ring, where you can store it and care for it.
Finally, you have a timeframe of 30 days where you can adjust, replace or get a ring refund in case you don't like it. Just make sure not to forget about that.
Editor's notes: There's only one size so it may discourage people with bigger or smaller fingers from getting it.
Best Tungsten Carbide Ring: Charming Jewelers Tungsten Wedding Band Ring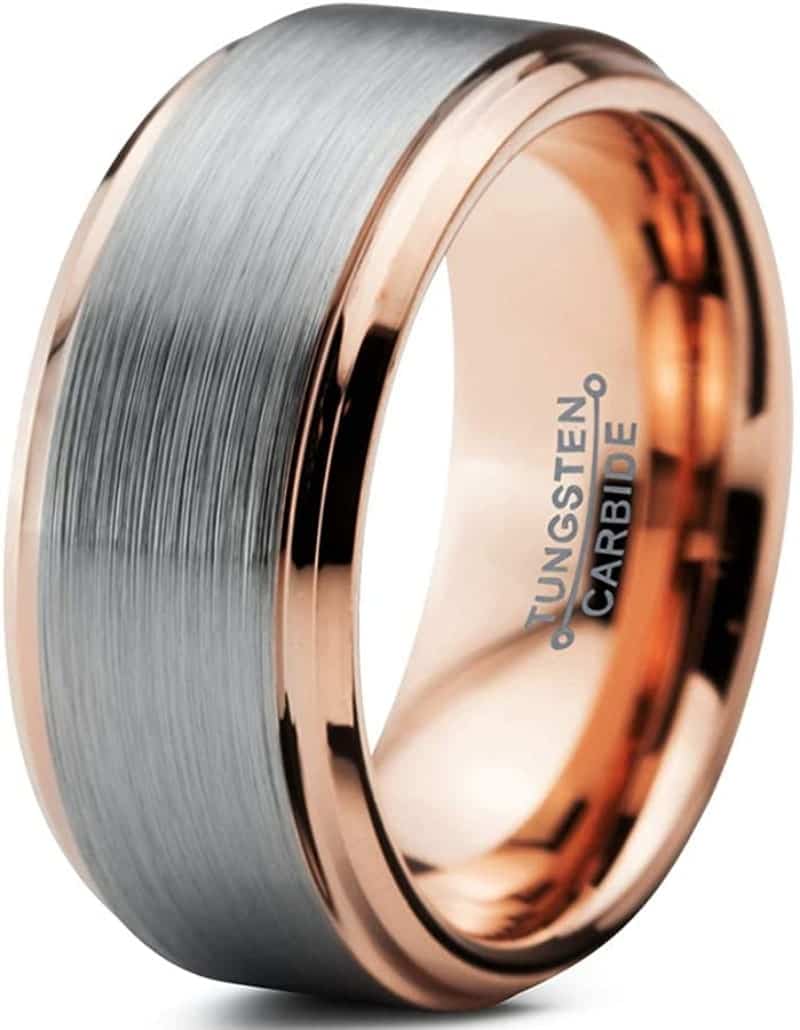 Material: Tungsten Carbide
Colors: Rose gold and gray
Size: 5
Gem: None
Charming Jewelers is one of the best brands for wedding rings, especially those made out of materials that won't cause fingers to turn green or some other skin discoloration. The 10mm width makes it sturdy, robust and durable, which is perfect for a wedding ring that you want to last for a long time.
It's ideal for wedding rings, but you can also get it as a regular ring or a matching promise ring with your best friend or a significant other. It comes in a sophisticated and elegant rose gold and gray combination, which makes it suitable for both men and women. It doesn't have gems but is made of tungsten carbide, it has a powerful yet elegant finish.
For those who are skeptical about whether the ring is really as robust and durable as advertised, rest assured that you can try it out for 30 days and see whether it's the right fit and comfort for you. You can also exchange it for another model if you don't like this one.
Editor's notes: It comes in only one size, which can discourage people from wearing it.
Best Ceramic Ring: Metal Masters Co Dome Men's Ring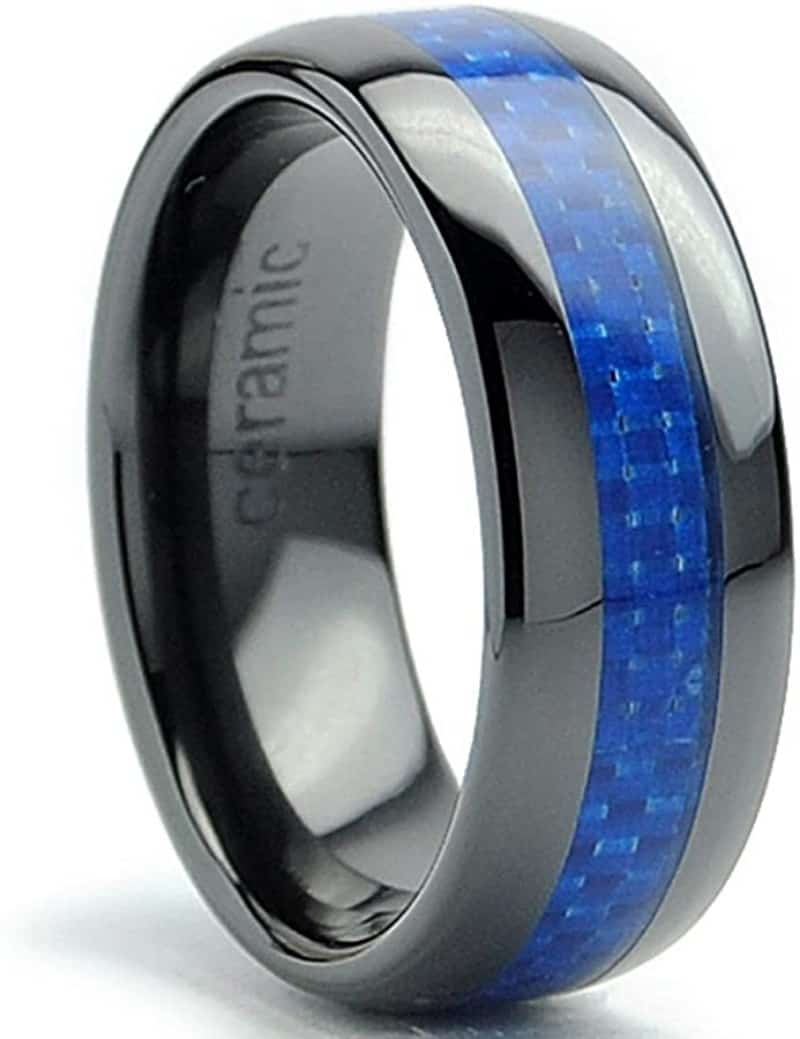 Material: Ceramic
Colors: Gray and blue
Size: 15
Gem: None
Ceramic is among the most durable and robust ring materials next to tungsten carbide rings. This one is particularly fashionable thanks to the blue finish in combination with dark gray, which gives it a dark, yet confident finish. It's more suitable for men, but generally speaking, it can be a unisex ring. It is also equipped with a ring box that you can use for yourself. There is also a 30-day money-back guarantee.
Editor's notes: This ring comes only in the 15 ring size, which is good only for people with larger fingers. Otherwise, the ring may appear too large.
Best Anxiety Ring: Fashion Classic 18K Gold Plated Titanium Steel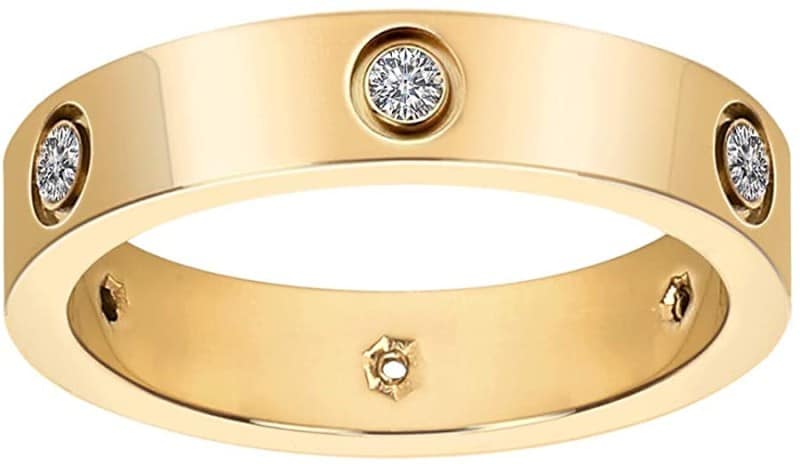 Material: Titanium Steel
Colors: 18K gold plate, white gold
Size: 5-11
Gem: Zirconia
This is one of the best-looking titanium rings for women, that looks stylish. It uses cubic zirconia which is a clever accessory on affordable rings, which can even serve as a replacement for diamond rings and other gemstones.
It's made out of high-quality materials, and there are a few gem options that you can choose from. The ring is 5mm wide and comes in a lot of sizes so they are suitable for women with both smaller and larger fingers. The 18K gold plate cover will make the ring look more expensive and luxurious. It's perfect for any occasion, and more importantly, it won't tarnish or turn your fingers green.
Editor's notes: We wish that the ring came with more white gold options like the yellow gold option offers more variations. Nevertheless, it's a comfortable fit and a good-looking ring regardless.
Best Promise Ring for Women: LerchPhi Custom Tungsten Carbide Ring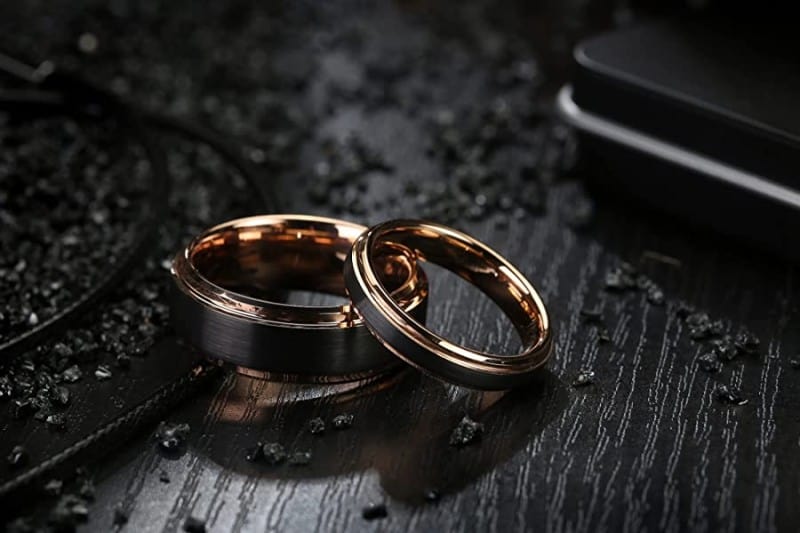 Material: Tungsten Carbide
Colors: Rose gold and black
Size: 5-15.5
Gem: None
There are no gems that accompany this ring, but it's nevertheless stylish, for both wedding rings or occasional rings that you wear daily. Instead, you can get an engraving with the custom text you wish. If this is going to be a wedding ring, this is perfect, because you'll be able to highlight how important your significant other is to you.
More importantly, the ring engraving is made in handwritten etching, and tungsten carbide in the ring makes it comfortable, and a cozy sensation to the point you'll never want to take it off. Another important thing to mention is that it is hard and robust and won't scratch or discolor your finger.
Editor's notes: The size guide is a bit complicated, so chances are that you might get the ring size wrong if you don't choose the right one.
Best Mood Ring That Won't Turn Your Finger Green: Ello Elli 6MM Comfort Fit Stainless-Steel Color Changing Mood Ring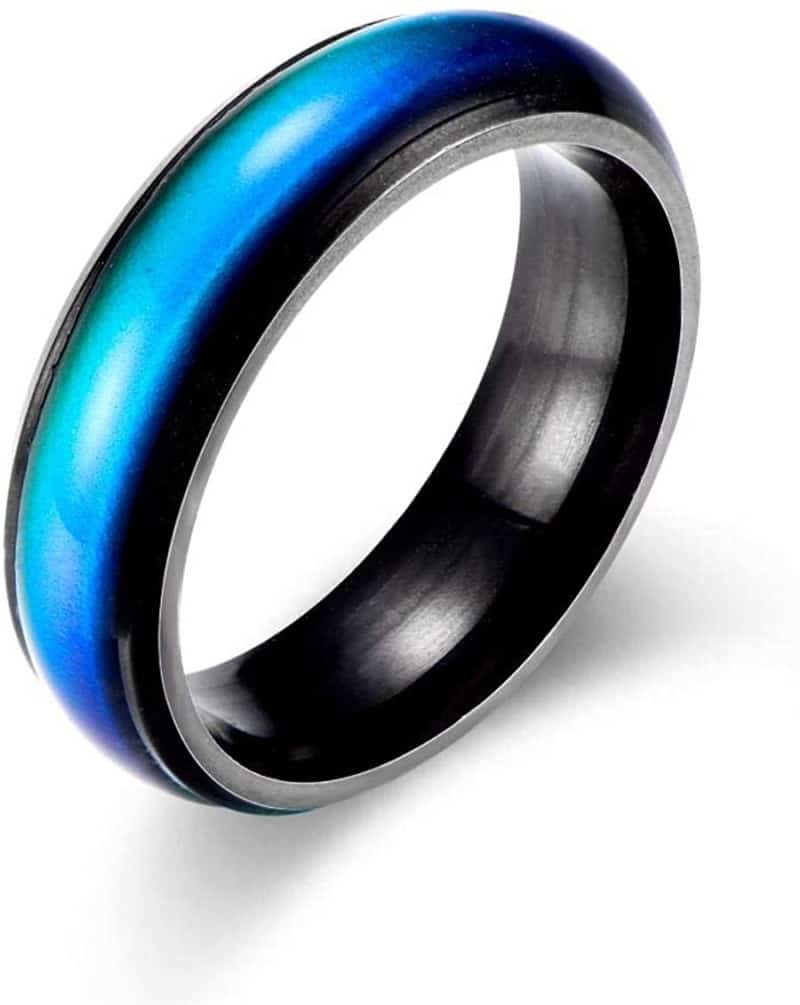 Material: Stainless steel
Colors: black, gold, silver, rainbow, rose gold
Size: 5-12.5
Gem: None
While many people doubt the power of rings that change color once the person who wears them changes their mood or their body temperature, this accessory is beautiful and is guaranteed to enhance your style. Thanks to the stainless steel, it's hypoallergenic and won't cause skin discoloration or allergic reactions.
It doesn't have a gem, but the rainbow, and gradient textures look mesmerizing to the eyes and go together with any fashion style you wear. It looks precious and timeless, and the smooth brushing ensures that the ring is comfort fit.
Editor's notes: With those with smaller fingers the ring can occasionally slip off which means you'll likely have to wear it on your thumb. If the ring is too large, the seller will gladly swap it for free.
Frequently Asked Questions
If there are some questions about rings that make the fingers green, here are the most frequently asked questions we tried to answer.
How to Tell Your Ring Will Turn Green?
Many rings made with precious metals are brittle and thin. That's why they need stabilizing materials like silver and copper, as well as sulfates that keep the ring more stable. Unfortunately, these materials are reactive and can cause reactions with oxygen, moisture, and chemicals on the hand creams you use. That results in tarnishing and discoloration of your finger.
Can I Prevent My Silver Ring From Discoloring My Finger?
You can prevent it by applying transparent nail polish around the area that you want to put your ring on. It's not the most comfortable and recommended practice, but it gets the job done, and won't allow the ring to corrode over your finger.
Can Stainless Steel Turn Your Finger Green?
As its name suggests, stainless steel won't tarnish or rust, as mentioned by a report. It's a very strong and robust material, with at least 12% chromium alloy which further prevents its tarnishing and rusting, which is the best material for making jewelry. More importantly with surgical-grade stainless steel, you're ensuring that your ring won't cause you a severe allergic reaction.
Where to Buy Rings That Won't Turn Your Finger Green?
Anywhere where the rings made out of stainless steel, titanium, and other non-tarnishing materials are made. That includes prestigious jewelry shops, as well as Amazon, Etsy, Walmart and other online market places. Always make sure that the jewelry has the watermark of metal that it's made of.