If you've ever wondered what you could gift to your significant other for the anniversary or some international holiday like Valentine's Day or International Women's day, matching bracelets for couples are the best choice you can make. The best part is that matching bracelets are being manufactured in prestigious and luxurious stores, as well as handmade small businesses, so you can give both value and sentimental value.
Then again, having such a vast choice of matching bracelets to pick from can often leave you undecided, questioning whether you even know your significant other that well after all, given how many styles, materials, and design trends there are, you are always torn between getting what you like and what your significant other may not potentially like.
Nevertheless, matching bracelets, rings, and even necklaces are a great way to show how much your significant other means to you, as well as to the world. You can flaunt bracelet accessories together and look powerful, attractive, and trendy no matter where you go.
Even if you're not buying a matching bracelet for your significant other, or you don't have one, purchasing a matching bracelet pair for couples can be great for other couples whose wedding or engagement party you're attending.
They sure will appreciate it and ensure to show your creative gift to everyone. Speaking about creativity, it is one of the most unique and authentic gifts that you can give to your family member, relative, or friend because you're giving support to them and their significant other.
As mentioned before, choosing the right matching bracelets for couples can be a tedious task, especially if there are so many options to choose from like there usually are. Nevertheless, we compiled a list of the most gorgeous matching bracelets for couples.
We also wrote a concise guide that will help you identify the feelings behind the sentimental gifts and choose the bracelet that will work either for your significant other or you or the ones you intended your gift to. Continue reading to learn more, and maybe you'll find exactly what you're looking for below!
Of course, depending on the material you're shopping from, choosing the right bracelet can be quite difficult because of the different pricing ranges. We made sure to include both luxurious and pricy models, as well as those that are more minimalistic and more affordable for your budget.
Choosing the Matching Bracelet for Couples – Things to Consider
As mentioned above, choosing the right matching bracelets in the sea of different designs and styles can be quite difficult for people who've never done it before. Luckily, we created this guide to help you get out of the dark. This guide will help you choose exactly what you need.
Choosing Material
There are various materials used for crafting matching bracelets, from cloth and plastic up to precious metals like silver, gold, platinum, and others. Below, we're going to discuss some materials used for the bracelets and you can see what suits you the most.
Cloth – Threads, cloth, and strings are commonly used when you want to tie the bracelet in a knot, or braid it for a more tribal and traditional design. It's great for couples who believe in some deeper meaning or symbolism.
Plastic – You don't want to gift your significant other a matching bracelet made out of plastic, but it's good to know that there are some options made of plastic. A much better option is a silicon-based bracelet for those who are into minimalism and don't want to spend a lot of money on the bracelet.
Silver – Silver, or to be precise, sterling silver S925 is a commonly used material to make bracelets. They may usually be added with some additional stones or decorations made out of silver. Sterling silver is a perfect material for bracelets, and its robust design makes it corrode less compared to regular silver because there's only 7% of copper alloy in it. It was also not too expensive.
Gold – If you're looking for a sophisticated and a bit pricier option, bracelets made out of gold and white gold are spot on. Now, it all comes down to the number of karats of gold you want to invest in. The 24K golden bracelets are the purest form of gold there is, but it's brittle and weak and can easily scratch. Commonly used options are 10K and 14K karat gold which uses additional materials for stabilizing and sturdiness. White gold is plated with rhodium which protects its luster and shine and prevents tarnishing, which is a more sophisticated option for couples.
Platinum – Platinum bracelets are a thing with promise bracelets. If you're going for a luxurious gift for your significant other or a friend that is getting married and you don't shy away from spending money, platinum is the best option. It also lasts longer and feels prestigious and rich to wear. You and your partner will look great combining all these options.
Surgical-grade stainless steel – If you're worried that your significant other is allergic to some precious metals like silver or copper, the best option you can go with is stainless steel. Occasionally, some couples get a titanium bracelet to make sure allergies will be avoided.
Engraving
How to make your matching bracelets feel even more special? The best ones come with a message engraved into the metal plate of the bracelet. What you want to include only comes down to you, but there are plenty of options that you can consider.
For example, you can engrave initials like the first initial of your name and their name. Moreover, you can add some symbols like a heart, a plus, or some other symbol that says that you're one. Alternatively, you can write your name on your bracelet or theirs as if you belong to each other. Finally, you can add the date of your anniversary or a special quote that you and your partner will always remember.
The latter option is usually popular when you're already buying a gift for your friend and their significant other. You can never go wrong with that.
Gemstone
Whether matching bracelets for couples have gemstones, some plastic accessories, or some other form of decoration depends on what materials they're made of and whether some material goes well with that other material.
Nevertheless, you can always try going with zircons, or even a diamond if you're open to investing in a pricy gemstone that will glimmer and shine just like your significant other. If you have some other accessory then the gemstone may not be necessary.
Is It Hypoallergenic?
One potential concern when purchasing jewelry is whether your significant other, or people that you intended the gift to are allergic to one material in the jewelry or the other. One option is to ask beforehand to ensure that you're not jeopardizing their health or even life. But that can spoil the surprise.
Alternatively, you can go with matching bracelets that are made out of hypoallergenic metals used in medical procedures, such as surgical-grade stainless steel or titanium. Titanium is a bit heavier so people generally don't want to buy jewelry made out of it. You can't go wrong with stainless steel.
A study showed that silver nanoparticles on stainless steel bracelets can have hypoallergenic
Do They Match?
You know how they say that when two people are soulmates they fulfill each other, they're always there for one another, they finish each other's sentences, and if you think about your significant other, it's likely that they're thinking about you too.
Well, these intentions can easily be transferred to matching bracelets. There are so many ideas that you can realize to make sure your bracelets match. One of the most popular options is getting bracelets with magnets inside a decorative symbol on them, like hearts.
Each bracelet has one half of the heart, and when you put bracelets one next to another, the magnets attract one another and they form a heart. Alternative to hearts include stars, the word love, Yin & Yang signs, and much more.
If you don't want to use magnets on your bracelet, there are even more innovative options like the long-distance relationship bracelets with built-in Bluetooth or some other wireless technology that makes the bracelet light up, or unfinished quotes and sentences that are complete once you match the bracelets one against another.
The sky is the limit to your creativity and innovation!
Best Matching Bracelets for Couples
Without further ado, let's present the best matching bracelets for couples. This list will help you choose the best option for you and your significant other or present for the newlywed couple.
Best Overall: CARA DUO BRACELET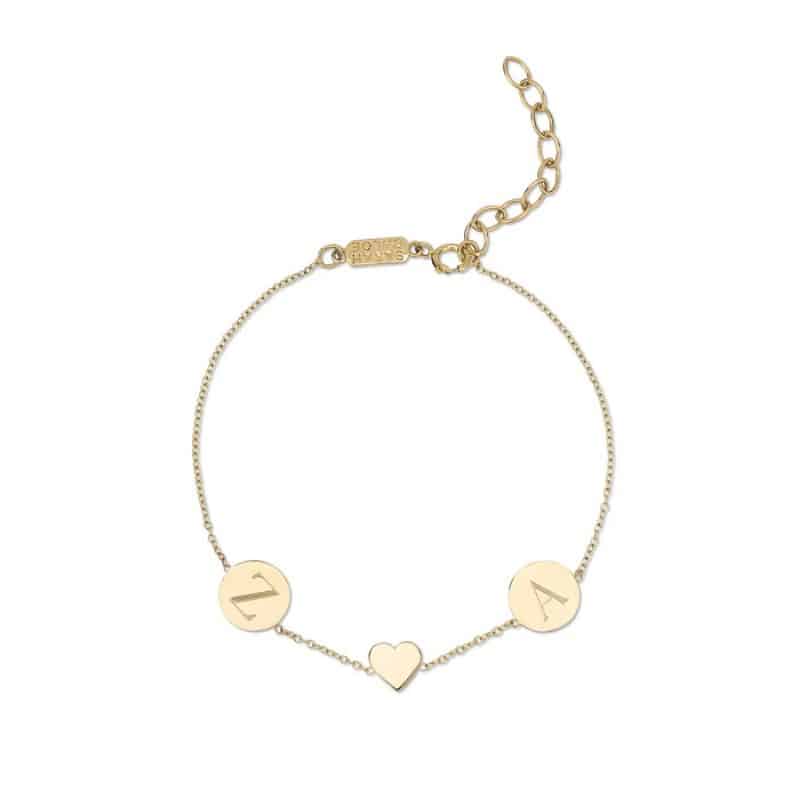 Price: $$$
Material: Yellow or White 14K Gold
Decoration: Two disks with initials with a heart in the middle of a diamond
Length: 6.5-7.5-inches
Style: Chain
Out of all the matching bracelets for couples, the Cara Duo bracelet stole both our attention and hearts. It's a perfect piece of jewelry you want to match with your significant other, or to give to your friends or family that are getting married.
It's a pricier option, but you will love every ounce of its sophistication. It's crafted super-carefully so that every piece of your heart and soul goes into this design. The chain is gentle, fragile, yet strong enough to carry two disks that come with the name initials, although you can even put an engraving if you contact the seller fast enough.
There's a heart in the middle, the universal symbol for love that tells more than thousands of words. However, the manufacturer says that instead of a heart you can place a diamond there for an extra fee, which is something couples will want to see on more luxurious pieces of jewelry, so it's definitely preferred.
The chain is long enough for both thinner and wider hands, so both males and females will be able to place the chain easily, without worrying about damaging or breaking it. The Cara Duo bracelet is a piece of art and it will go great on all skin tones.
Another thing worth mentioning is that you can choose between 14K yellow gold and white gold. That being said, if you're looking for a stronger plating that will retain the shine longer, we wholeheartedly recommend the white gold option.
Editor's notes: It might take a bit longer to deliver the bracelets, anywhere from 3 to 4 weeks because they are personalized and take time to be made to perfection that they are.
Runner Up: The Script Bar Bracelet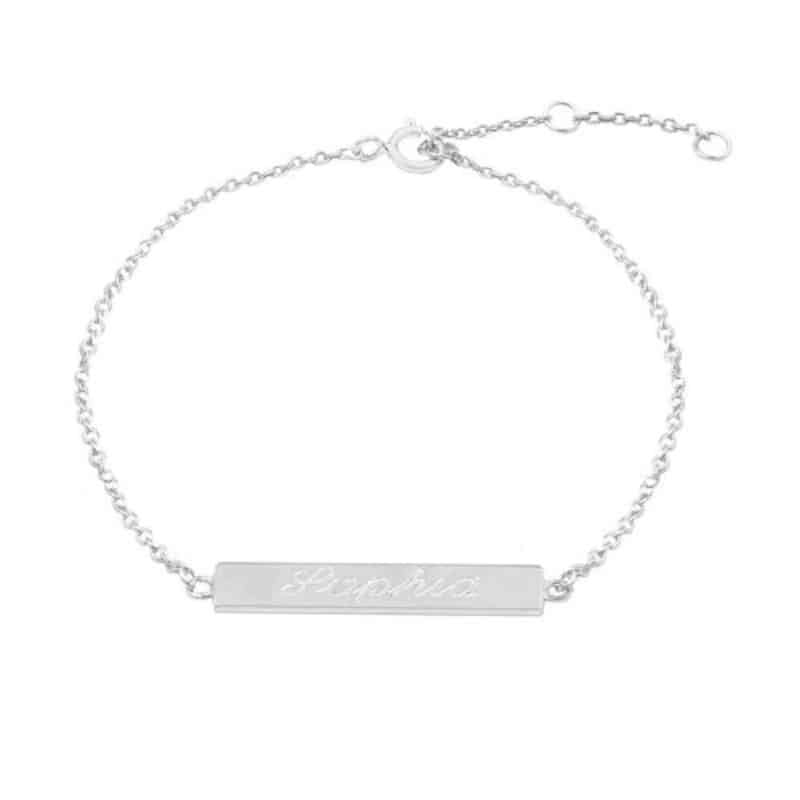 Price: $$$
Material: Yellow or White 14K Gold, sterling silver, rose vermeil, gold vermeil
Decoration: A personalized plate with a name or quote
Length: 6.5-7.5-inches
Style: Chain
Our runner-up option is a little more descriptive, and a little more minimalistic in the process. The Script Bar Bracelet will appeal to everyone who wants to wear a small mark of love they hold for their significant other and don't want some chain that will shine too much or distract from other jewelry.
It's a simple, yet luxurious and sophisticated chain that feels thin, and soft, yet robust. Its length is 6.5-inches, while the extension is 1-inch long. The plate contains your or your significant other's name, as well as a quote or a date of your anniversary. It's all down to you.
There are plenty of materials that you can choose from, but remember, in that case, the product will be pricier. The ordering process is also quite straightforward. When ordering, you have to add the description or personalization that you want. It's easy, all you need to do is insert the name or a date in the format that you find preferable.
Editor's notes: The shipping times may take less than with the aforementioned option. There are also a lot more materials to choose from which is better for those who are restricted on budget, though we wished there were more details on the materials and chain style.
Best Budget: Wishnco Engraved Bar Bracelet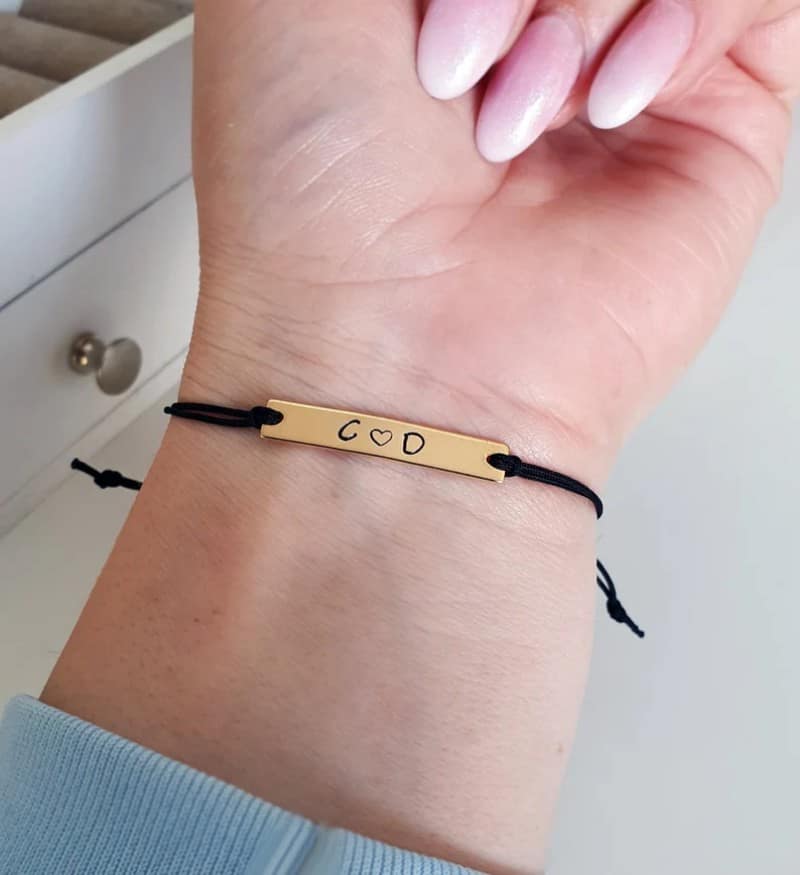 Price: $
Material: Cord + Gold
Decoration: A personalized plate with a name or quote, monogram
Length: 7-8-inches
Style: Polyester cord
We love small businesses that we can support. After all, it's the sentimental value that counts, and that's all that matters when you're getting a hearty present for your significant other that you want them to take no matter where they go. There's a gold plate where you can add initials, a date, or some other personalization.
The best part is that the cord is quite long and adjustable, so even if you have a wider hand, you'll be able to tie the bracelet up in a manner that would suit you the most. Another thing about the cord is that you can choose the color for it. It can be blue, brown, red, dark red, blue sky and other special colors.
Another adjustable thing is the plate that you'll use. If you want to make this present feel more prestigious, you can opt for the platinum plate, which is chicer.
Editor's notes: When it comes to handmade jewelry, the shipping time is varied, so you'll need to be patient.
Best Magnetic Bracelets: PRETOLE Couples Bracelets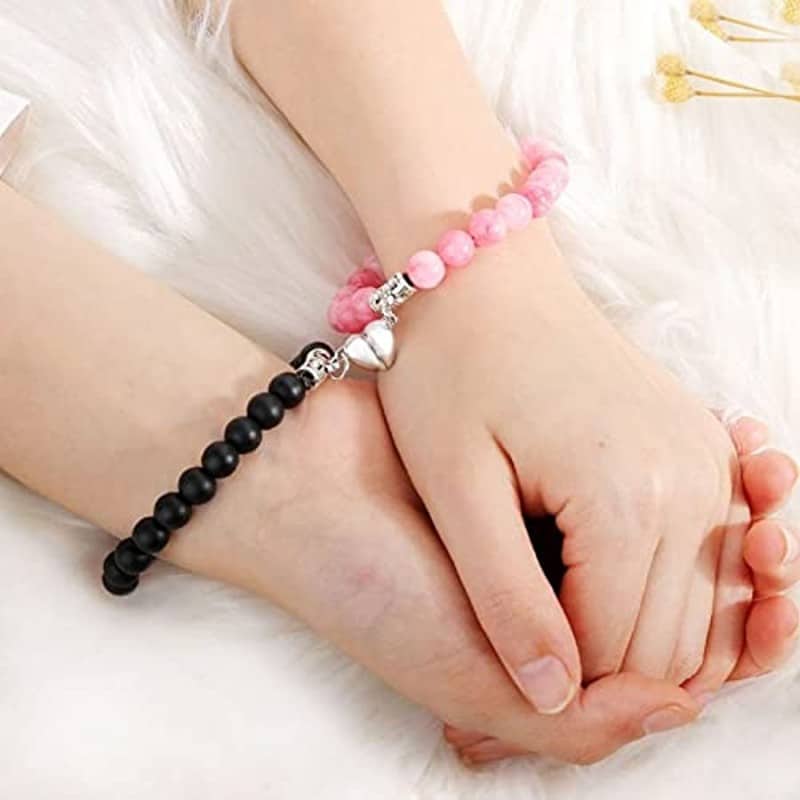 Price: $
Material: Yellow gold + beads
Decoration: A matching heart
Length: 7-12-inches
Style: Beads
Magnetic style bracelet for couples is one of the best and most innovative options for couples that you can get. It's perfect for promise bracelets that are becoming popular among younger couples, as well as long-distance relationship couples. The heart that connects the two bracelets magnetically is the ultimate symbol of love.
You can choose from different materials along with black matte agate, white howlite, pink quartz, lava stone, jasper stone, and others. They also match strong symbolism that helps strengthen relationships and keep you prosperous and always in love. They also absorb the stress to avoid unnecessary fights.
One of the best parts of these bracelets is that the cord is adjustable, so even those with thicker and wider hands can easily adjust and personalize the bracelet to their needs. The bracelets are also a great gift, whether it's for an anniversary, engagement, wedding, or Valentine's day.
Editor's notes: The cord is a bit brittle, you don't want to spill the beads all over the place if it rips.
Best Minimalist Couple Bracelet: Rinhoo Infinity Bracelet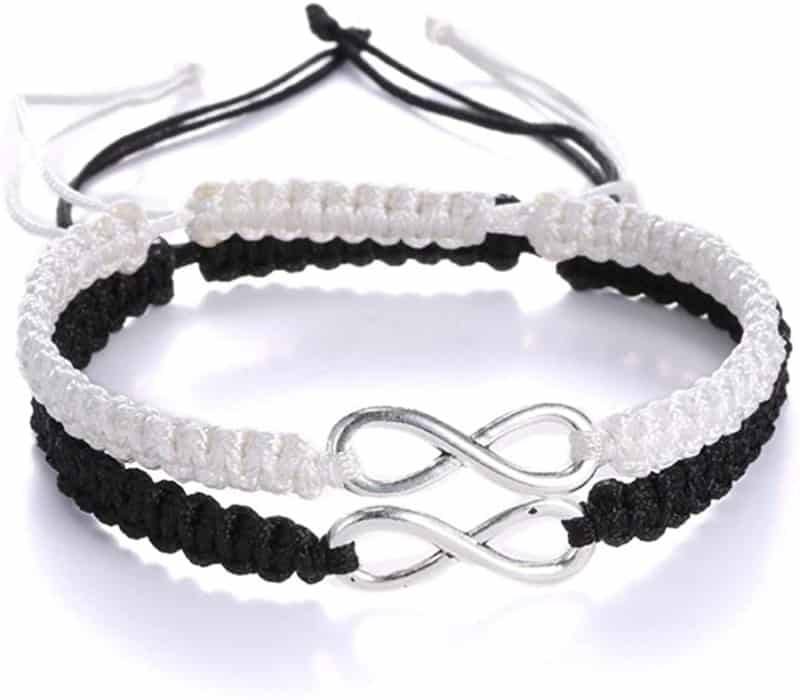 Price: $
Material: Stainless steel
Decoration: The Infinity Sign
Length: 7-9-inches
Style: Knots
What spells forever better than the infinity sign? That's not just any infinity sign, but that made out of stainless steel which is a hypoallergenic material and won't cause irritation on the hands of people who wear them. That being said, if your soulmate is allergic to silver or copper, you can rest assured they won't get an allergy reaction from this present.
The infinity symbol is not only a powerful love symbol, but also a symbol of loyalty, respect, friendship, and much more. That's because your significant other is also your best friend, and someone you can always rely on. It's adjustable from 7 to 9 inches so it's suitable for all types of hands.
It's also a great option for people who are fans of Celtic culture and tribal bracelet designs. Although this bracelet is made out of stainless steel, it's also tied into a knot which is a popular Celtic symbol.
Editor's notes: Some people may not like the infinity sign because it's more of a friendship sign, but if you truly see a friend in your soulmate, the infinity symbol is never a bad choice.
Best Bracelet for Long-Distance Couples: Smarter LifeStyle Elegant Bracelet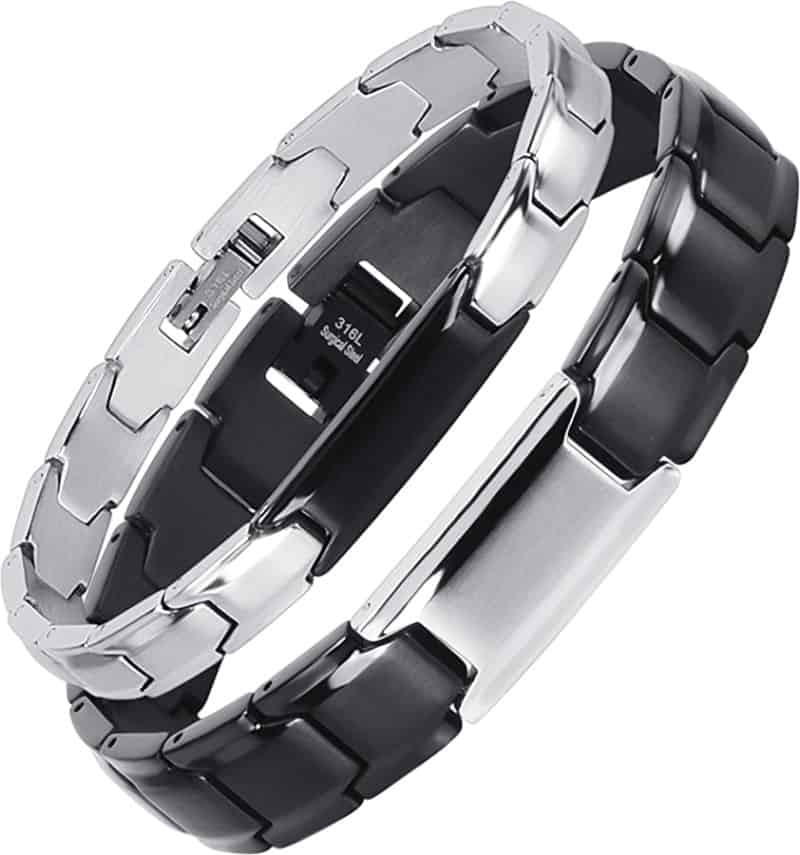 Price: $$
Material: Stainless steel
Decoration: None
Length: ~8-inches
Style: None
While these matching bracelets have higher meanings of sympathizing with long-distance relationships through patterns that resemble paths and roads, they look quite stylish, especially when the separated people are together and rocking them stylishly.
Thanks to the surgical-grade stainless steel, the bracelets feel sturdy and can put up with quite some beating and damage to provide durability and identify with long-lasting relationships that go through thick and thin to achieve greatness.
They are durable especially if you travel often and need to hold them in a bag. The strong material that measures 8-inches is strong and won't break. It's also suitable for people who don't want to worry about beads breaking open and spilling all over your room or luggage.
Editor's notes: What's most disappointing about these bracelets is that they don't come with batteries or Bluetooth technology like most other long-distance bracelets come. Nevertheless, it's stylish and durable for long trips and distances.
Best Bracelets for Couples With a Quote: PJ Jewelry Personalized Custom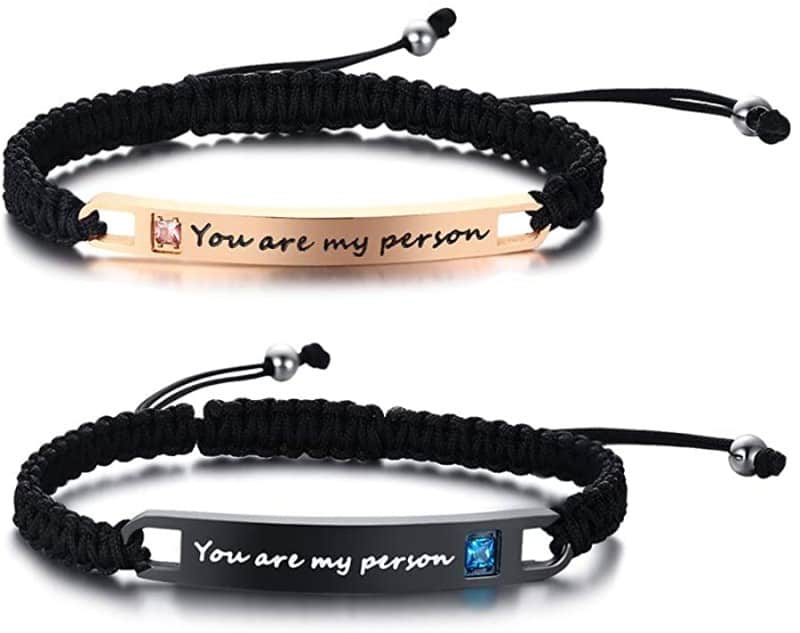 Price: $$
Material: Rope + stainless steel
Decoration: Plate with a quote
Length: ~6.8-11.2-inches
Style: Knots
This model offers numerous different quotes to choose from a plate made out of stainless steel. All quotes are heartly and will evoke the deepest and most emotional feelings, even when you and your significant other are far away from one another.
Whether you're getting this bracelet as a birthday gift or anniversary gift, you won't go wrong with this minimalistic, yet traditional design with knots. The rope is designed in such a way that allows you to personalize the length of the cord in case your hand is wider and can't fit completely.
Editor's notes: You can also engrave a custom quote, but that may extend the shipping times, so it's not recommended if you can't wait.
Best Bracelet With Name Engraved: 16K Gold Your Name Bar Bracelet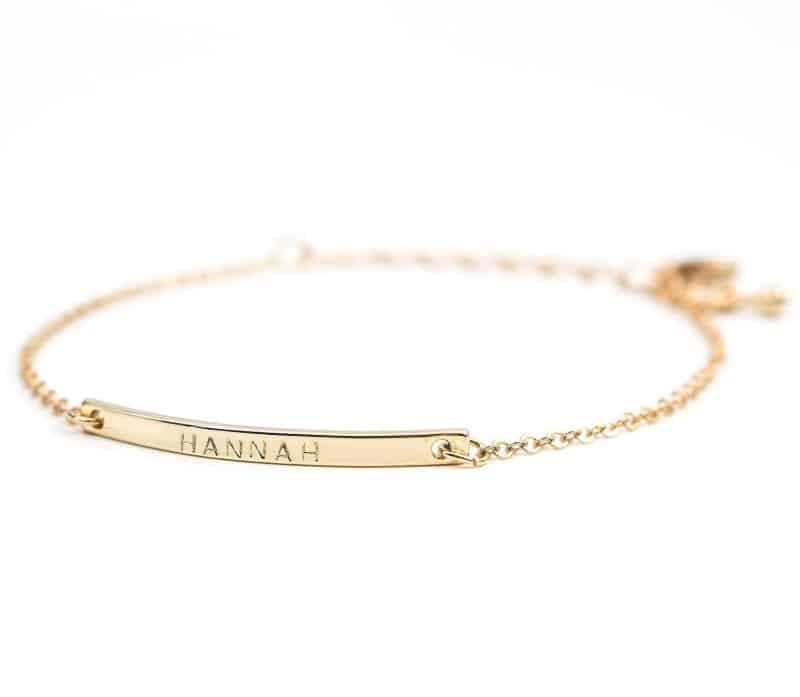 Price: $$
Material: 16K gold
Decoration: Plate with a quote
Length: NA
Style: Chain
Sometimes the smallest sign of attention can be that with the warmest heart. That's why we love these gold bracelets, which may not necessarily mean that you want to dedicate them to your significant other, but engraving the name of your soulmate and gifting it to them can mean a lot to them.
This is a great option for those who love gold, especially 16K which is quite close to the original, pure gold. It also comes with an extender chain which is suitable for people with bigger hands. You can easily contact the seller and get all the info you need about personalizing the matching bracelet gift for your significant other. The plate made out of gold contains the name of your significant other, as well as your name.
This is one of the purest, yet simplest ways to tell someone you love them through a gift.
Editor's notes: Keep in mind that 16K gold and higher is purer than 10K and 10K gold, but also weaker in the sense that it's thin and can break easily.
Best Matching Bracelets For Couples With Initials: Gold Initial Bracelets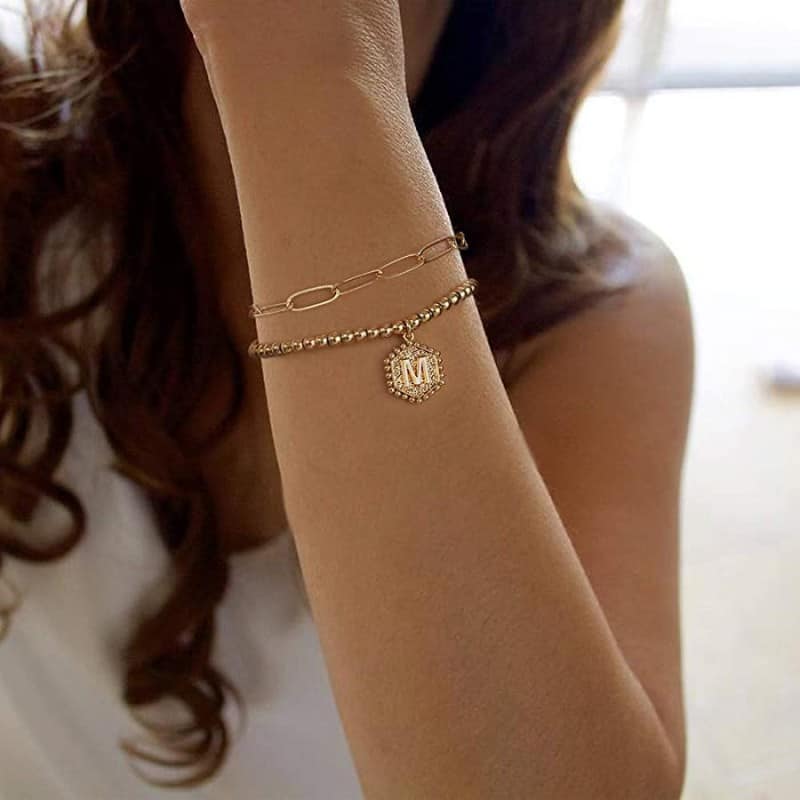 Price: $$
Material: 14K gold plated brass
Decoration: hexagon with an initial
Length: 6+2-inches
Style: Gold beads
This may not be the most perfect gift for men, but we're sure that your girlfriend will love it if you buy matching bracelets with these initials. Thanks to the 2-inch extension chain, you can easily adjust the length of the bracelet, wearing them together no matter where you go.
It's worth mentioning that this bracelet is made of 14K gold plating and doesn't have any nickel or lead alloys that could potentially jeopardize your or the health of your partner. These bracelets are also a good luck charm and can make the perfect wedding gift.
Editor's notes: Brass is a great idea for affordable gold-alike bracelets, but they're not everyone's cup of tea. Note that shipping time varies because embedding the initial can take some time.
Frequently Asked Questions About Matching Bracelets for Couples
Here you can find the answers to the most commonly asked questions about the matching bracelets for couples.
Are Couple Bracelets Expensive?
Couple bracelets can be found at an affordable price of around $10 at thrift shops, as well as handmade shops such as those on Etsy. However, the midrange is considered anywhere from $10 to $100. Those that include more expensive materials like sterling silver and gold, as well as other pricier materials can cost well above $100. If you're looking for a more luxurious option, you may want to invest more money.
Who Buys The Matching Bracelets?
Something that couples often ask in private who should buy the matching couple bracelet – the boyfriend or the girlfriend? What if the couple is of the same sex? If you want to wear a matching bracelet with your significant other, then you should spend the money on them.
This applies mostly to the cheap models where you won't have to spend more than $50. However, if you want to mark your relationship with a big and expensive gift in one of the luxurious jewelry stores, perhaps you would like to talk to your significant other about it and share the bill.
Should I Go for Handcrafted Matching Bracelets?
Some people don't value how expensive some piece of jewelry is, but how much-handcrafted work went into designing that bracelet and how much love went into it. Even if you choose to make your handcrafted jewelry, we're sure that your significant other will appreciate it.
If matching couple bracelets are a part of the wedding gift that is a large and prestigious event, we suggest that you buy matching bracelets from the jewelry store, because they're more professionally made and represent a greater gift.
How to Choose The Best Matching Bracelets?
If you want to crown your relationship with a set of beautiful matching bracelets, you should consider many things. We know that choosing the right bracelet can be a tedious and challenging work, especially if your relationship is new and you don't know much about your significant other.
Still, if you get to know them better, understand their preferences, hobbies, what kind of jewelry they like and similar things, you'll be able to make a list of potentially-fitting jewelry. Our list of the best bracelets for couples features a list of jewelry that is suitable for everyone from gift and early relationship handmade bracelets to high-end wedding bracelets and long-distance relationship bracelets.
Also, our guide should help you choose the right material, gemstone, engraving and similar factors that can enhance the looks of the bracelet.