Diamonds can make for some of the most exquisite pieces of jewelry, and when it comes to earrings, few gemstones can match its charm. However, wearing diamond earrings does come with its hassles.
First, you typically have to shell out some outrageous sum of money to pick up some diamond earrings, with most eye-catching options retailing for north of $3000 and high-end offers costing as much as $30,000. This prohibitive pricing is an instant deal-breaker for many potential diamond wearers.
On the other hand, every diamond earring wearer knows the lingering background anxiety that comes with rocking your favorite pieces.
While you are out in the wild with diamond earrings, you are often left juggling being present and enjoying your surroundings with worrying about your expensive jewelry pieces and taking special care not to lose.
What if you could get all the glam without the hefty price tag and anxiety? This offer is the exciting proposition that fake diamond earrings present.
However, with the plethora of options available on the market today, choosing the best set of fake diamonds for you can get tricky fast. With this guide, we have done the roundup and analyzed the top offerings to bring you the best picks you can snag right now.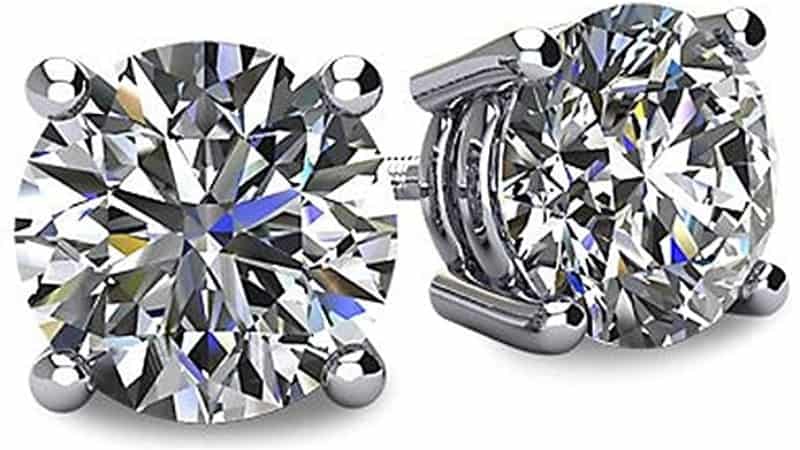 When buyers seek out fake diamond earrings, the fundamental goal is usually to find one that balks against the trend of low-quality offerings and presents something classy enough to wear with pride. No pair of faux diamond studs represent this ethos better than these Cubic Zirconia earrings from gem maker NANA.
First, the principal attraction, the gemstone, is everything you would expect in a top-quality imitation diamond piece. This centerpiece is a pure brilliance zirconia gemstone cut by the Swarovski Company, the premier name in Swiss crystal cutting.
The highlights of the user reviews for this product featured buyers praising the aesthetic brilliance of this piece. Several users hailed how authentic these gems looked, with a handful of reviewers reporting that they couldn't find significant differences in looks when they placed these NANA CZ studs right next to real diamond jewelry.
You can also get this gemstone in various sizes, from 1 to 8 carats, to match your style and intended effect. However, we recommend the smaller 1 to 3-carat pieces, as these options are likely to look the most authentic.
The main gemstone aside, the setting and posts you get with this offering are also some of the best you will find in the category.
Here, you get a standard 4-prong stand with a basket that nestles the gem, but the prongs are 14-carat gold pieces. While gold rarely ever appears in fake diamond jewelry, the NANA CZ Stud Earrings are anything but your regular imitation diamond earrings. They are arguably the classiest pieces you will find in the category.
However, the backs of the earrings and the setting basket both feature regular 925 sterling silver.
Thanks to their gold, silver, and cubic zirconia construction, these NANA studs are entirely nickel-free and hypoallergenic, so you never have to worry about rashes and other skin irritations.
If you are in the market for some classy, eye-catching faux diamond earrings that bring the most authentic looks and feel possible, you will be hard-pressed to find an option that bests the NANA 4-Prong Swarovski CZ Stud Earrings.
Pros
With 14-carat gold posts
Swarovski cubic zirconia
Nickel-free and hypoallergenic
Cons
Best 5 Fake Diamond Earrings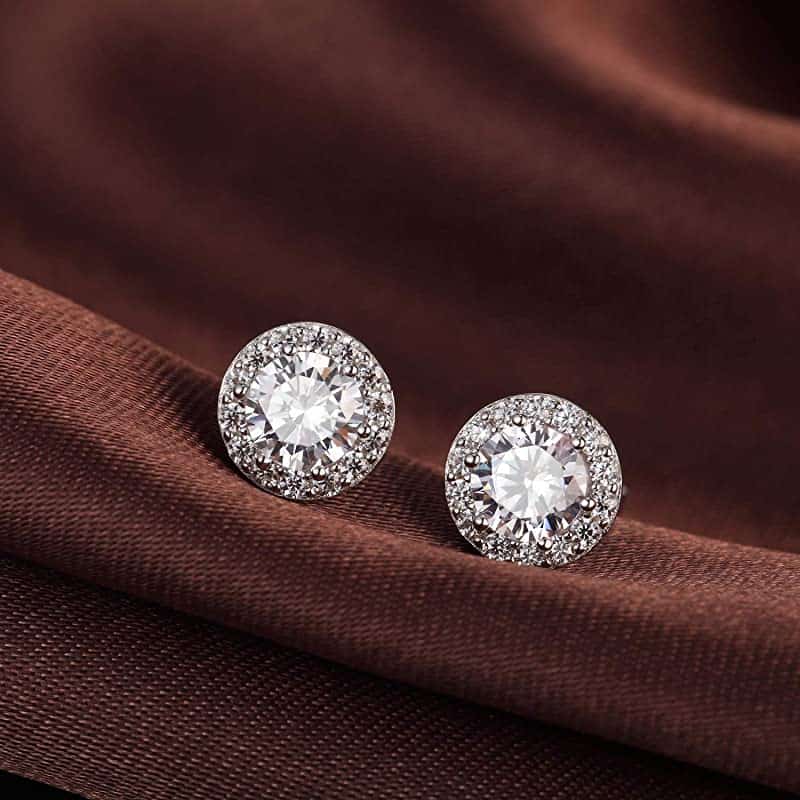 Going fake diamond does not mean you have to do without all the bling, and the Zowbinbin Halo Earrings is a testament to that fact. For about the same price of most entry-level jewelry, you get a gorgeous, eye-catching pair of earrings that are sure to impress.
Make no mistake; if you are looking for a subtle piece that will add a little bit of shine, you should skip this one. The Zowbinbin Halo Earrings are bold, all bling, and are definite statement pieces.
Thanks to its glittering white hood and exquisite detailing, every time you rock this piece out, prepare for a barrage of compliments at every turn. Plus, this pair is excellent for almost everything from special occasions to formal events, or even paired with everyday wear despite their striking design.
These Zowbinbin Halo Earrings feature a high gloss 925 silver seating, plated with white gold, and finished with tiny zirconia pieces for that added sparkling effect. Up top, you get high quality round cut zirconia gems that completes the luxurious look.
Pros
Eye-catching aesthetics
Halo design with zirconia patterning
Circular cut zirconia gem matches easily with other jewelry
Hypoallergenic
Cons
Only available in one sizing option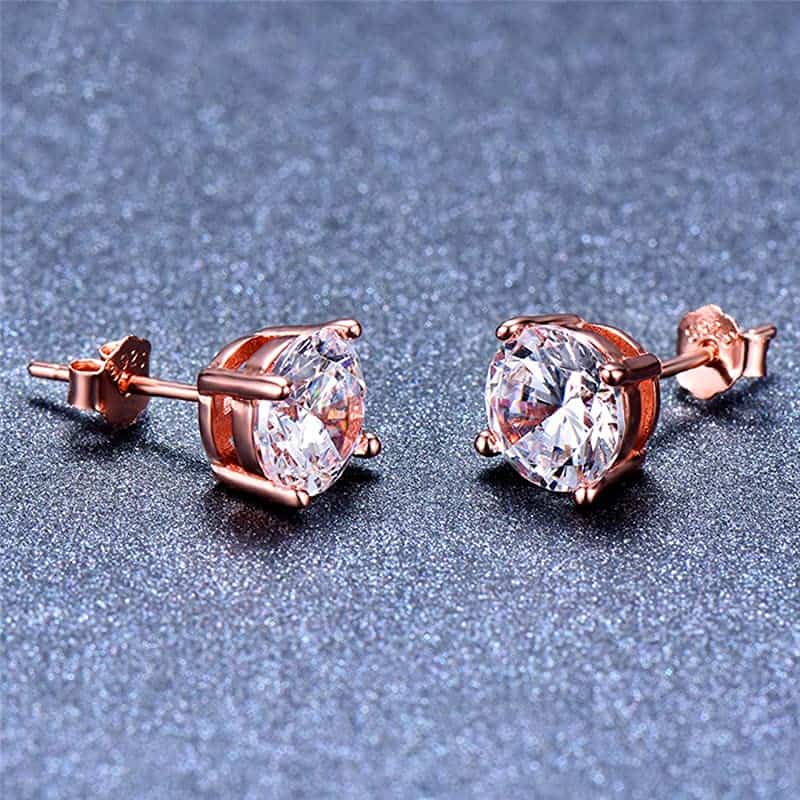 Sometimes, even the fake diamond earrings cost too much, and what you need is some dirt cheap pieces that still bring enough good looks and charm to pass off as real, at least some of the time. Well, look no further than this set of stud earrings from Outop.
For a little over ten bucks, you get a whopping six pairs of stud earrings in this offering. That value proposition is unmatched in this category. All six earring pairs follow a similar design language while varying in size from 3mm to 6mm.
Plus, the Outop pieces are no pushovers, design-wise either. Here, you get a high-end cubic zirconia piece set in sterling silver and white gold-plated steel, in a traditional 4-prong style.
With their mix of varied offerings, a bountiful 6-pair set, and high-end aesthetics, the Outop Stud Earrings set offers some of the best bangs for your buck and is a deal that is hard to refuse. Plus, they make excellent gifting options for your family or partner.
Pros
Best value pack out there
Superior aesthetics
With varied sizing
Cons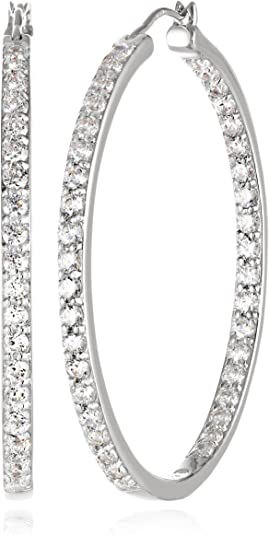 Diamond hoops should be up there somewhere in the dictionary definition of classy, and with these Amazon collection pieces, you can get the same shine for a fraction of the price. Here, you get perfectly sized hoop earrings complete with a sterling silver chassis and Swarovski Zirconia adornments.
To further enhance the look, you can get this earring in three different plating options: platinum, yellow gold, or rose gold.
Completing the striking aesthetics are two lines of cubic zirconia gems on each earring. One line of zirconia adornments sits on the outside of the front half of the piece, while the other covers the inside of the back-half, creating the illusion of a fully adorned earring when viewed from the front. With 12 cubic zirconia stones on each line, you get a total of 24 gemstones with each earring and 48 stones per set.
The ergonomics are also on point, as these earrings use secured click-top hinge backings that clasp on tight but are super easy to put on and get off. Whether for dressing up or with your daily wear, if you have a thing for cute hoops, you can't go wrong with the Amazon Collection Inside-Out Hoop Earrings.
The standard offering for this product includes 1-inch diameter hoops. However, you can also opt for a 1.5-inch diameter version and get a few bucks off.
However, we did find a handful of reviews complaining about this piece's heft, so if your ears are weight-sensitive, you should take care to ensure you can cope with these before making the purchase.
Pros
Striking, classy aesthetics
48 Swarovski Zirconia stones per pair
Secure and easy to use click-top backings
Available in two sizing options
Cons
With the frame alone weighing 5.7 grams, this piece might be too heavy for some.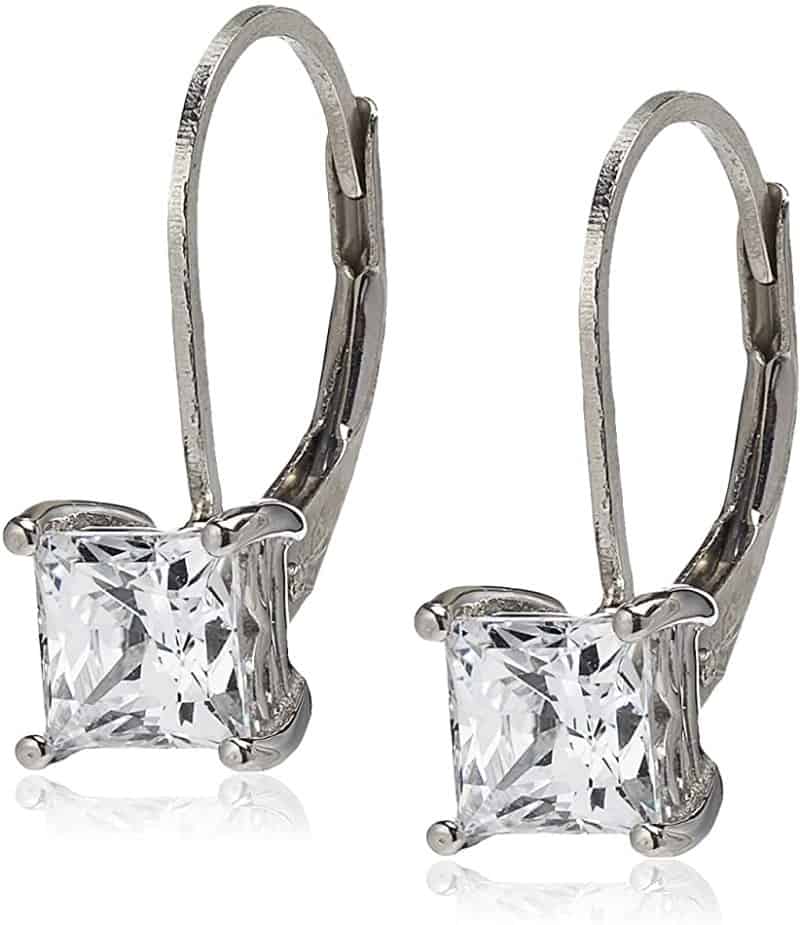 Every seasoned jewelry enthusiast knows the touch of sophistication that the right pair of drop earrings can immediately add to your outfit. If you favor the drop pieces, you will love these Amazon collection leverback earrings.
Each earring in this collection features a lever-back closure core made from sterling silver and available in 3 eye-catching plating options: platinum, yellow gold, and rose gold.
However, it is the statement piece at the front that completes the elegance of this piece. Here, you get a 1, 3, or 5 carats of Swarovski Zirconia beauty in a striking princess cut that stays true to the polished aesthetic.
If you want a pair of extra sparkly fake diamond drop earrings for a fair price, this selection from Amazon trumps most of the competition.
Pros
Classy aesthetics
Extra sparkly princess cut Swarovski Zirconia
Sterling silver backdrop with three plating options
Cons
Several reviews complained about durability issues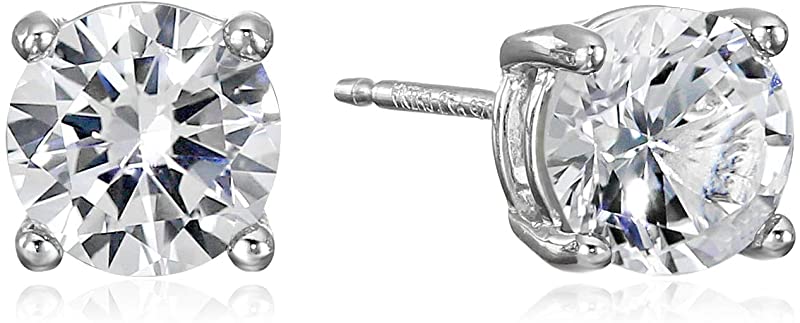 Cubic zirconia is virtually the standard for fake diamond earrings, but sapphire pieces can be just as exciting. This piece from Amazon Essentials is one of the handfuls that give you true to form faux diamond earrings that use white sapphire instead of zirconia.
The centerpiece of this earring is a round synthetic sapphire stone that measures between 1.8 and 2.2 carats. White sapphire brings a lustrous appearance that mimics the shine of diamond to perfection.
Holding the sapphire in place is a 4-prong silver chassis that complements the gemstone's look to create a cohesive, eye-catching piece.
While synthetics sapphire can hold its own to cubic zirconia in looks, it is also significantly cheaper to produce, and this reflects in the pricing of this piece. You can pick this Amazon Essentials special for next to nothing, which further enhances the value proposition with this product.
Plus, a nice bonus with this offering is a delightful fitted top gift box that ships with the package and adds a touch of elegance.
Pros
Lustrous synthetic sapphire gemstone
Sterling silver chassis
Attractive pricing
With classy gift box
Cons
Will wear odd with heavy or long-term use
What Makes a Good Fake Diamond Earring?
Top of the list for the criteria an excellent fake diamond earring must meet is that it should be as close as possible to the real thing in appearance. Some of the best faux diamond earrings are barely distinguishable from the real thing and can provide a matching class level for a fraction of the price.
Next, you should keep in mind that fake diamonds are significantly cheaper than the real deal, so you should be wary of substandard materials.
Those with sensitive ears should watch out for metals like nickel that may cause irritation or allergic reactions. Your best bet for safety is to opt for faux diamond jewelry offerings that feature sterling 925 silver or 14K gold settings and posts.
Finally, you should seek out items built to last, as this market is notorious for low-quality offerings that die out after a few uses.
Caring For Fake Diamonds Earrings
As you rock on with your new set of faux diamond earrings, remember that cubic zirconia cannot match the toughness of diamonds, so you do run a higher risk of ending up with scratched or dulled up jewelry.
While destroying your fake diamond jewelry won't cost you an arm and a leg, you still want to take precautions, so you get the best out of your purchase.
Some ways to keep your faux diamond earrings shining for longer include:
Using a jewelry organizer to keep the surface of the earrings from rubbing against each other or your other jewelry
Storing them away from moisture in a cool, dry place
Avoid using harsh cleaning products
Avoid dousing them in harsh personal products like shampoos and perfumes
FAQs
Are synthetic diamonds fake diamonds?
No. Fake diamonds feature cheap substitute materials like cubic zirconia.
On the other hand, synthetic diamonds have the same chemical composition you find with real diamonds. The significant difference between synthetic diamonds and natural diamonds is that they are made in the lab and do not feature any impurities or imperfections.
Hence, synthetic diamonds are much closer to real diamonds than fake diamond materials like cubic zirconia. Consequently, while synthetic diamonds are significantly cheaper than natural diamonds, they are typically considerably more expensive than materials like cubic zirconia.